Cenac Marine Services LLC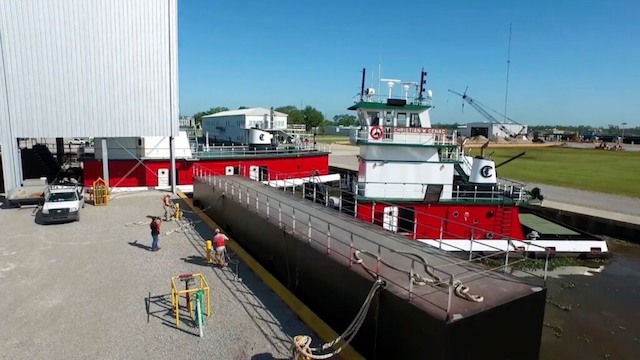 The Benny Cenac Way
Benny Cenac brings a family approach to service, strong culture and dedication to quality to keep Cenac Marine Services strong.
By Staci Davidson, Senior Editor at Knighthouse Media
After 88 years in business, Cenac Marine Services LLC is well known in its industry and Louisiana community, and wouldn't have been able to last for that long without quality service. Owner Arlen Benny Cenac Jr. takes pride in the level of service the company provides, and credits it to its commitment to employee satisfaction and a great internal culture among its 400 people.
It was these same values his grandfather, Jock Cenac, established when he founded the company nearly 100 years ago, and these values continue to ensure that Cenac Marine will remain a leader in its field.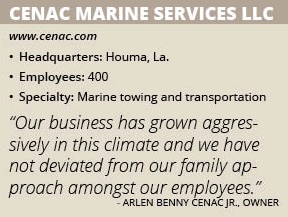 "We are really known for our attention to customer service, detail, safety and operational standards," Cenac says. "Our boats are kept in pristine condition in order to ensure the safety of our crew and to provide the best services possible to our clients."
Based in Houma, La., Cenac Marine caters to all major oil companies and refineries, transporting crude oil, residual fuels, feedstocks, lubricants, petrochemicals, refined products and liquefied petroleum gas. The company has a fleet of 33 new and innovative inland push boats, 68 tank barges and two offshore boats. It services the U.S. Inland Waterways System, while also operating vessels throughout the country.
Service is incredibly important to Cenac Marine because the major oil and gas companies it works with expect nothing less than the best to ensure the success of their own operations. As a result, Cenac Marine is dedicated to always delivering goods in a timely manner, while focusing on details and safety.
At the same time, the company remains fiscally aware of its cost structure, but without sacrificing quality, efficiency or service, and it is definitely not straying from the family values it holds dear.
"Our business has grown aggressively in this climate and we have not deviated from our family approach amongst our employees," Cenac explains. "At Cenac Marine, that has been a strength of the organization from the beginning."
Quality Focus
Cenac Marine is dedicated to ongoing improvement of its operations to ensure it remains strong in serving its clients. For example, fuel costs have risen constantly for the company, so it continues to re-engineer, modify or create new fuel systems for its vessels that maximize fuel efficiency without affecting performance.
The company has found that structural design changes in its boats, along with the constant evolution of its engine and power plants, allow it to minimize its fuel costs while ensuring a high level of function and quality in its operation.
"Never straying far from our core values and principles, our strength has always remained in keeping our fleet and equipment at the latest levels of technology and design," Cenac says. "We are constantly updating and replacing technology and vessels so that Cenac Marine's reputation as a modern transportation and towing operation, coupled with unmatched maintenance and reliability, will maintain our position as a market leader."
Supply Chain Improvements
At the same time, Cenac Marine is improving its supply chain by transitioning from the total outsourcing of its supply inventory to creating and integrating its own supply network in-house. Cenac Marine is affiliated with a marine and industrial supply operation, providing it with leverage on price, quality and real-time delivery. Cenac notes this has improved efficiency and the quality it delivers to customers.
When working with suppliers, Cenac Marine continuously evaluates its partners, supplies and parts to ensure downtime is kept at the lowest-possible levels. This allows the company to ensure efficiency and build a reputation for always delivering uninterrupted products and services to its customer base.
The company also is investing in technology and has brought some IT functions in-house to maintain its quality reputation. "The speed of change and innovation in the technology sector has affected not only our business dramatically, but business globally," Cenac says. "Our efforts at Cenac Marine in this area is to invest heavily in personnel, hardware and software for all of our IT functions.
"In-house programmers have created custom software that gives us a unique advantage in the industry," Cenac continues. "This software development has improved every area of our operation and is an ongoing effort to not only stay up-to-date, but remain at the cutting edge of technology throughout the operation."
Delivering the Best
As much as Benny Cenac is dedicated to the ongoing growth and strength of his company, he also is focused on the health of the marine industry and local Louisiana economy, and demonstrates this in a number of ways. He sees maritime education, for example, as an investment in the company's future.
"Providing more access to the proper training allows more individuals the opportunity to have successful careers in the maritime industry," Cenac explains. "This, in turn, assists us in finding employees who will excel at Cenac Marine."
The company is a sponsor of the bachelor of science in management with a maritime concentration program at Nicholls State University in Thibodaux, La. Additionally, last year, Cenac Marine refurbished and donated a barge to South Louisiana Community College's maritime training program.
Some of the company's boat captains volunteer time during their days off to teach the class at the community college. "Our company as a whole is invested in the future of maritime towing in our area," Cenac notes.
Community Support
Cenac does all he can to support the community because it is important to him to help preserve the local heritage and way of life. A couple of years ago, for example, Cenac Marine donated a spud barge to Terrebonne Parish, which it uses to transport equipment for conservation and upkeep of area levees, especially those that are only accessible by boat. This is key in the area's flood-protection efforts. The parish also uses the barge during storms and high-water events while crews operate the area's floodgates.
Benny Cenac donated funds to help Houma and Terrebonne Parish upgrade their annual Christmas festival with an enhanced light display, a parade and activities for families and children, such as a meet-and-greet with Santa, stilt walkers and balloon clowns.
Benny Cenac's donation helped the town buy a new Christmas tree, as well as add lighting for the courthouse's oak trees, the local traffic bridges and pedestrian bridges and the Bayouwalk.
Last year, Benny Cenac supported the Gheens Needy Foundation to help people who have been affected by a slump in the region's oilfield economy. Cenac supported the foundation's first fundraising dinner and helped the foundation purchase and distribute 40 turkeys during the holiday season.
He also has been doing annual funding for a community garden on the Southdown Plantation grounds in Houma, which allows Montessori and home-schooled preschoolers to prepare vegetable seeds and local middle and high school students to plant them in the garden. Benny Cenac's donation allowed the community to build a classroom at the garden's site. The garden's first crop yielded three quarters of a ton of produce, and the vegetables are given to the students as well as the Good Samaritan Food Bank in Houma.
Additionally, Benny Cenac is an ongoing sponsor of the Son Rise Christian Music Fest in Matthews, La. The company also supports veteran groups.
The local Louisiana community is affected by the highs and lows of the maritime industry, but Benny Cenac works hard to ensure his company remains strong, regardless of the economic conditions. His strategy is to develop, purchase or create vertical integration in the company's operation to enhance its core business, and Cenac Marine always is looking to enhance its supply chain, construction resources and maintenance capabilities.
In recent years, for example, the company has purchased or developed supply, construction, fabrication and storage facilities throughout the Southeast to bolster its operation. By keeping its business strong, Cenac Marine can maintain its focus on quality service and family.
"Cenac Marine Services has developed over generations from a very humble beginning," Cenac stresses. "I am most proud of our firm commitment to delivering the best equipment, operated by the best people, at very competitive rates without ever sacrificing safety, value and efficiency to our customers. In that same environment, we have kept the operation loyal to its core values and our valued employees. That is a delicate balance that I have worked hard every day to maintain and come to work each day, pledging to do things the 'Cenac' way."