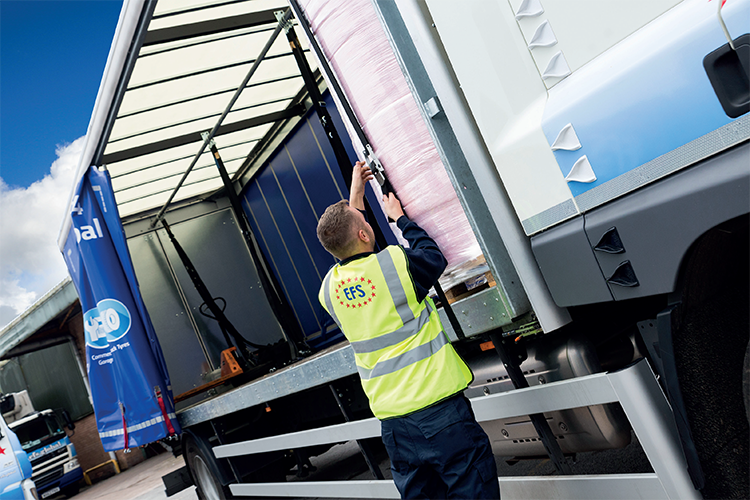 A freight British success story
After 25 years of success, EFS Global heads into 2022 as the UK's fastest growing provider of complete freight logistics solutions
Driven to provide a high-quality family service for both local companies and SMEs, EFS Global is a pallet distribution, general haulage, freight forwarding and niche transport provider. Capable of offering its customers a full end-to-end supply chain and door-to-door service, the organisation has come a long way during its 25-year history.
Founded in 1996 by Mark Jones, EFS shifted from courier to palletised and express haulage at the turn of the Millennium. Ten years later, the firm embarked upon a string of acquisitions that would help transform it, including the purchase of a refrigerated transport operation in 2011 and a freight forwarding firm in 2013. By 2015, EFS had grown so extensively that it decided to open a new warehouse in Burnley, Lancashire.
"EFS started life as a traditional 'man with a van' operation," Mark, now Managing Director, explains. "After moving into pallet distribution early on, the company went from strength to strength and built a foundation upon which we could carry out an aggressive growth strategy.
"In 2015, at the same time as the new warehouse was opening, Gavin Kellett joined us as Operations Director, with the remit of supporting the Company's acquisition strategy. Since then, we have grown from a £9 million turnover business into an almost £100 million firm."
EFS' current positive trajectory is, at least in part, a result of its determination to discover and pursue companies that can complement its existing strengths. During the second half of the 2010s alone, the organisation welcomed a huge number of firms into the group, including Red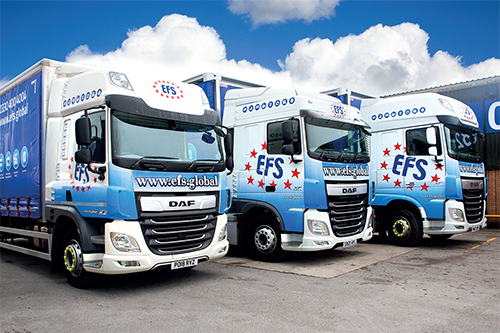 Scar Tyres, CS Brunt, Horizon Distribution, Bradtrans International, Euro-Tran Despatch, Euro SDB, JRS Traction, FWD Freight, PDQ Specialist Courier Services, Caistor Distribution, AFI UK, Courier Connections (Scotland), Austin Wilkinson & Sons, and Thomas Harwood & Son, with a further two acquisitions set to join the group by the end of 2021.
"We have always tried to keep our business strategy simplistic and we aim not to deviate from it. We want to keep to what we know and do what we do best," Mark declares. "To expand on that, we know how to move pallets and parcels securely, import a container from any part of the world, collect and deliver temperature sensitive goods, and store products in a warehouse. What we do best is provide a high standard of service and ensure that EFS customers know that their goods are in safe hands.
"With this in mind, we are always looking for companies that have the same service offering, ethos and mindset as EFS. When we find them, nine times out of ten they are well-run and profitable businesses with dedicated and passionate employees – businesses that we may well want to acquire.
"This aggressive strategy has seen us grow in revenue by £90m over six years, and benefitted both us and the companies we have brought on board. As we expand, we are constantly learning new and improved best practices, which are then shared throughout our family of businesses. Just because we tend to be bigger than our acquisitions doesn't mean we always know best!"
Having gained a footprint of 18 offices and depots, and a workforce of more than 525 employees, EFS can now offer a wide range of services at home and abroad. At present, the company's key specialisms revolve around pallet distribution, general haulage, import/export/customs clearances, as well as regularly evolving complementary services on a more localised, regional basis.
"An example of our typical clientele would be an SME seeking a high-quality service with an array of needs – whether that be freight forwarding, next-day pallet distribution, temperature-controlled delivery or warehousing," Mark reveals. "We attract and retain clients desiring a personal service, as opposed to what is on offer from larger volume-driven carriers."
Like most logistics organisations over the last 18 months, EFS has not been impervious to the impact of Covid-19. However, the nature of that impact has not necessarily been as expected. Deemed an essential business from the beginning of the crisis, work at EFS did not slow down in 2020. If anything, the company's prospects improved.
"Our freight forwarding teams were extremely well-prepared for Brexit thanks to investment in training to ensure that they were continuously 'in-the-know' about new legislation and changes to procedures," Mark reports. "This level of preparedness has ensured that our customers receive the best possible service throughout what was a most challenging period, both in terms of technical customs related matters and the well-publicised general supply and demand issues.
"Given the need for customs clearances with all EU countries, this created a whole new sector and revenue stream overnight. Covid-19 naturally brought a significant number of challenges, from health & safety and welfare to how we could safely deliver/collect a pallet. Thankfully, all our staff members are safe and well as we continue to navigate our way through this year.
"From a business point of view, Covid-19 did affect the business, but for no more than a couple of weeks. However, demand for our services has since surpassed any kind of volume that we have experienced historically. Pallet distribution, general haulage, warehousing, temperature controlled and import & export has never been as busy as it is today. This, of course, presented different kinds of challenges and opportunities, but our teams have weathered the pressures of the last two years admirably."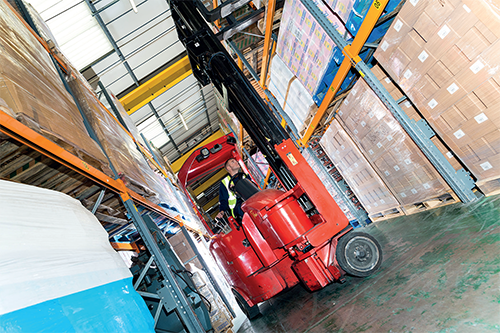 2021 marks EFS' 25th anniversary – an impressive milestone for any organisation. Proud to reach such an important landmark, Mark is quick to heap praise on his workforce; it is, he believes, their hard work and commitment that has enabled EFS' longevity.
"The success of the business has been driven by preserving a family-orientated culture, which, in our case, results in incredibly passionate and determined colleagues," Mark asserts. "As we have grown and acquired businesses, it has been critical that we retain all staff members and look to support our new team members rather than interfere. As I have mentioned, our acquisition strategy is built upon the determination to acquire well-run, profitable and customer-focused companies. Inevitably, these key criteria are characteristics of high-calibre teams.
"Our culture, at EFS, is built around a key phrase: 'Supportive, but non-intrusive'. This resonates throughout the group. If you are an individual that demonstrates an entrepreneurial mindset and regularly displays our values, you are encouraged to build upon your own successes and flourish within the business. Ultimately, we will always be there to support, but it has been key to be able to offer autonomy whenever possible."
With the end of 2021 now upon us, EFS hopes to finish the year stronger than ever, increasing its turnover to £100 million and adding two more depots to its portfolio. Beyond this, Mark would like to see the firm targeting six new acquisitions every year, for the next three years.
"Recently, we have been focusing on organic growth within the group, which has allowed us to grow the acquisitions and see better performances over the years. Going forward however, you can expect us to add a number of new acquisitions in the years ahead," Mark notes. "No matter what, we will continue to be biased towards acquisitions and focus on integrating like-minded family businesses into the group."
Having devised a long-term strategy for the business, Mark expects EFS to continue investing in the latest vehicle technologies in 2022, as well as assessing the latest planning systems with the goal of driving down its carbon footprint. "The New Year will also see us make further investments in our colleagues," Mark adds, "in terms of training across all disciplines and the addition of new recruits to the team."
In the longer term, EFS wishes for all its UK sites to develop the ability to offer every form of transport/logistics service or 'door-to-door' service in a certain region. This expanded coverage will further assist EFS in delivering on its three key objectives for the decade to come.
"Our priorities in the years ahead include continued investment at our Head Office, and at each of our companies, in the key areas of Health & Safety, HR, IT and the latest vehicle technologies," Mark says. "We also want to maintain our acquisition strategy with the desire to acquire companies commanding in the region of £5 million to £15 million in turnover. Finally, we want to target further organic growth. We are investing more and more into our sales function to allow us to continue looking after our customers' interests, whilst also developing our customer base."
EFS Global
www.efs.global
Services: Freight logistics solutions