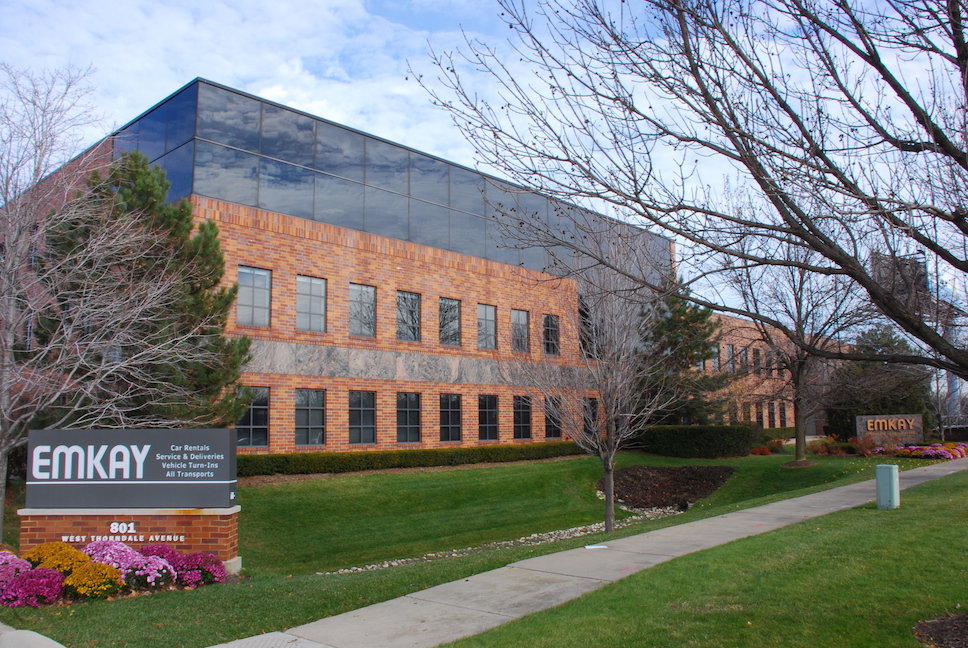 EMKAY delivers top-notch fleet management services thanks to its focus on innovation and technology.
By Chris Petersen
Commercial logistics can be complex and intricate, requiring intense focus and concentration to keep all of the various elements in motion and functioning properly. For many commercial enterprises, logistics are complicated enough without having to worry about their fleets and all the responsibilities and concerns that come with them.
Fortunately for these businesses, EMKAY has 70 years of fleet management experience, and President Greg DePace says the company's primary focus is on making sure its customers don't have to worry about their fleets. "We help eliminate the day-to-day distractions of their fleet. We allow them to concentrate on their business," DePace says.
Making fleet management as worry-free for its clients as possible has been EMKAY's concentration ever since 1946, when Samuel Katzin and Michael Braude started the company as a vehicle-leasing business within their Chevrolet dealership on the south side of Chicago. Over the years, EMKAY has become known as an innovator in the fleet management space numerous times by offering its clients unique services, and systems to manage them.
EMKAY specializes in providing all-inclusive fleet management services to commercial clients. These services include but are not limited to vehicle leasing, maintenance management, fuel management, accident management, toll management and telematics. DePace says the company's customer base ranges from fleets of 50 vehicles all the way up to 3,000 and more. Although EMKAY continues to have some key competitors in the commercial fleet management space that keep it on its toes, DePace says the company's focus on innovating and pushing the leading-edge of technology in the sector has been critical for its continued success, and remains one of the strongest differentiators for EMKAY.
Keeping It Simple
Making fleet management easy for its clients means EMKAY is more involved in its clients' operations than many of its competitors, and DePace says this is something clients have come to rely on time and again over the last 70 years. "We provide the best combination of leading-edge technology, responsive service, and proactive consulting- that's why companies would choose us over our competitors," he says.
This comes right from the company's mission statement, which says that EMKAY will deliver the best possible fleet performance for its clients "by delivering innovative products and technologies, expeditious service and proactive consulting."
EMKAY provides its clients with options for leasing vehicles, including traditional TRAC and Closed End leases that provide clients with greater flexibility as well as purchase-and-disposal programs that allow clients to maintain ownership of their vehicles while also drawing on the company's expertise in purchasing and remarketing those vehicles. EMKAY's maintenance management program is based on the expertise of its ASE-certified technicians and the strength of its system that monitors a shop's maintenance request against EMKAY's proprietary algorithms.
Streamlined Information
One of the biggest keys to the success of EMKAY's fleet management services is the way in which the company utilizes technology to make things as simple and convenient as possible for its clients, DePace says. "Certainly over the last 10 years, we've put a lot of focus on technology and creating technology that's comprehensive in the information that it provides, and is easy to use," he says.
Within the last several years, EMKAY has developed numerous mobile apps and technology platforms aimed at providing fleet managers and drivers with the most up-to-the-minute information to help them make the best decisions for their fleets. DePace says these apps allow fleet managers to see exactly how well their vehicles are running in the field, provide them with constant information about their operating costs and create targets on their virtual dashboards to meet efficiency goals.
For example, EMKAY's mobile apps make it possible for drivers to locate the nearest preferred maintenance vendor or lowest cost fuel provider wherever they are, and fleet managers can view complete and timely records of their fleet as well as any exceptions to their company fleet policies. EMKAY's mobile technology also allows drivers and fleet managers to submit insurance claims to Emkay immediately following an accident by completing a mobile claim, which includes taking photos of the damage. Soon EMKAY's mobile app will have an Uber-like option for Emergency Roadside service. Drivers will be able to see exactly where the tow truck is and know when its arriving.
DePace says improving the flow of information among fleet managers, vehicles and drivers is one of the most important ways in which EMKAY makes fleet management easier for its clients. "These apps are all designed to be very easy for them to use and minimize the number of questions that might come up from the fleet manager and driver," he says.
Technology Focused
As EMKAY gears up for the next 70 years, DePace says the company continues to look for new opportunities where technology can create benefits for its clients. As many of its competitors consolidate, EMKAY sees greater opportunities to win over new clients thanks to its reputation and commitment to innovation.
EMKAY already offers its clients some of the most effective and efficient fleet management services in the industry, and DePace says the new technologies the company will roll out in the near future will enhance those services. "We'll be able to provide even faster service to our clients and their drivers," DePace says. "Nobody wants to wait for answers anymore – our technology ensures they don't have to."
www.emkay.com
Headquarters: Itasca, Ill.
Employees: 155
Specialty: Fleet management services