Final mile delivery expert Need It Now Delivers has been bought by GEODIS
Final mile delivery refers to the last leg of a product's journey; that point at which it is handed to the end user or client. This was the original specialty of Need It Now Delivers (NIND), when it was founded in 1987 as a local messenger service in New York, to serve Manhattan and the tri-state area. Today, the business has grown to offer a wide range of specialist logistics solutions, including white-glove home delivery and assembly, air freight, consolidation and deconsolidation of international and domestic freight, parcel direct to customer, warehousing, and truckload and expedited trucking services. These products generally cater to industries such as pharma, healthcare, auto, electronics, furniture, groceries, construction and building, retail and entertainment media.
The last 12 months, since Transportation and Logistics International last sat down with NIND, have been an exciting period for the company, as Eric Mautner, CEO of Need It Now Delivers and Executive Vice President of GEODIS in the Americas, details: "The past year has been an incredibly busy and productive one for us, with the most important milestone being GEODIS' acquisition of the business in October 2022. GEODIS is a world leader in transport and logistics that is headquartered in Paris, France, which we will now complement and augment with our final mile and omnichannel logistics solutions within the Americas region. We have spent a significant amount of time over recent months integrating ourselves with the group by concentrating on cross selling our services with its resources and capabilities. We're anticipating another substantial year of growth, both organically and through acquisitions.
"In 2022, GEODIS generated €13.7 billion in revenue, and as a large, sophisticated company, it has an extensive bank of resources. This alone facilitates many opportunities for professional growth. An enterprise of this size and scale is able to invest heavily in leadership and management development, as well as other areas such as ESG. Over the last month, I have personally been invited to three offsite meetings focused on extending my skillsets as a leader."
Since the acquisition, NIND has booked a substantial amount of cross-selling business through its new parent company. Need It Now Delivers' pipeline currently presents significant future opportunities, which Eric cites to be a key demonstration of the organization's reputation and capabilities, along with its customer interest and market share.
Competitive edge
"Increasing our presence in the healthcare sector is a top initiative on GEODIS' agenda," Eric explains. "As an integrated supply chain company, it has offices all over the world and many international freight forwarding components. The healthcare industry is similar to many of the other verticals we are currently operating in, however it also includes a larger number of freight forwarding and customer brokerage opportunities that we can expand into. GEODIS is particularly keen on the healthcare sector on account of its vast size and continued growth as, we all know, it isn't going to disappear and is ultimately recession proof.
"Our industry generally grew as a whole during the pandemic, due to the immediate influx of work caused by the sudden increase in online shopping. Now that the surge has subsided and business is returning to pre-COVID levels, only the strongest companies will continue to thrive. I feel it's important to highlight that NIND grew by approximately 18 percent year-on-year prior to the pandemic, and it continues to grow today. This continued
development is due to how we constantly strive for excellence and seek to better ourselves as an employer and community member. However, even though we are looking forward to a strong 2023, that's not to say we haven't been impacted by inflation.
"The current inflationary climate has caused labor issues and increased the costs of goods sold industry wide," he continues. "Ancillary costs such as rent, energy and pallets have also risen dramatically. Like everybody, our customer base is keeping a keen eye on the economy and suspecting that it will all have to slow down at some point. This has introduced a new pressure, under which clients are looking for efficiencies and, even in some cases, price reductions. With this, companies are shopping around more and looking for the best value possible, which means we are having to watch our rates closely to keep them competitive."
Strategy for success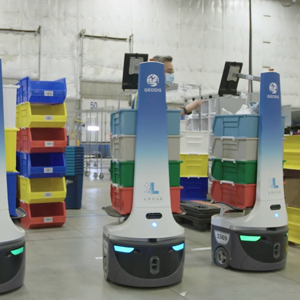 As the conversation turns to Eric's expertise, he states: "I have been the leader of NIND for 24 years now and, under my direction, we have witnessed tremendous growth. I can't put my finger on a specific piece of advice that I've received during my career, but I have always found it important to be compliant, and to never cut corners. The company thrives the most when we have created a path for our success, through the ways that we envision it internally. The senior team will put together a goal or target that we are aiming for and then work backwards to our current position to see how we should proceed. The path to success is a big part of how we plan anything, and we've always been great at achieving our objectives.
"Looking forward to five years' time," he concludes, "we will be operating on a far larger scale and be fully integrated with GEODIS. In helping our clients reach their objectives, we will be providing a comprehensive range of supply chain and logistics offerings, and opening more doors for our colleagues. Since becoming a member of the executive committee of GEODIS in the Americas, it has become apparent that nobody is ever too old to learn something new. I'm really excited for the next iteration of my career and to learn everything that prior to now, I have never had the chance to.