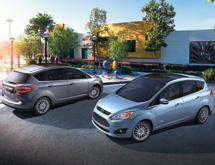 For Ford Motor Company, producing and marketing these vehicles means more than just financial growth. "This is not just something we're doing to make a little money; it's part of a core strategy of the company to find a better way to do things," says Jon Coleman, the company's chief strategist of alternative fuels.
This strategy is exemplified in corporate practices such as Ford's monitoring of water use in its manufacturing processes as well as the extensive code of ethics followed by each employee. Ford's ethical approach to car manufacturing has earned it recognition on the Ethisphere Institute's list of the world's most ethical companies for the past four years.
"I'm interested in pursuing natural gas as a mass market fuel, but not if it affects the water someone else has to drink, and I'm interested in hybrid and electric strategies, but not if it means using substandard labor conditions to produce battery components," Coleman adds. "I want to make people's lives better with these alternative fuel solutions, but not at someone else's expense. I'm proud that we're not only interested in alternative fuel solutions, but are going about doing them in a way that is second to none."
'A One-Stop Shop'
Ford offers six hybrid, plug-in hybrid and electric vehicles: the C-MAX Hybrid and C-MAX Energi plug-in hybrid, the Fusion Hybrid and Fusion Energi plug-in hybrid, the full-battery Focus Electric and the Lincoln MKZ Hybrid.
Most of Ford's commercial fleet vehicles such as its all-new Transit and Transit Connect vans and wagons, E-Series vans and wagons and F-Series trucks can be modified to run on compressed natural gas (CNG), propane autogas (LPG), biodiesel (B20) or ethanol (E85) fuel. The company's newest alternative fuel offering is a CNG and propane fuel option available on the Lincoln MKT Town Car.
"Although many manufacturers offer alternative fuel capabilities on a couple of vehicles, we're the only ones who offer that capability across our entire line," Coleman says. "We're a one-stop shop for customers with a large fleet ranging from small cars to heavy-duty trucks."
Electric and hybrid vehicles are sold and serviced through a certified dealer network. These dealerships include mechanics skilled in the repair of the vehicles as well as charging equipment. Commercial businesses are served through a business-preferred network of 630 dealers, some of which operate on a 24-hour basis for parts and service to minimize vehicle downtime, Coleman notes.
Alternative fuel vehicles are produced at Ford plants in the United States and around the world using the same assembly lines as conventional vehicles. "Our competitors use unique platforms and dedicated plants to produce these vehicles; our strategy is to use a plug-and-play system when it comes to power trains," Coleman says. "When we look at C-class vehicles specifically, we sell millions of those across the world to places where the fuel of choice is different, so we wanted a system where we can place different power trains for different needs."
Producing alternative fuel and conventional fuel vehicles in the same facilities also allows Ford to build its alternative fuel vehicle inventory based on customer demand, he adds.
The company works with seven qualified vehicle modifier (QVM) companies that install alternative gaseous fuel systems after a vehicle or fleet is purchased. This strategy provides three critical advantages to the company as opposed to an in-house approach.
First, it enables Ford to expand its breadth of vehicle offerings more swiftly; second, it encourages rapid, innovative solutions to customer requests; and lastly, it ensures the company is responsive to pricing pressures in the market, the company says.
QVMs undergo a rigorous assessment by Ford that includes an evaluation of their engineering, manufacturing, quality control and adherence to Ford's guidelines. "These guidelines are intended to provide guidance, modification recommendations and engine operating specifications required to ensure customer satisfaction and reliability in line with Ford Motor Company standards," the company says.
A Range of Solutions
The demand for Ford's alternative fuel vehicles is particularly growing in the commercial sector. Each of the company's fleet customers has varying reasons for moving toward the vehicles. "For many of our customers, this includes reducing expenses, having less of a dependence on foreign oil, reducing their carbon footprint or some combination of those," Coleman says. "We want to offer a solution for whatever they need regardless of their motivation."
Ford's newest fleet customers for the C-MAX Hybrid and Fusion Hybrid models include Con-Way, Esurance and Quest Diagnostics. Con-way, a transportation and logistics provider with roughly 500 North American locations, added more than 1,000 Fusion hybrids for use by operations and sales personnel in 2013. Con-way anticipates saving roughly 45 percent in operational costs and more than 1 million gallons of gasoline annually using the cars, according to Ford.
Quest Diagnostics added 150 C-Max Hybrids to its fleet to save on fuel costs and prevent excessive emissions. The company anticipates converting the majority of its 3,000-vehicle fleet to hybrids by 2015. Esurance expects to save more than 69,000 gallons of gasoline over the next few years.
Other notable fleet customers include Yellow Cab of Orange County, Calif., which has long used CNG and propane autogas vehicles as taxicabs. The cab company recently replaced many of its Crown Victoria taxicabs with Transit Connect cargo vans.
"We're seeing demand for all of the alternative fuel solutions we provide to customers," Coleman says.