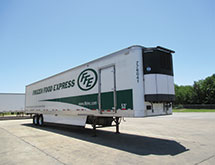 Frozen Food Express (FFE) can trace its beginnings to 1948, when it started as a refrigerated less-than-truckload (LTL) carrier with operations in Texas and the Midwest. Between 1971 and the mid-1990s, the company went public, made several acquisitions and got into full truckload (FTL) operations. But over the past year, the company has gone through a transition.
In July 2013, Duff Brothers Capital acquired FFE and took it private. Duff Brothers also owns KLLM Transport Services, one of the largest refrigerated carriers in the U.S. Based out of Jackson, Miss., KLLM's focus is FTL operations. FFE has temperature-controlled warehouses around the country and is based in Dallas. "We merged our full truckload operations with KLLM's and kept LTL operations under FFE," President and CEO Russell Stubbs says.
"We now have approximately 1,000 trucks," he adds. "We're the only temperature-controlled LTL that can directly serve all of the lower 48 states."
Multiple Advantages
The acquisition helps FFE to focus on its core competency. In the past, it was running FTL operations but having LTL as its main focus. "It made sense for us to find synergies with KLLM and focus on LTL at FFE," Stubbs says.
Not only can the company now remain laser-focused on the LTL side of the industry, it can also take advantage of its unmatched footprint.
"We maintain and control the cold chain from pickup to delivery as the only 100 percent asset-based nationwide, coast-to-coast LTL carrier in the industry," Executive Vice President and General Manager Vincent Schott says. "Our competitors in LTL must use third-party contractors for coast-to-coast deliveries and work with multiple truckers and warehouses."
Schott says the LTL market is billions of dollars on its own. "There are many LTL opportunities we couldn't tap if we had multiple interests," Schott says. "We can remain focused on LTL while being partnered with another company that is focused on the truckload side."
The company can work with Fortune 500s to mom and pops. FFE serves the food industry on the foodservice and retail side, working with grocery stores and restaurants. It also does significant business in many other areas.
FFE knows it must solve customers' problems. For example, many large customers own smaller companies that don't need full truckloads. FFE supports any size shipper and provides the same, quality service to all of its customers. "Shipments heading around the country might need multiple regional carriers, but we can do all of it," Stubbs says.
As for small customers, FFE is often their only way to market. Working with FFE means those companies can compete. "FFE controls the entire cold chain delivery process and never loses visibility of a product," Schott says.
Forward Focused
FFE is facing difficulties like the driver shortage, rising costs of raw materials and fuel, and increasing regulations. The company works closely with customers to solve challenges in transportation.
"Our company and ocustomers must constantly adapt to changes in food and transportation regulations," Schott says. "We must improve miles per gallon and emissions, recruit and retain drivers, maintain our own driving academy, and haul more and service the customer while remaining lean and mean."
Efficiency will help FFE grow and adapt. "If there is paper in the process, we want to eliminate it," Schott says.
FFE will automate its facilities in 2014, using enhanced barcoding and temperature technology from a trailer hitting the dock all the way to the customer. That will allow the company to react quicker and provide nearly real-time information on shipments. FFE is enhancing existing facilities and considering adding new facilities, too.
FFE is an industry leader and will strive to be as efficient as possible and give customers reasons to bring their business to FFE. "We are a pioneer in the LTL industry, and our goal is to continue to grow," Stubbs says.