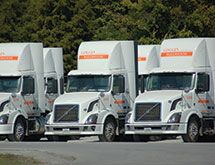 Goggin Warehousing doesn't have the luxury of picking and choosing customers that fit into a narrow niche, though surely it would make the full-service 3PL's job much easier. However, as the company continues on an aggressive path to grow as a regional provider, Goggin Warehousing has learned that having the flexibility to mesh with a variety of needs is the best route to take.
"We've always been very successful with many different types of logistical projects and one of the things we do really well is warehousing," President Keith Bellenfant says. "We started with one facility in 1998 and our founder/chairman Tommy Hodges and CEO Jack Coop have done an outstanding job of growing the company to 23 warehouses by providing a framework and structure that has allowed for a model of growth. We've always been a great local warehousing company to many communities, and now we're trying to extend our role and become more of a regional solutions provider that will help expand our scope and range of business."
Through its main service channels, Goggin Warehousing has grown in both locations and capabilities. Most of its facilities are in the Tennessee area, two are in Mississippi and one is in the Chicago area.
In addition to warehousing, the company manages its own fleet of trucks and trailers to handle all local pick-ups and deliveries, including just-in-time deliveries to meet its customers' production schedule requirements, trailer switching, driver support, dedicated customer truck fleets and local shuttle operations. Also, through its affiliate company Titan Transfer Inc., Goggin Warehousing has the capability to endorse and recommend to its customers an over-the-road trucking service.
It is also capable of handling its customers' distribution and related value-added services, such as electronic data interchange and advance shipping notices, light assembly, returns processing, packaging, kitting, labeling, consolidation, de-consolidation and same-day order processing.
With all of its services, Bellenfant says Goggin Warehousing has built itself up to handle a variety of products and materials – from automotive products to food products to most types of non-hazardous general commodity-type items. Goggin Warehousing has the ability and resources to tackle most challenges in the consumer world. Bellenfant credits the company's ease in switching from product to product to its employees and the state-of-the-art technology Goggin Warehousing has incorporated into each individual warehouse operation.
The Technology Factor
"We've really embraced the need, importance and benefits of technology in almost every phase of our business," he says. "Specifically, we have partnered with a 3PL management software company that has helped us develop a system strategically tailored to our operation. It allows us to be creative, adaptive, and it's very advantageous in this marketplace because our customers can go online and have real-time access to their inventory. In the warehousing business, management of inventory is our bread and butter so we have to be able to manage people's inventory, be precise, accurate and give up-to-date information."
When it comes to the transportation side of its business, Goggin Warehousing's main concerns revolve around safe and on-time delivery. In the fourth quarter of last year, the company implemented SmartDrive Systems in its entire fleet to help reduce collisions and improve fuel efficiency. In the first 90 days of deploying the video and data-capture system, Goggin Warehousing reported dramatically lower occurrences of risky driving, including speeding, stopping violations, mobile phone usage and unfastened seatbelts. Results included a 45 percent overall improvement in driving skills, including a 65 percent drop in high-risk events and fuel savings of 2.2 percent.
Bellenfant explains that investing in new technology is key to evolving with its customers' needs, and positions Goggin Warehousing to become a true logistics partner.
"We've always been a customer-focused organization and over the last few years, we've seen the supply chain take different shapes of change and we've evolved in our process from being a hometown warehouse provider to a company that's very dynamic and solutions oriented," he says. "By using the advanced software and technology in the industry, we've been ready to meet those new demands."