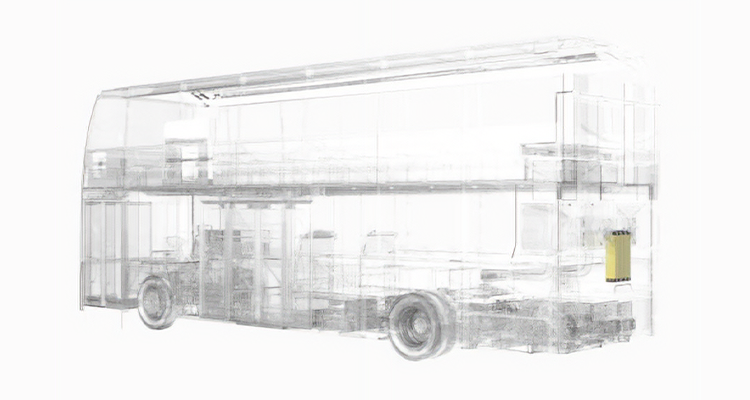 Funding secured for hydrogen bus project with first-of-its-kind technology 
UK-based consortium, HEIDI, secures £12 million funding to proceed with hydrogen bus project, incorporating Bramble Energy's innovative fuel cell technology
Bramble Energy (Bramble) has joined forces with Equipmake, Aeristech, and the University of Bath to develop a revolutionary new hydrogen double-deck bus that will integrate Bramble's revolutionary, low-cost printed circuit board fuel cell (PCBFC) technology.
The project is led by the Hydrogen Electric Integrated Drivetrain Initiative (HEIDI), of which Bramble is the lead partner. It has received £6.3 million funding from the Advance Propulsion Centre as part of the UK Government's Automotive Transformation Fund. Once matched by industry, funding will total £12.7 million.
The hydrogen-powered double-deck bus will incorporate Bramble's fuel cell technology, Aeristech's high efficiency air compressor, and Equipmake's motor power electronics and battery management. The University of Bath will carry out a series of vehicle simulations to optimize the design.
Bramble's revolutionary fuel cell design and manufacturing process uses a patented-protected PCB technology. It can create bespoke fuel cell stacks in a matter of days. The process help the supply chain too, as it eliminates complex components found in a typical electrochemical stack.
The hydrogen-powered bus will save a predicted six million tons of carbon dioxide compared to traditional buses. It will provide a cost-effective solution to supporting and accelerating the decarbonization of public transport across the globe.
Additionally, the project will support 500 jobs over the next decade, helping to establish an end-to-end supply chain for zero-emission vehicles (ZEVs) in the UK.
Dr Vidal Bharath, CCO at Bramble Energy, commented: "Fuel cell technology will deliver a viable net zero solution that lends itself to commercial vehicles where downtime needs to be limited. This consortium of partners enables us to deliver a world-leading hybridized powertrain, utilizing our innovative low cost PCBFC™ technology for the bus sector, where there needs to be a viable electrified solution that can deliver on cost and scalability." 
The HEIDI project will support UK manufacturers in producing fuel cells for buses and commercial vehicles. This will result in lower production costs, increased usage of fuel cells, and a reduction in carbon emissions.