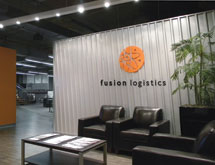 As a franchise owner for more than a decade, Joe Judson saw that the traditional Worldwide Express model had its limitations when it came to employee retention. "I wasn't satisfied with the fact young people just starting out with single-unit franchises would have limited opportunities and wouldn't be able to work beyond the market they were in," he says.
Judson, who got his start in franchising when he purchased a Worldwide Express franchise in Indianapolis in 1999, wanted to give employees the opportunity to take on larger roles or even move into different markets. He founded Fusion Logistics in 2007 with that idea in mind, and currently serves as its president and CEO.
Before forming the company, Judson worked in an executive management position for Worldwide Express, the franchisor. He was the architect behind expanding the Worldwide Express franchise base nationwide yet at the same time growing and developing multiple franchises of his own. He simultaneously worked for Worldwide Express as senior executive vice president of sales and franchise development while also founding Fusion Logistics alongside a few select Worldwide Express franchisees. He assumed his current position in 2008.
Fusion Logistics, headquartered in Dallas, operates 17 sales offices on both coasts as well as in the Midwest serving 3,700 weekly billing customers. "I wanted to create a large entity within the Worldwide Express system to create a lot of opportunities for jobs and careers," he adds. "If you work for an independent franchise, you're stuck in that market, but with us you can move to different markets or oversee a larger region. We operate as one entity versus many independent franchises, which also provides us with a variety of synergies when managing the operations and costs of our business."
Forming Partnerships
Fusion Logistics is the largest U.S. franchise group for Worldwide Express and operates independent of the franchisor. "Any customer who spends less than $500,000 a year on shipping is typically our kind of customer, but we do have many that spend much more," Judson says. "If you're a small to medium-sized business customer, right now the industry is so fragmented that you don't know where to go or what to do to get the best service and lowest rates. We offer those solutions to our customers."
In addition to offering domestic and international shipping for small packages through UPS, Fusion Logistics also partners with local, regional and national freight carriers to provide less than truckload (LTL), full truckload, domestic and international air freight and ocean freight shipping. Its partners include R+L Carriers, Roadrunner Transportation Services, Saia, Con-Way Freight and OCEANAIR, to name a few. "We don't just go after one segment or one mode of a customer's business," he adds. "Our business has evolved to a point where we can offer much more than small package services."
Fusion Logistics' sales and account management teams take a consultative approach to handling customer needs and regularly follow up with each account to see if those needs have changed. The company works to be the sole provider of shipping and transportation needs for its customers instead of just focusing on one particular mode. This helps its customers manage fuel and other fixed costs, as Fusion Logistics is able to leverage its buying power across several modes and help find efficiencies.
One way the company helps find efficiencies for its customers is through technology. "Customers in the LTL business still make a lot of phone calls for price quotes," Judson says. "Our shipping site online allows customers to see quotes from multiple carriers, create a Bill of Lading and schedule a pickup within a matter of minutes."
Fusion Logistics also provides customers with invoices and reporting tools. "Our customers should always feel that we treat them as a partner," he adds.
Making an Investment
Although the company operates in multiple cities across the country, its customers' experiences are much the same regardless of their market. Judson credits this to standardized practices as well as an extensive internal training program. "We're very transparent, and I think we communicate well and have a lot of continuity internally," he says.
All salespeople and account managers typically go through three to six training programs within their first two years in the company. "We put a lot of effort and expense into training," Judson adds. "No one has ever gone through this company thinking we didn't invest in them."