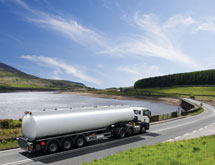 Customers of GulfMark Energy Inc. – whether buying or selling – obtain the flexibility and pricing structure they need at a competitive price because it pairs marketing expertise with an understanding of available hedging options. GulfMark Energy's operations experts have more than 150 years of combined experience in crude oil transportation. The company's marketing team has more than 86 years of combined experience. This ensures efficiency and safety.
The company operates along the Texas and Louisiana Gulf Coast, in West Texas and Michigan. It has access to 3,800 diverse properties and sells more than 2.25 million barrels of oil per month to local and regional refiners. "Our reputation for integrity, honesty, hard work and loyalty has earned us the confidence of our customers as we serve their individual needs," the company says.
A subsidiary of Adams Resources and Energy, GulfMark Energy purchases crude oil and arranges sales and deliveries to refiners and other customers. The crude oil is acquired from independent producers located primarily in Texas, Louisiana and Michigan. GulfMark purchases approximately 65,000 barrels per day at the wellhead. In connection with its purchases of crude oil, the company operates 75 tractor-trailer units and maintains more than 50 pipeline inventory locations or injection points.
GulfMark also has the ability to move oil by barge from nine oil storage facilities situated along the intercoastal waterway of Texas and Louisiana. The company maintains a storage capacity of 200,000 barrels at certain dock facilities.
Service Transport
Adams' Service Transport subsidiary transports liquid chemicals for hire throughout the continental United States and Canada. "With a fleet of 290 tractors available plus more than 450 trailer units, constant satellite communication capabilities and a comprehensive, integrated package of operations management software, Service Transport Co. has emerged as a leading service provider to the bulk chemical industry," the company says.
Service Transport Co. is a versatile, full-service tank truck carrier that is committed to quality and provides dispatching 24 hours a day. "Service is not just our company name; it's that quality that has driven us to a leadership role in bulk liquids transportation," the company says. Service Transport Co. has the correct combination of tractor and tank trailers to transport petroleum products, petrochemicals and hazardous or non-hazardous waste locally or on long hauls.
Adams Resources Marketing
Another Adams subsidiary, Adams Resources Marketing Ltd., is a wholesale purchaser, distributor and marketer of natural gas. This subsidiary focuses on purchasing natural gas at the producer level and distributing approximately 400 million cubic feet of natural gas daily to customers in market regions from the Gulf Coast through the Northeast. Supply is concentrated among approximately 60 independent producers. The primary production area is Texas' Gulf Coast and the offshore Gulf of Mexico region.
Adams Resources Marketing Ltd. operates primarily in the Texas and Louisiana Gulf Coast, Permian Waha Basin and midwest market region. It develops wholesale pricing strategies to help business partners remain competitive, improve revenues and profitability, and contain the costs typically associated with energy marketing.
The company markets approximately 600 million cubic feet daily of natural gas, plus additional volumes of crude oil and natural gas liquids. "Our extensive knowledge of markets, transportation and government regulation is an advantage to our suppliers and purchasers alike," the company says.