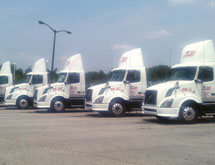 From its beginnings in 1989 as a small trucking company overseen by a husband-and-wife team running mail routes through southern Georgia, J&P Hall Express has developed into one of the leading air cargo and expedited transportation providers in the Southeast. In fact, last year the company was named trucker of the year by the Atlanta Air Cargo Association and Hartsfield-Jackson International Airport.
As President Todd Moore explains, even though the company specializes in shipping goods that have to be there right away, its success didn't happen overnight. A combination of hard work, the right people and a belief in continuous improvement brought J&P Hall Express to where it is today, and Moore says it will bring the company into a more prosperous future.
Based in Forest Park, Ga., J&P Hall Express specializes in carrying airfreight to and from Atlanta's Hartsfield-Jackson International Airport. About 99 percent of what the company carries throughout the Southeast, from the Carolinas down to Florida, is connected to the airport in one way or another.
In everything the company does, Moore says the bedrock principles and attributes that have made it successful in the past continue to form the basis for its continued success. "Our greatest strengths would be our service footprint, our security and technology, and our people," he says.
Industry Know-How
The majority of what J&P Hall Express carries is expedited, meaning it's time-sensitive and usually needs to be delivered overnight. "In general, the timeframe is a little quicker than for an LTL carrier," Moore says.
Fortunately, the company has a great deal of experience with expedited airfreight. Moore himself is a veteran of international shipping company BAX Global, and many within J&P Hall Express' management team come from an airfreight background, as well. Moore says this background gives the company a more complete understanding of what customers need when it comes to shipping their goods. Beyond the practical experience, however, is the one-on-one interaction that J&P Hall Express offers its customers. Moore says being able to communicate directly with customers about their shipments gives them added value by giving them peace of mind.
"We have sort of a niche compared to [the larger firms]; we're more customer-driven because we're not that gigantic company," Moore explains. "There's more of a personal touch."
Fully Staffed
That personal touch is made possible by J&P Hall Express' strong core of people. Moore says the administrative staff has experienced little turnover since the company's inception, and the company works hard to keep its best and most qualified drivers happy and productive.
Under Pressure
Although the company has many strengths and advantages that make it a leader in the Southeast, J&P Hall Express' market is not without challenges. Moore says pricing pressure from customers is the most substantial of these challenges right now, and the solution has not been easy to find. "There's nowhere to squeeze," he says. "We're doing everything we know to do."
To avoid pushing its prices up any further than it absolutely needs to, J&P Hall Express is turning to technology to help create greater efficiency. Moore says the company is in the process of switching to a new web-based operating system that will interface directly with drivers' smartphones. J&P Hall Express will be able to capture real-time information about each shipment.
With this kind of information at its disposal, Moore says the company will be able to make better plans. "It gives us a lot more information to work with from a service perspective and a cost-analysis perspective," he says. "It's going to make us more efficient, and we'll be able to do more for our customers."
Growing Capacity
Along with this technological advantage, Moore says J&P Hall Express is working hard to make further improvements. For example, the company added 25,000 square feet of warehouse space last year, and it looks to expand further.
"I think we will look to expand in a couple of areas that we're not in, maybe the Florida market," Moore adds.