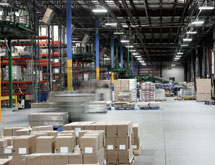 For Mode Transportation, variety truly is the spice of life – and the key to its growth. "A lot of freight companies might be typecast into just one type of service or customer base," says Todd Thompson, senior vice president of the Dallas-based company. "We don't serve just one market vertical. We have a wide variety of customers for whom we provide more than one transportation service."
The third-party logistics (3PL) provider offers truckload, less than truckload (LTL), intermodal shipping and international services to retail, foodservice, consumer goods and other industries nationwide. The company has operations across the United States through a large network of agents and works with more than 14,000 carriers.
"We have close to 4,000 customers ranging from Fortune 500 companies to companies that may ship one to two loads a month and have only 10 to 20 employees," Thompson adds.
Mode Transportation adapts its offerings to the needs of each individual customer regardless of their size. "We really try to listen to what our customer's true need is and match transportation services to fit that need," Thompson says.
Many of the company's customers ask Mode Transportation to help them find efficiency in their shipping operations as a result of rising fuel prices and other costs. "We've done some intermodal conversions [last] year and brought that option to customers who weren't previously using it, and that's lowered some of their costs," he adds.
Strong Performance
As an example of the company's flexibility, Thompson cites its recent experience with one of its customers, a global plastic resin company. In 2011, after experiencing several missed shipments with another provider, the client asked Mode Transportation, which was mainly just providing coordination for its truckload shipments, to take on LTL duties. Mode Transportation's business with the company grew from roughly $8 million to $30 million annually as a result.
Thompson credits this successful project to the company's positive long-standing relationship with the customer and the reputation earned through more than 20 years in business. This same reputation attracted Hub Group – the nation's largest intermodal marketing company and a leading 3PL provider – to acquire Mode Transportation in 2011.
Although Mode Transportation continues to operate as a stand-alone transportation provider within the Hub Group umbrella and enjoys operational autonomy, the acquisition, in particular, adds greatly to its intermodal capabilities. Before the acquisition, Mode Transportation strictly operated as a non-asset based company; now, it has direct access to Hub Group's fleet of more than 24,000 intermodal containers, Thompson says.
Hub Group also gives Mode Transportation the advantage of increased technology capabilities. Mode Transportation is working to join its Transportation Resource Integration and Tactical Analysis Network (TRITAN) system to Hub's existing network. The TRITAN system, developed by Mode Transportation in 2007, is an Internet-based, real-time transportation management system that tracks and handles all truckload, LTL, intermodal and rail freight movements.
Carrier Partnerships
Mode Transportation's relationships with its carriers and suppliers are also critical to its success, particularly in light of a trucking capacity shortage predicted to occur within the next few years.
"We treat our carriers with the same care and concern that we treat our customers," Thompson explains. "We want our carriers to feel that we treated them more fairly and better than others when the economy was tough, so when their capacity gets tighter, they will remember that support."
Mode Transportation works with regional and national carriers that serve its customers' specific needs. "Our carriers and suppliers work hand-in-hand with us to provide a high level of service to our customers," he adds.