G&D Trucking Inc./Hoffman Transportation LLC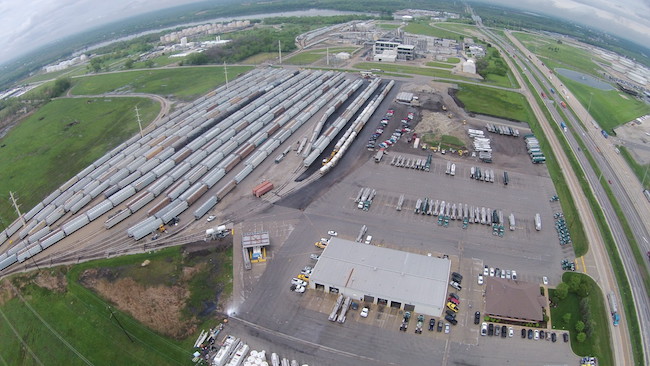 G&D Trucking/Hoffman Transportation's family culture and involved management allow it to buck national driver turnover trends.
By Jim Harris
G&D Trucking Inc./Hoffman Transportation LLC is proud to be an exception to a national trend that many of its peers in the trucking industry continue to grapple with. "We have less than 2 percent turnover rate in an industry that averaged 102 percent nationally as of 2015," says Jordan Hoffman, vice president of the Channahon, Ill., headquartered company.
Several of the company's drivers and employees have worked there for 35 years or more – nearly as long as the company itself has been in business. "Our average driver has 3.2 million miles of safe driving under their belt," Director of Operations Jerry Curl notes. "We have one of the best safety scores in our industry."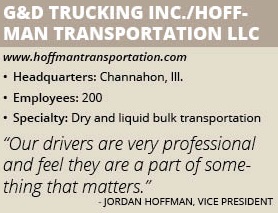 Hoffman credits the company's retention to its positive, family-oriented culture. "One thing I think is lacking in our industry that we do well here is giving credit to our drivers," he says. "Because of the tremendous job they do, our company has been able to grow and establish new relationships with customers over the years. Our drivers are so much more than a driver; they not only represent Hoffman Transportation, but also the customer whose material we are handling.
"Many variables are involved behind the scenes that must take place to result in a perfect delivery, and drivers have tremendous responsibility. Our drivers are very professional and feel they are a part of something that matters," Hoffman adds. "We highly value what they do – they are like family to us, and we're going to take care of them."
The company offers drivers a highly competitive salary and benefit package that Hoffman says gives it an elite group of drivers. "Loyalty is a very important aspect for us," he says. "We feel it's a big investment to bring someone in to be in our industry, so we want the best of the best and will reward people for being that. We show them our loyalty, so they stay loyal to us."
Quality Management
G&D Trucking/Hoffman Transportation's management team has more than 400 combined years of industry experience, which Hoffman says helps it set a positive tone for its employees. "The great thing about our company has always been how much our ownership and management is a part of the day-to-day operation," he says. "We make ourselves available and know everything that goes on from an operational standpoint and stay on top of those things."
Jordan Hoffman's father, Kevin Hoffman, founded the company in 1981 with a single truck. After initially hauling general commodities such as coal and sand, Kevin Hoffman rapidly expanded the company's fleet and capabilities. Jordan Hoffman grew up around the company riding alongside his father in trucks or working in its office or shop. He joined the company full-time 10 years ago.
Today, G&D Trucking/Hoffman Transportation operates a fleet of 140 tractors and 400 trailers. The company specializes in transporting dry bulk products such as plastic pellets and granular products. In addition, its liquid bulk transportation division hauls biofuels, solvents, acid, antifreeze, windshield washer fluid, brake fluid and lubricants for the automotive industry.
Last year, G&D Trucking/Hoffman Transportation carried 30,000 loads, only three of which were documented as late deliveries. The company is ISO 9001 certified, which requires it to keep extensive quality documentation.
"Our team has taken knowledge learned and utilized our experience to provide the best product and service possible during all of our years of growing and expanding our footprint in the industry," Hoffman says of the company's commitment to quality. "This allowed us to set up the best standard operating procedures possible to guarantee our customers the best service."
The company's trucks are equipped with hardware that allows it to meet the federal electronic logging requirement that goes into effect Dec. 18. The hardware also allows the company to electronically dispatch trucks and transmit load and routing information to its drivers.
G&D Trucking/Hoffman Transportation's equipment suppliers play a role in helping it maintain a high quality of service. Many of the company's trucks are built by Pacar (Peterbilt and Kenworth) Trucks, which Curl says works closely with G&D Trucking/Hoffman Transportation on the safety and comfort of its vehicles. "They listen to our needs," he notes.
The company also works with national suppliers including Bridgestone and Valvoline. "These are very large companies, but they are good at coming in and monitoring our fleet for their own records, then using the data they gain from us to make their products better," Curl says, noting the company also serves as a testing and proving ground for new products.
Well Positioned
G&D Trucking/Hoffman Transportation's headquarters in Channahon includes administrative office as well as maintenance and tank wash and rail transfer facilities. The company also has locations in Fort Smith, Ark.; Old Hickory, Tenn.; and Milwaukee. The Fort Smith and Old Hickory locations include transportation, warehousing and rail transloading facilities; the Milwaukee facility handles rail transfers.
The company next year will open a new rail transfer, transportation and warehousing facility in Coal City, Ill., located roughly 15 miles from Channahon. The new facility will allow it to receive materials and products coming from manufacturers in the southern United States and Mexico via the Union Pacific (UP) railroad. The UP is one of two railroads in the region commonly used by G&D Trucking/Hoffman Transportation's suppliers; the Channahon facility has direct switches with the Burlington Northern Santa Fe (BNSF) railroad, Hoffman says.
The Coal City facility is projected to house 50 employees within its first year of operation, a number that could potentially triple within the next five years.
G&D Trucking/Hoffman Transportation's increased capacity will allow it to better meet the needs of many of its customers who are producing industrial chemical products and plastics. "The distribution infrastructure we have established internally will allow us to offer solutions for those customers," he says.
"We've positioned ourselves with the right existing customer base as well as brought on new clients who have helped us grow each year for the last nine years," Hoffman adds.