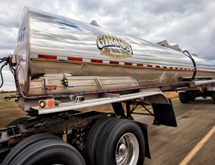 Despite all of the fancy technology and equipment that has flooded the trucking industry in recent years, Brad Girton, vice president of Girton Propane Services Inc., says that sticking to simple business practices is what has led to his company's success.
"The biggest thing for us is just service," Girton says. "That's how we've been able to grow. It's good service, follow-through and paying attention to the details that our shippers ask of us. There's been a lot of fleets that have sold and merged with bigger fleets, but I feel that we are at a premium size. We are big enough to take on big projects but small enough to maintain tight control on all the details and on our service."
Everett Girton founded the company in 1954. Today it's run by his wife and the second and third generations. At its start nearly 60 years ago, Girton Propane's name said it all since the company strictly transported retail and wholesale propane, but as its direct competition began to merge and form larger organizations, Girton Propane had to diversify its portfolio to continue growing. Today, it hauls a variety of bulk chemicals, including ag chemicals, general chemicals and oils and liquefied petroleum products.
The market for agriculture chemicals takes up the bulk of Girton Propane's capacity. It operates 130 power units, half of which are company owned, and 250 tank trailers. It serves 48 states, but most of its work, approximately 75 percent, lies within the Midwest and Central United States.
"When we looked for other avenues to go into, ag chemicals was a good fit," Girton says. "We're from the agriculture community and we feel like we know how this end-user thinks and that helps us relate to them and it's helped us to know how to best service them."
The company operates three terminals. One at its headquarters in Clay Center, Kan., another in Elwood, Kan., that it opened five years ago and a third in East St. Louis, Ill. Each terminal has its own shop, allowing the company to service trucks faster and save money on transporting trucks to and fro.
Integral Investments
Girton Propane's investments over the years have been focused on how to service all of its customers better. For instance, the company has fitted its trucks with Qualcomm systems that use real-time communication and GPS satellite capabilities. Its trucks also feature on-board cameras that are constantly rolling and recording but will save data in adverse events, such as collisions or fast stops, which allows Girton Propane to learn and prevent future mishaps.
The company's most recent investment gives Girton Propane greater control of its trucks' dependability and quality. In October, it launched a new state-of-the-art tank wash at its Elwood facility, giving the company the capability to wash all interiors. A new wastewater treatment plant built into the system allows Girton Propane to properly treat all waste before disposing of it into the sewer system. Once its procedures and cost-structure is set in stone, Girton says the new tank washing operation will begin taking on outside customers.
"This gives us more control over the quality of our tank washes to make sure we are paying attention to details and make sure the pumps and hoses get cleaned like they should so there is no possibility of contamination," Girton says. "We transport all types of chemicals and some of it is food grade and we also have some kosher-certified trailers, so quality is very important."