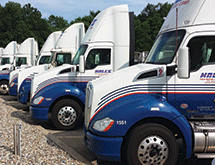 Hall's Warehouse Corp. has excelled in temperature-controlled storage by being a visionary in the evolving needs of the industries it serves and having the presence of mind early on to implement sustainable business practices.
The South Plainfield, N.J.- based company was founded by Harry Hall in 1927 as a third-party transportation provider. Hall's Warehouse Corp. was formed 10 years later to provide storage to its transportation customers. "We were predominantly in dry freight transportation and had a single customer ask us for temperature-controlled storage, so we put an air conditioning unit in a garage window and started on the road to cold storage," Sales and Marketing Director Wes Jayne says.
Today, Hall's operates a 75-unit fleet and offers 1.7 million square feet of warehouse space to its customers in the food and pharmaceuticals industries. More than 545,000 square feet of its warehouse space is dedicated cooler and freezer environments.
The company is separated into three organizations. Hall's Warehouse provides frozen, refrigerated and dry storage in seven state-of-the-art warehouses in central New Jersey. Hall's Fast Motor Freight operates its fleet in the northeast corridor and Hall's Logistics Group provides transportation brokerage services in the continental United States. "We are very well recognized in our industry," Jayne says.
Sustainable Measures
To keep operating costs low and stay competitive, Hall's partnered with the state of New Jersey in 2007 to install the largest rooftop-mounted solar installation in the country at the time. Its 3.5-megawatt onsite power generation ensures uninterrupted service and product integrity, Jayne says.
Hall's built a 100,000-square-foot warehouse in August that is equipped for solar installation. "Taking into account all the new energy-efficient building methods, along with lower cost for energy-efficient refrigeration and lighting materials, Hall's ensured that this project met and exceeded our company expectations," Jayne explains.
Its warehouses are not the only reason Hall's calls itself "the green 3PL provider." The company started by retiring its oldest trucks every three to four years and replacing them with newer models.
It continued to find efficiencies in its fleet by installing bunk heaters to run the heat, electronics and air conditioning without the engine running; implementing technology to prohibit a truck from idling for more than three minutes; installing perforated mud flaps and setting the speed limit on its trucks to 67 miles per hour. "We have increased our miles per gallon drastically since we have implemented this technology," Jayne says.
Transparency in Transport
A majority of Hall's clients are in the food industry and over the past five years the company has seen a greater focus on food safety for temperature-controlled products.
"There are positives and negatives regarding regulations, but understanding the impact to the supply chain is key," Jayne says.
To ensure it is always meeting its customers' needs and complying with government requirements, Hall's will continue to upgrade its technology and focus on additional green initiatives. "We want to maintain our posture in the industry as a successful family business in 3PL," he adds. "The family business is a dying breed, so we are always striving to set ourselves apart."