Harvey Gulf International Marine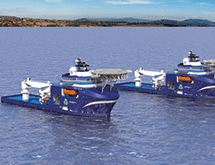 For nearly 60 years, Harvey Gulf International Marine LLC has been demonstrating its belief in the provision of superior performance and safe operations. Today, the company has become a marine transportation organization that is known for its specialization in offshore supply and multipurpose support vessels for deepwater operations in the Gulf of Mexico.
"My grandfather started the company in 1955 as an inland boat company," CEO Shane Guidry says.
"In 1972, my father took over the business and turned it into an offshore tugboat company," Guidry adds. "I took over the business in 1994, and that was when we started turning it into an offshore supply vessel company. In 1955, we had eight employees. Today we have 1,400 employees."
Service and Value
Harvey Gulf works to provide customers with marine service and value that are second to none. To achieve this, the company designs and equips its vessels to meet customers' current and anticipated needs for their deepwater operations.
Harvey Gulf provides the largest cargo capacities for offshore supply services, as well as the greatest capability and flexibility for offshore construction services. In addition, the company designs and equips some of its offshore supply vessels for dual operation as dive/construction and mooring line support vessels, which provides customers with greater flexibility.
"Our customers are large independent majors and super majors," Guidry says. "They expect superior safety, superior environmental quality and access to upper management seven days a week."
As part of its effort to be a full-service marine transportation service provider, Harvey Gulf's fleet includes fast supply and utility vessels, multipurpose support vessels and platform supply vessels that specialize in deepwater and ultra-deepwater operations.
The company's available services include everything from transportation of personnel, deck cargo, and dry and liquid bulk cargo to offshore construction support, pipeline repair and maintenance support. DP-supported saturation diving, knuckle-boom crane service, survey activities, and subsea construction and intervention are also offered.
"We are the premier offshore supply vessel company in the Gulf of Mexico," Guidry says. "We have the youngest, most modern fleet in the Gulf of Mexico, and our exemplary safety record and executive attention to our clients is what sets us apart."
Throughout the company's history, it has worked to stay on top of industry trends and change as required by the times. This is evident in Harvey Gulf's transition over time into an offshore supply vessel specialist. Changing as needed allowed the company to assemble a state-of-the-art collection of offshore support vessels that include supply vessels, fast supply vessels and construction vessels that are powered by the latest technology and have industry-leading cargo-handling capabilities. The company continues to monitor industry trends.
"The most significant trend we've seen is high deadweight capacity carrying vessels, as well as vessels that meet or exceed the 2016 IMO Tier 4 emissions standards," Guidry says. "Our company has spent $1 billion dollars on new equipment to prepare for this."
Greening the Gulf
Going green has been another priority for Harvey Gulf recently. The company is the first U.S. vessel operator to contract for construction of vessels capable of operating exclusively on natural gas.
In addition, Harvey Gulf has a number of dual-fueled LNG powered offshore supply vessels under construction as well as the first-of-its-kind LNG fueling facility in Port Fourchon, La.
Guidry says the most important investments made into the company in the last few years have been its LNG marine fueling terminal and LNG offshore supply vessels. "Their low-cost maintenance cap-ex, as well as 40 to 50 percent less fuel burn over diesel, translates into a cheaper alternative for our clients' offshore vessel needs," he says.
The LNG vessels will achieve "ENVIRO+, Green Passport" certification by the ABS. They will be the first offshore supply vessels to achieve this certification, which will make them the most environmentally friendly offshore supply vessels in the Gulf of Mexico.
In fact, the vessels will meet the highest emissions standards in existence today and will be capable of meeting even higher standards.
The LNG marine fueling facility will be an important addition to the nation's growing LNG supply infrastructure. It will support critical operations of the oil and gas industry's offshore support vessel fleet operating on clean-burning LNG. It will consist of two sites, each of which will have 270,000 gallons of LNG storage capacity.
In the years to come, Harvey Gulf is sure to evolve just as it has done since its earliest days. The company works hard to ensure that it has its finger on the pulse of its industry.
Overall, Harvey Gulf is committed to providing customers with excellent service. That commitment should help it pursue continued growth.
"In the near term, growth is somewhat limited to specialty-built vessels for specific contracts, as the Gulf of Mexico has hit somewhat of a pause," Guidry says.
"However, we believe that in 2016 through 2020, our growth will be in the same type of vessels we have today, only larger," he adds. "The biggest challenges to our business today are the world economy and the volatility of the Middle East. Our biggest priority is to reduce debt over the next 36 months."