Henningsen Cold Storage Co.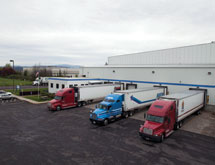 Some companies like to grow quickly, but not Henningsen Cold Storage Co. Instead, Executive Vice President of Sales and Marketing Tony Lucarelli says, the firm prefers to grow at a nice, steady pace and not bite off more than it can chew in its work.
"The business model has worked for us in terms of stability," he says. "It's a measured approach to our growth."
Based in Hillsboro, Ore., Henningsen offers warehousing and transportation management services to frozen and refrigerated food manufacturing companies. Founder Waldemar F. Henningsen Sr. started the company in 1923 in the Pacific Northwest under the name the Northwestern Ice & Cold Storage Co.
In 1973, Henningsen's grandson, Michael E. Henningsen, reorganized the company under its current name. Five years later, it built a state-of-the-art warehouse in Twin Falls, Idaho, with plans to build a large customer base in the frozen food industry. Its Twin Falls location is now its largest operation, with more than 12 million cubic feet of frozen storage space.
Well Handled
Today, family owned Henningsen is in its fourth generation and is one of the largest public refrigerated warehousing companies in North America, with more than 50 million cubic feet of refrigerated and frozen storage space. "We're certainly one of the leading companies in our industry in terms of size and capability," Lucarelli states.
He notes that Henningsen serves a diverse customer base. "They range from multinational companies to local and regional manufacturers," Lucarelli says, adding that the company handles and stores a wide variety of frozen and refrigerated products.
But none of its success would be possible without good service. Lucarelli explains that Henningsen strives to embody its "Relax…it's handled" slogan. "They're putting their goods in our facilities, and they can relax because we'll handle it for them," he says.
The company's entire staff has adopted this philosophy, he asserts. "When I'm out there, working with our clients, that's one of the things that permeates: that inherently good, caring attitude about our business," he says. "The fact that we've been doing this for over 90 years has been very substantial."
Director of Transportation Todd Lanter agrees. "Our goal is to lower the barriers to and from our facilities and make it easier to do business with Henningsen," he says, adding that it also can move products around the country.
Branching Out
Henningsen is looking at opportunities to diversify, Lucarelli says. It now has seven facilities in the Pacific Northwest, two in the Midwest and one in the Eastern United States. "We're looking to grow in the Northwest … [and] outside of that geographic region," he says.
The company also wants to expand its client base and form partnerships with them. Its newest location in Salem, Ore., is connected to the production plant of NORPAC Foods Inc., a frozen vegetable company.
NORPAC, he explains, had a desire to improve handling and storage efficiencies of their products. Henningsen was able to fulfill that need," Lucarelli says. "Going forward, we'll continue to look for opportunities [like this].
"We're also trying to diversify the products we handle," he continues, noting that Henningsen is seeing more opportunities for growth in refrigerated items. "[In] retail grocery, product offerings continue to increase."
Focusing on Logistics
In the past six years, Henningsen has increased its focus on its logistics services. Previously, "It was kind of an ancillary service," Lucarelli says.
But with the addition of Lanter to its staff, "We started focusing pretty heavily on it," Lucarelli says. "[It has become] a high-level deal."
Under Lanter's leadership, Henningsen has looked for more ways to bring benefits to clients through logistics. For instance, the company is looking at whether or not there are cost advantages to Henningsen transporting products from its clients' suppliers to its own facilities to help reduce costs, Lanter says.
According to Lanter, these services could reduce cost by transportation rate and reduce secondary inventory and management outsourcing. However, "There is no guarantee of cost reduction," he says. "It is a matter of review to explore cost advantages."
Henningsen also wants to improve its efficiency, Lanter says. "We're leaning heavily on technology [in] regard with working smarter, not harder," he says, noting that the company is implementing a new transportation management system that will allow it to analyze its work and data.
The system also gives Henningsen's transportation planners the ability to view orders and billings if something occurs outside the company's usual standards. "They are able to quickly identify exceptions to the plan and make appropriate decisions," Lanter says.
It would also give Henningsen information on its clients' inventory levels. "If they're low on certain items, we can get notifications that we're getting [near] a minimum quantity they've established," Lanter says.
On the Right Track
Lucarelli predicts a positive future for Henningsen. "We have a good, stable business model," he says. "If we continue to provide the level of services that we do, the opportunities are even greater. Our company is going to sustain itself for the next 90-plus years.
"That's how I picture the future," he says. "We're a fourth-generation business and we're making sure the company is well positioned to get to the fifth generation. The company is on the right track for that."