Greater Orlando Aviation Authority – Orlando International Airport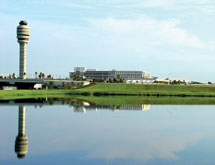 It's not every airport whose customers are coming to see Mickey Mouse, Harry Potter, the Orange County Convention Center or a world-class medical research campus. But those are just some of the destinations to which patrons of the Orlando International Airport are headed, some of whom might be experiencing their first airplane landing or at least their first in a while.
"We're focused right now from a holistic standpoint on a customer service transformation project," Greater Orlando Aviation Authority Executive Director Phillip Brown declares. This involves all the agencies and departments at the airport, not just the Aviation Authority but the Transportation Security Administration, U.S. Customs and Border Protection and even concessions such as food and beverage, and retail and rental car companies.
"We are somewhat unique in that the majority of our passengers are leisure travelers, and consequently not frequent travelers," Brown explains. Tourists from around the globe might be traveling through Orlando International Airport with children in strollers, a large number of bags, pets or golf clubs.
"We recognize at the outset that just about everybody has some little anxiety when they travel by air these days," Brown notes. "We are making an effort to cut across all of the silos of all the companies that work here. On any given day, you've got 18,000 employees working at this airport to make sure passengers enjoy their trip so it's fast, easy and comfortable, and they have the best travel experience they can."
Pass Control System
The experiences of European travelers and others from visa-waivered nations are being improved with a new system at Orlando International Airport. "We're the first airport that has unveiled an automated passport control system in connection with U.S. Customs and Border Protection," Brown maintains. "It will allow travelers from European countries – such as Great Britain, Germany and Ireland – to process through using passports scanned at a kiosk, answer a few simple questions, get a receipt, show the immigration officer and proceed through in 30 seconds. If you're doing a face-to-face interview with a customs officer, it could take up to two minutes."
The airport also will be undergoing $1.1 billion worth of renovations and new construction. "More than half is geared toward relieving congestion and expansion of certain areas," Brown says. "Slated for construction or expansion during the next five years are a south airport people-mover complex, which is $470 million, and improvements to airside 4, where we have one of our two international arrival facilities. That is the one that receives all the transatlantic and wide-body international flights. That project is slated for $114 million and is underway now."
Baggage Handling
Other improvements are slated for the current north terminal complex. Additionally, airfield and runway renovations being made will total $76 million and ground transportation improvements will cost $33 million.
"Since we are predominantly a leisure destination, we have more bags per passenger than most other airports," Brown points out. "So we have heavy screening of the outbound baggage and have made improvements to the baggage claim, which is the inbound side of it." Some of the ticket lobby, baggage-handling and airfield improvements have already begun.
Construction of a south terminal is planned when passenger traffic demands, which Brown estimates might be in 2018. "It will take three to four years to construct and design," he calculates. "We haven't yet surpassed our high-water mark, which was 37 million passengers, but we're starting to inch up there."
The environmental permits already have been approved for the south terminal, which will be built on a portion of the nearly 14,000 acres of land that the airport has acquired over the years. "We will do some projects on a design/build basis, but we've gone through the selection of architectural teams as well as construction delivery teams for all our major projects," Brown says.
With all of its more than $1 billion in renovations and improvements, the Orlando International Airport may someday rival nearby tourist destinations for customer comfort and convenience.