Heritage Environmental Services LLC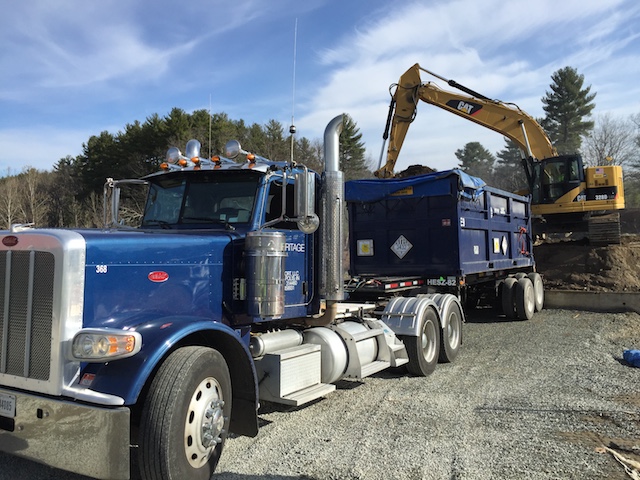 Indianapolis-based Heritage looks forward to extending its legacy as a leader in environmental services.
By Alan Dorich, Senior Editor at Knighthouse Media
These days, it is more important than ever for corporations to play their part in protecting the environment, but it can be difficult to keep up with all the regulations associated with waste management. That is where Heritage Environmental Services LLC can help. "We protect our customers' liability," Vice President Dan Handschu states.
The Indianapolis-based company manages the transportation and disposal of hazardous and non-hazardous waste for its clients in a compliant manner. "We're a privately held company that has some pretty conservative ideals when it comes to how we manage risk," Handschu notes.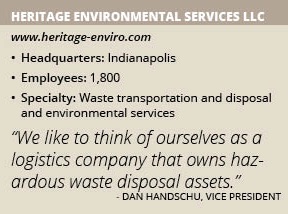 Heritage is part of The Heritage Group (THG), a privately held portfolio of companies in the specialty chemicals and fuel products, construction and materials, and environmental businesses also based in Indianapolis. THG originally began as a fuel oil delivery company in 1930 and moved into asphalt in the 1950s. "It has organically grown road construction as well as acquired several quarries along the way, so there's a fair bit of integration between the companies," Handschu says.
But Heritage's roots go back to 1970, when THG wanted to find a way to keep its road construction and asphalt plant staff busy during the winter. The company initially began operations as Indiana Liquid Waste Disposal, which collected oil for future use to fire the boilers in asphalt plants.
In the late 1970s, Handschu notes, the firm built a facility in Indianapolis that still serves as one of its prime treatment and disposal assets to this day. "It treats acids, caustics, cyanide and [waste] from plating operations, as well as stabilization of solids and performs bulking operations," he says.
Today, Heritage has 20 terminals for transportation purposes that also operate as 10-day transfer stations for hazardous waste, as well as six intermodal rail transload facilities. "We like to think of ourselves as a logistics company that owns hazardous waste disposal assets," Handschu says.
The company's assets also include a hazardous waste landfill in Roachdale, Ind.; Heritage Thermal Services, an incinerator in East Liverpool, Ohio; and Rineco, a supplemental fuel-blending facility in Benton, Ark. The latter, he notes, makes product used to fuel cement kilns.
"My group is tasked with feeding those facilities from a bulk standpoint," Handschu says, noting that he often moves soils that are contaminated from industrial use. "We move a lot of materials out of the Northeast, and we do that using our own private intermodal rail fleet."
He adds that Heritage recently completed its first barge to rail project. "It was due to a densely populated area we were in and it was really beneficial that there was less community impact with trucks going in and out of a densely populated residential area in the NYC metro area," he recalls.
A Flexible Leader
Heritage is the largest privately held, asset-based environmental company in the United States. "We're a leader," Handschu says, noting that the firm has the ability to be more flexible than its competitors.
Although Heritage operates in a niche business with high barriers to entry, it has thrived and nurtured a broad customer base that includes Fortune 500 companies. These include clients in the aerospace, automotive, chemical, oil and gas, and steel manufacturing industries. "We do a lot to support manufacturing in the United States," he states.
Because manufacturing is currently doing very well, "We're particularly busy," he says, adding that his group is very active when property values are high and brownfields are being remediated. "There are times where it's very busy, like a deli counter.
"We're trying to fit everybody in the schedule," he says, noting that its current work includes a project in southeastern Pennsylvania where Heritage is moving 6,000 tons of contaminated soil to an intermodal terminal in Frankfort, Ind., and recently started a 17,000-ton project in Upstate, N.Y., shipping by rail to the Heritage intermodal terminal in Indianapolis.
Earning Respect
Heritage has felt impacts from the shortage of qualified truck drivers in the transportation and logistics industry. "We have over 400 drivers in the company," Handschu says, adding that the company's rail service helps it cope.
It also prioritizes loads and focuses on developing better logistics methods. "Like many others in the industry, we've also increased driver pay," Handschu says, but he notes that the advent of automated trucks will not be an immediate solution.
Even if the technology is perfected, liquid hazardous waste loads will still require a person to manage the loading and offloading processes. "I also don't think the infrastructure is ready," Handschu says.
For now, he says, people need to have a better understanding of the trucking profession and the importance of drivers. "[We need to] be recruiting the younger folks [and] make it a more well respected and well-paid profession," Handschu explains.
Partners in Containers
Heritage also owes its success to its suppliers, which include Manitex Sabre Inc., a Knox, Ind.-based provider of liquid storage tanks and containment solutions. "We're always looking to refresh our fleet and upgrade our equipment," Handschu says.
"We have over 1,200 intermodal containers in the fleet, but they require constant maintenance," he continues, noting that Heritage purchases new ones each year, including intermodal sludge containers from Manitex Sabre.
Heritage primarily uses them to haul soil. "We haul about 20 tons in each box," he says, adding that the company has been satisfied with Manitex's work. "We would like to think we helped Manitex Saber get into the intermodal container market."
Safety Focused
Heritage's strong focus on safety includes its 6-Safety Program. "There are six different areas we've identified in our industry where people are likely to be injured," Handschu explains.
"We've even transitioned that to the home where similar things happen on a smaller scale," he says, noting that the company tries to help its employees be safe at work and safe at home.
Through the program, Handschu's group makes sure it stays safe using lift equipment that can support 95,000 pounds and ABC intermodal railcars that can haul more than 130 tons each. "We really focus on situational awareness," he says.
Currently, the company is updating and expanding the 6-Safety Program in order to revitalize the principals. "Several safety and compliance managers across the organization are putting forth great effort to provide us a best-in-class proactive program," he says. "It is important that our safety program grows along with the rest of our organization."
The company also holds daily tailgate meetings where employees are advised on areas to watch. "That's to keep everybody's eye on the ball," he says, noting that during the summer months, employees make sure to stay hydrated.
Safe driving is another area of focus. "Driving is one of the most dangerous things most of us do on a daily basis, so you have to really respect our truck drivers who are able to do that safely," he says.
This hard work has paid off for Heritage. In July, "CDL drivers for Heritage Transport and Rineco Transport drove nearly 1.2 million miles without a preventable crash," Handschu reports.
The company also recently participated in the OSHA driven safety initiative, Safe and Sound Week, this past August. "Heritage was provided daily topics through the Safety Today messages," he recalls. "The focus was on the collaborative efforts of all the levels of the organization to drive, influence and improve safety culture."
Better Ways
A longtime veteran of the industry, Handschu joined Heritage in 1999. "I started working in our plant as a material handler," he recalls, noting that he worked his way up through the company's ranks.
Handschu is proud of the culture at Heritage. "The company allows a high level of entrepreneurship, and we figure out better ways to do things," he says. "We really have a commitment towards research and development."
He also takes pride in how the Strategic Projects Rail Division has grown. When he and Executive Vice President Dean DeSantis launched it in 2005, "Our rail cars didn't look nearly as nice as they do today," Handschu says. "We had containers that were different colors and we used to joke and call it 'a circus train.'"
Now, he says, the division's equipment is all coordinated and painted blue. "I'm proud that we've been able to put this together and grow it into a successful division for the company," he states.
Handschu predicts that Heritage will continue to grow. "We have some big objectives to increase the size of our company with respect to revenue," he says. "We've got a great management team and great employees.
"I have no doubt that we'll continue to be successful," he notes. "We've been in business 48 years, and I see no reason another 48 good years are not in the cards."