Heritage Environmental Services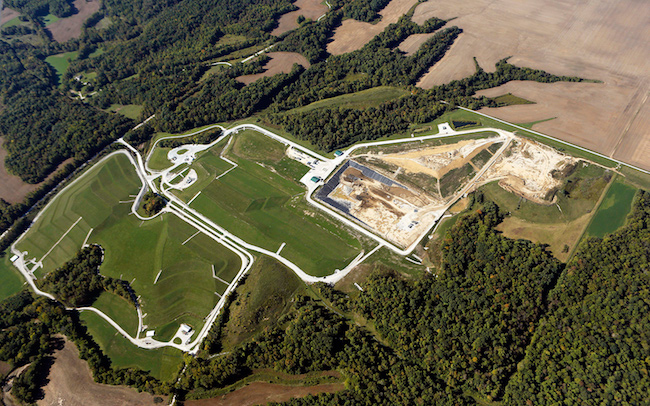 Operating its own fleet of trucks, railcars and intermodal containers lets Heritage Environmental Services provide consistent service to customers.
By Jim Harris
Heritage Environmental Services believes the best way to guarantee exemplary service to its customers is by taking on its own transportation and logistics responsibilities. "We're not reliant on others to perform work for us. Doing it ourselves … helps us provide better customer service," says Dan Handschu, director of the Indianapolis-based company's strategic projects group. "We can stand in front of our customers and say we can be in a place at a set time, haul X amount of material and bring X amount of trucks."
With more than 20 10-day EPA transfer stations and treatment and disposal sites including a Resource Conservation and Recovery Act (RCRA) Subtitle C compliant hazardous waste landfill and a RCRA hazardous waste incinerator in the United States and Puerto Rico, Heritage is the largest privately held asset-based environmental disposal company in the United States.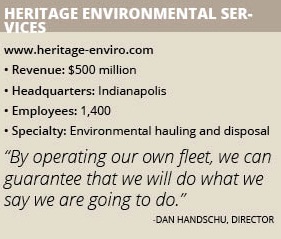 Through its wholly owned subsidiary Heritage Transport, the company operates its own fleet of 380 power units and a substantial fleet of over-the-road equipment totaling 560 trailers, including, van and tank trailers, pneumatic dry bulk tanks and dump trailers, in addition to roll-off chassis and more than 500 roll-off boxes. This fleet serves Heritage's assets as well as customer sites.
"We look at ourselves not just as a hazardous landfill and incineration company, but as a transportation and logistics company," Handschu says. "By operating our own fleet, we can guarantee that we will do what we say we are going to do."
Getting Strategic
Heritage greatly expanded its fleet holdings and transportation capabilities when it established its strategic project group. The group operates and oversees Heritage's growing fleet of rail cars and intermodal containers.
The company operates more than 200 rail cars and owns more than 1,200 containers. Heritage both owns rail and intermodal assets as well as leases them through GATX Corp.
"Rail is an efficient means to move large volumes of material," Handschu says, noting Heritage has set up a number of transloading locations to transfer materials from trucks to rail cars.
Many of the company's transloading facilities are located on the East Coast. Several of these facilities were established for specific customer projects. One such facility, in Nashua, N.H., has moved more than 40,000 tons of material since March 2016. The company last year also began operating a transload facility in Staten Island, N.Y.
"We're very good at finding new locations where we can load intermodal cars close to the project site," he adds.
Heritage's intermodal strategy reduces its need for longhaul trucking, which has a positive impact on both its environmental footprint as well its workforce. "We have drivers that can be placed locally and who make a few trips between the railhead and their destination daily," Handschu says. "They can get to sleep in their own beds at night, as they're not off on long hauls for days at a time."
Future Investments
Handschu says the company will continue to evolve its intermodal strategy. "We're seeing more transloading from rail to barge and less over-the-road truck transportation not just in our company but in the entire industry," he notes. "We first started doing it ourselves in 2005, but we have gotten strong at it in the past seven to eight years."
Keeping its fleet of railcars, trucks and other equipment up-to-date is a high priority for Heritage. "We're always investing in keeping our fleet fresh," Handschu says. The company has a preapproved line of leasing credit through Bank of America.
The company this year will also fully implement electronic logs in compliance with federally mandated hours of service rules. Heritage's log system is provided by PeopleNet. The system is a tethered communications and tracking system that includes GPS tracking as well as driver activity monitoring. PeopleNet is compliant with the federal regulations that take effect in December. The system also allows for reporting and maintenance related to the International Fuel Tax Agreement.
Handschu credits the company's success to its internal culture and longstanding values of safety, compliance, growth and integrity. The company is now under its fourth generation of family leadership since CEO and President Jeff Laborsky took the helm in 2013. "We work together as a family here, and our culture is supported from the top down," Handschu says.
On February 28, 2017, Heritage added a new member to the family with the acquisition of Rineco Chemical Industries, an innovative leader in the waste management industry and North America's largest single-site fuel blending disposal provider. "This acquisition combines the strengths of Heritage with Rineco's employee expertise, customer relationships, technologies and geographic locations," Laborsky says.