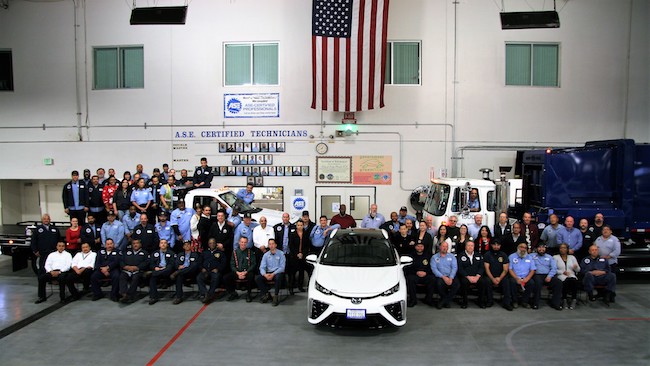 The city of Long Beach, Calif., employs the right people and technology to keep its fleet running.
By Alan Dorich
If there's anything a city needs, it is a fleet of vehicles that it can rely on to keep its operations running smoothly. The city of Long Beach, Calif., has enjoyed great success in that regard, Fleet Services Bureau Manager Dan Berlenbach says.
"I'm proud of our people and what they accomplish to be recognized as one of the top fleets in the country," he says, noting that his bureau oversees 2,000 vehicles for Long Beach's municipal operations. "We have a wide variety of equipment."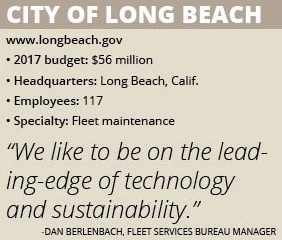 This includes the typical sedans and pickup trucks, but the Fleet Services Bureau also is responsible for boats to maintain the beaches and marinas, as well as police helicopters. The bureau also maintains the city's street sweepers. "We are pretty much full-service, because our city provides its own refuse service and street sweeping," Berlenbach says.
The bureau also maintains vehicles for Long Beach's towing operations. Most cities have contracted this service, but "we do it with Long Beach Fleet staff," he describes. "We have 12 tow trucks and 25 people in our towing division."
The Fleet Services Bureau has been recognized for its hard work, Berlenbach adds. This year, Heavy Duty Trucking magazine named Long Beach as one of the top-50 heavy-duty green fleets in the country.
Last year, the city also recognized the bureau with a Civic Innovation Award for its use of renewables and telematics, which provides data on a vehicle's location, operation and how much time it idles during the day. "If you use all of that data, analyze it and act on it, you can reduce fuel consumption and pollution," Berlenbach says, adding that this philosophy has been adopted throughout his bureau's fleet.
Green Changes
The Fleet Services Bureau's recent projects include converting its diesel- and natural gas-fueled vehicles to renewables. Renewables now account for 52 percent of its overall fuel use annually. It previously used liquid natural gas for its refuse and sweeper vehicles, and now is converting to compressed natural gas (CNG).
The city is constructing a CNG time-fill station for this change. "We'll open it here in a few weeks," Berlenbach reports, adding that the fuel enables vehicles to produce fewer emissions and incur lower costs as well as avoid manual refueling.
The bureau also recently purchased CNG pick-up trucks and medium and utility vehicles to reduce its carbon footprint. "We've also got a hydrogen fuel cell car in our fleet motor pool," he adds, noting that the bureau is testing the car.
"We're looking to see how suitable it is for our use and we survey our customers to get feedback on it," Berlenbach says. "It's also a good opportunity to let city staff, especially in a motor pool application, see what's on the market."
Making Updates
The Fleet Services Bureau recently started updating its fuel management system in the city of Long Beach. The bureau, Berlenbach explains, manages 18 sites, of which only 11 dispense fuel.
But these locations, he notes, were operating with an antiquated system. Drivers would pull their vehicles up next to the pumps and insert keys into a terminal. "They would [then] insert a pin number and get fuel," he recalls.
The city has started switching to a system that relies far less on human input, leaving it less vulnerable to theft. "The controls are much stricter," Berlenbach says, noting that the system uses radio frequency identification.
"So when you drive up next to the pump, there's a data exchange," he explains. "The pump knows what the [vehicle] is and knows the limit for the hours per day it is allowed to fuel."
This helps reduce fuel usage, Berlenbach says. The system also requires the driver to swipe a city ID badge, representing "stage two of identification to get the fuel," he explains.
"While that electronic handshake takes place, it also downloads all the data from the vehicle," he says, noting that the system uses telematics and determines if the vehicle is experiencing any maintenance malfunctions. "We're just in the process of installing the system now on our vehicles throughout the city."
The bureau also is in the process of upgrading many of its vehicles that were overdue for replacement. "We're catching up a backlog of 800 vehicles or so," Berlenbach says. "We're in the process of recapitalizing the fleet and that has huge benefits. Our fleet had aged and that lead to increased labor and parts costs as well as downtime for our customers. As we renew the fleet, we see our operational costs and downtime decreasing significantly."
Motivational Challenges
The Fleet Services Bureau regularly encounters its share of challenges, but they "are challenging in a good way and not an overwhelming way," Berlenbach says. "It's motivational in having those sorts of challenges."
One is to be as green and sustainable as possible can while managing the fleet and supporting city departments. "There's a lot of fun and interesting challenges in trying to spec out vehicles for our customers that will do the job for them and have a minimal effect on the city's environmental footprint."
Another is meeting the aggressive vehicle replacement schedule. "It's a challenge to process so many vehicles and get them outfitted when they come in," he says, noting that this includes police cars, which require an extensive amount of electronics.
The bureau also has to work to meet demand. "Everyone wants the new vehicles out in the fleet right now," he says, noting that the city's mechanics work extensive hours on the vehicles.
The bureau faced a similar challenge last year when it upgraded its fleet management information systems to Assetworks M5. "We hadn't upgraded in so long that it took a significant amount of work to set up and clean up the data," he recalls.
But the process also allowed his bureau to go paperless in its shop and improve its business processes. "The technicians don't have [to print] up our work orders," he says. "They rely on the terminals."
Now, he says, the bureau has to ensure it creates key performance indicators (KPIs) using Assetworks and take action on them. "We're pretty busy with setting up the KPIs and implementing their use to make more data driven decisions out here," he states.
Pride in People
Berlenbach joined the city of Long Beach nearly three years ago. He is proud of his bureau's employees, who are essential to its success. "[We are] recognized as one of the top fleets in the country, but that doesn't happen because of the management here," he says. "It's because of the people."
His team members all share a strong work ethic. "Our people come to work every day and really try to do their best," he says. "They enjoy being here and they want to be the best at what they do."
The coastal location of Long Beach helps keep them loyal. "We're blessed with a nice climate to work in, a beautiful, well-equipped facility to do our work and our folks have high morale," he says.
This nurtures low turnover in the bureau. "People that come here tend to stay," he says. "We're building up a lot of longevity."
More growth may be ahead for the bureau, Berlenbach predicts. "We like to be on the leading-edge of technology and sustainability, so the fleets and vehicles that compose them are changing exponentially," he says.
The city is watching closely the development of autonomous vehicles and ever greener vehicle technology. "I see the future of our fleet going there with the autonomous vehicles and the ability to further reduce our environmental footprint," he says, "and, it will be sooner rather than later."