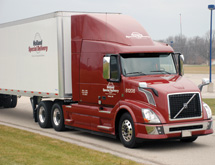 Holland Special Delivery has come a long way since its humble beginnings in 1973. As CEO Jim Albers tells the tale, the company started out as a cab company based in Holland, Mich., that eventually added package delivery to its services. From there, the company bought some small trucks and started hauling goods throughout Michigan for some of the larger manufacturers in the area.
Today, Holland Special Delivery is a large regional logistics solutions provider with a fleet of nearly 200 trucks and more than 500 trailers hauling throughout the Midwest. Among the many diversified services offered by Holland Special Delivery are warehousing, truckload shipping, LTL, brokerage and truck maintenance.
Albers says the company has become a trusted partner for many customers because of its reliable and high-quality service. As the company looks ahead to the near future, Albers says the foundation of faith, people and consistent improvement that have carried it to where it is today will continue to be the root of its success tomorrow.
People First
Even though the company has an extensive fleet and a deep list of services, Albers says Holland Special Delivery's values are its most important attribute. This is because they influence how it treats its customers and employees. "We're a faith-based transportation company, and one of the first things we try to do is balance the needs of the organization with the needs of the associates," he says. "They get to know what's going on in the company, and we don't keep them in the dark."
This means that the company makes decisions based not solely on the bottom line, but also on the impact that those decisions will have on the people associated with Holland Special Delivery. Whenever the company has to take a leap of faith, Albers says, it prefers to side with its associates.
The company strives to carry this attitude to all aspects of its operations, especially with customers. Albers says Holland Special Delivery takes a personalized approach to each one of its customers because it understands that there is no "one size fits all" answer for all of them. "Most of our clients are very unique and they have very unique challenges," he says. "We kind of see ourselves in the solution business."
Holland Special Delivery can offer these types of individualized solutions because the company is focused on continuous improvement. Albers says the company regularly analyzes data it collects on every driver and every truck and finds ways to reduce the cost for customers based on that information. For example, Albers says one of customer gave the company a schedule for its runs. After two months, Holland Special Delivery discovered a new way to schedule the runs so that fewer trucks would be needed. "The customer was elated, they saved money, we actually saved money and we got double utilization out of one piece of equipment," Albers says.
Best and Brightest
Just as important as the analytical work is the quality of the people it has behind the wheel, and Albers says Holland Special Delivery has been especially conscious of the labor pool in recent years.
"Good driver retention is a lot of hands-on stuff," Albers explains, adding that the company's culture of treating employees fairly and with respect has gone a long way toward helping it keep its best personnel on staff.
As far as recruiting new drivers goes, the company has been using more Internet ads vs. the old method of newspaper ads. However, Holland Special Delivery has found that the most successful method is to simply let its employees speak for themselves. Albers says that because its employees know they work for an honest company that treats them with respect, they are eager to share that experience with their friends and family, which has led to the successful recruitment of many drivers. "That actually works out best," Albers explains.
On-time Delivery
The biggest challenge facing Holland Special Delivery is how tight customers want their schedules to be run. In today's economic environment, waste of any kind needs to be eliminated, and that means there's little margin for error.
Holland Special Delivery has stepped up its use of technology to bring its customers peace of mind. Albers says the company uses GPS software to keep tabs on its drivers and trucks at all times, which allows the company to give its customers a perfect snapshot of where products are and when they will be delivered. "It has been kind of natural for us," he adds. "Being on time has been a mantra of ours since day one."
All things considered, Albers says Holland Special Delivery is on track for continued success in the future. "I think the future's pretty bright," he says. "We have a wonderful management staff and we have wonderful employees. Customers are telling us they're expecting great things."