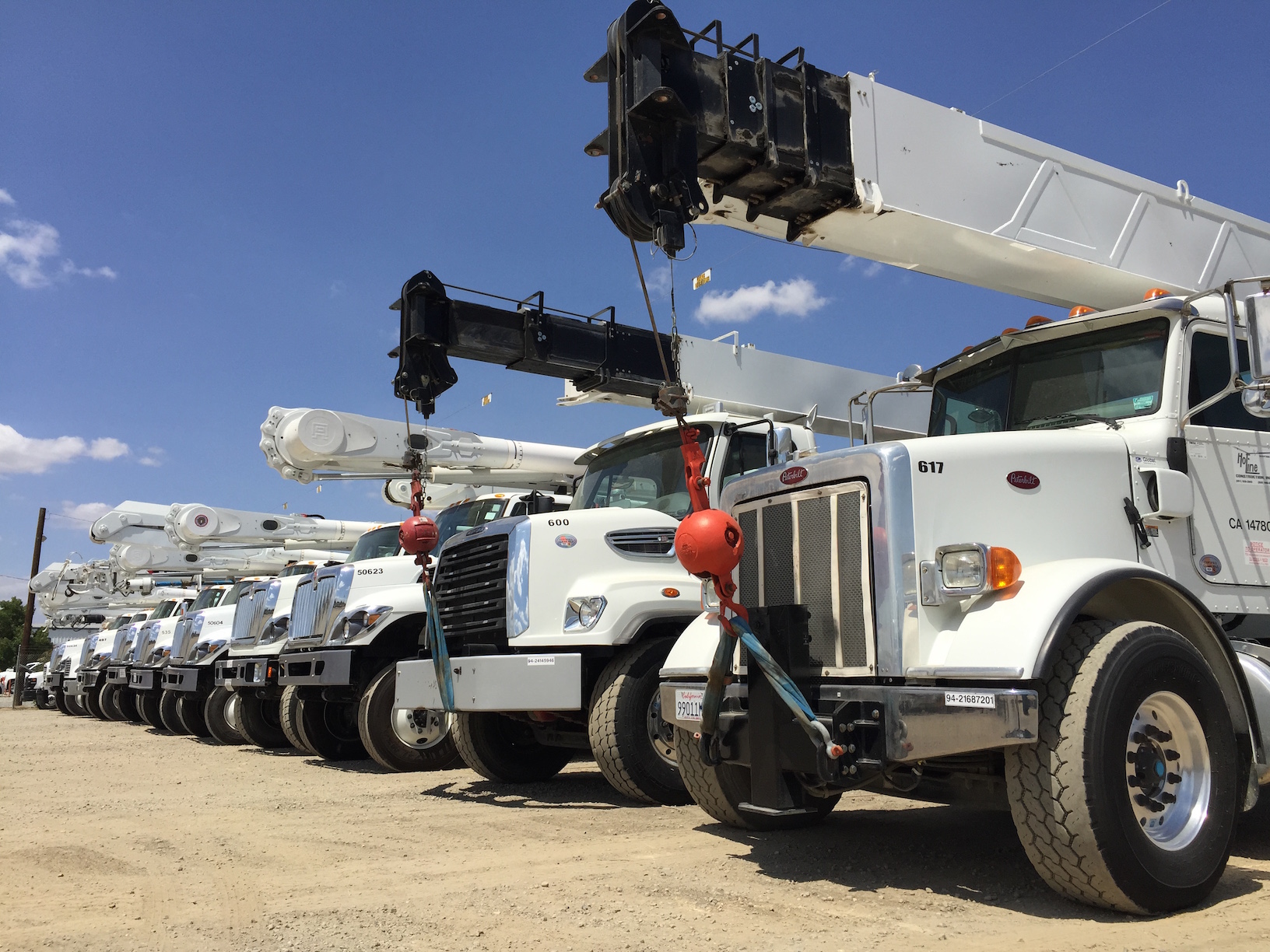 Hot Line Construction keeps its fleet of specialty vehicles moving throughout California to keep the lights shining and air conditioning cooling.
By Russ Gager
Electrical utility lines travel through remote regions, and in mountainous states such as California, these areas can be hard to reach. So when lines are down and power needs to be restored quickly, vehicle reliability is critical. That is the challenge faced by the transportation and logistics departments of Hot Line Construction.
"If a truck goes down in the middle of a job, we send our response team to that truck and fix it," Fleet Manager Nick Barrick stresses. "If it requires heavy maintenance, we can have a spare truck run out to the job site so it's not down for a long time. Each of our districts have spare trucks in their yards."
Hot Line Construction also relies on regular maintenance from its eight mechanics stationed at its different locations in southern California to keep its vehicles running reliably. "Each district down there now has their own lube truck, which allows us to focus on 90-day inspections and services on our vehicles and lube services," Barrick says.
The lube trucks perform oil changes and other regular maintenance wherever Hot Line's service trucks are located. "A lot of service trucks report back to the same yard, and we do some maintenance at the yard, but the majority of the time, the lube trucks are on the road five to seven days a week, performing basic lube maintenance on the vehicles," he adds.
The lube trucks carry tanks to hold waste oil drained from service trucks and are equipped with air compressors, cranes, welders, hydraulic fluid and other required maintenance equipment. The in-house maintenance staff also fabricates part replacements and performs more complicated repairs.
Hot Line Construction has nine districts in California and four offices, along with multiple yards where its equipment is stationed and satellite locations. The company is in negotiations to obtain its licenses to perform service in portions of Washington, Arizona and Oregon.
Electrifying Fleet
Hot Line Construction has approximately 800 pieces of equipment including digger derricks, light towers and cranes, along with 200 leased commercial vehicles in its fleet ranging from pickup, bucket and utility trucks to loaders, fork lifts, flatbed trailers and semi-tractor trailers. "Our substation and field departments prefer utility body trucks with ladder tracks on them and contractor boxes to store and lock up tools," Barrick says. "We utilize quite a lot of those trucks throughout California. We've increased our fleet of utility trucks by 100 percent over the last year."
Many of the vehicles and equipment such as pickup trucks are purchased new. The leased ones are frequently obtained with a rental/purchase option, and many of those also are pickup trucks. "It allows us to lock into a month-to-month rental agreement and apply a portion of the rental charges to the purchase price and into a lease from there," Barrick explains. "That reduces the total buyout if we decide to purchase at the end of the lease agreement. Because we've had them on rental, we are able to deduct a part of the rental charge off the total purchase price. Five years or newer is our goal for dependability purposes for our crews out in the field."
The advantage of renting vehicles is being able to return them without penalty when seasonal fluctuations occur and they are not needed anymore. "It gives us flexibility when we rent our equipment to fluctuate fleet size based on what our needs are," Barrick says. "We do that with our pickup trucks, not just for commercial vehicles."
Seasonal fluctuations in workload usually occur during the first quarter of a new year. "Traditionally during the first quarter, we drop crew size down in half, then we start picking up by the middle of the second quarter," CFO Kelly Kutchera relates. "By mid-summer, we are fully ramped up with all boots and wheels on the ground until the end of December."
The time it takes to accept utility rates and set budgets is the reason for less work being performed during the first quarter. The rush to get the year's work done before year-end causes the rush during the last quarter. Greater load demands during the heat of summer and damage from the storm season that begins in October and usually finishes in March also accounts for the work increase.
Safety Training
Working with high-voltage electricity requires the highest safety standards and training. To calculate its safety grade, Hot Line Construction enters its safety data in two portals, the ISN Network and OSHA, including hours worked and any information on safety incidents or claims.
"All of our clients look at these portals monthly, weekly and daily sometimes to make sure we are within that range of safety," Kutchera says. "It's gotten much more strict in the last three years. Things have changed drastically. We've had to turn a lot of our profits from the bottom line back into the company to put together luncheons and large seminars for all our employees and field hands. We bring in outside vendors to come in and do training. Learning how to be proactive as opposed to reactive keeps you in the game, and we work very hard at it."
To provide that safety training, Hot Line Construction has two yards, one in Northern California and the other in Southern California, where it provides hand-on training for its union employees. "We put together different types of mock scenarios to teach our employees, to retrain or educate them on what they haven't learned yet," Kutchera says. "Then we take new hires out there, as well." The yards also are used during the first quarter of the year for vehicle and equipment storage during the seasonal business slowdown.
The company's latest technological improvements are a GPS system that keeps track of the location of all the company's vehicles and equipment. Additionally, a purchase order system keeps track of material ordered. Hot Line Construction maintains little inventory because most of the materials for its work are ordered custom for each job and delivered directly to the project site. "Very little material is left over at project completion," Kutchera says.
The family owned and managed company is a woman-owned business enterprise that is certified by the California Public Utilities Commission. Kutchera attributes Hot Line Construction's 30 years in business to "good management from a financial standpoint and a safety quality standpoint. Because of our impeccable safety record, we continue to receive the work."
Not only does the family of the owner work at Hot Line Construction, some employees' families also work there. "The larger clients that we deal with respect the fact that we're still family owned and managed," Vice President Troy Myers says. "We take a lot of personal pride in that."
The number of employees at Hot Line Construction has more than doubled in the last six or seven years. "A lot of people who come to work here scratch their heads and say, 'You've got a large corporation, but you really don't treat your employees that way. You still treat your employees as though only 10 people are working here,'" Kutchera says. "Nobody's task or job is less important than the next. We make sure employees know that through bonuses at the end of the year as well as paying above-standard wages to our team."
www.hotlineconstructioninc.com
Projected 2016 revenue: $235 million to $240 million
Headquarters: Brentwood, Calif.
Employees: 612
Specialty: Design, installation and maintenance of transmission, distribution and substation facilities