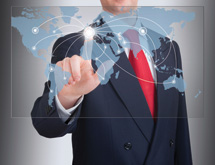 It's easy for transportation companies to focus on the same prominent initiatives when looking for ways to innovate and preserve resources – rising fuel prices, increased globalization, pressures to differentiate from the competition.
However, another potential menace to your efficiency and budget may be lurking within the heart of your operations: a less-than-optimal electronic data interchange (EDI) system that is hindering your transportation management system's (TMS) ability to successfully integrate and operate as you grow.
For instance, USA Truck relies on seamless communication and collaboration to maintain a partner network of more than 300. And like many fellow transportation providers, USA Truck relies on a central TMS to communicate delivery statuses and transaction data across its business spectrum.
So why, in a period of unprecedented growth in the early part of this decade, was USA Truck struggling to accommodate basic transaction requests?
At the time, USA Truck was fully dependent on the EDI software that came with its central TMS. Unfortunately, the carrier learned the hard way that as its overall business sprinted far ahead of typical pace, its EDI tools were gasping for air far behind. With its EDI systems backlogged, USA Truck lost valuable time, resources and potential partner trust.
Integration is a complex topic for some providers, and in most cases, the way integration software is added to your partner processes is just as important as deciding to do it in the first place. After all, the goal of any EDI implementation is to connect and synchronize systems that are not designed to work with each other. Properly syncing your EDI tools with your TMS will determine the scope of integration you can deliver, how long and how much it will take to deliver core functionalities, and how easily you can modify and extend integrations as your business evolves.
So how can transportation and logistics teams evaluate if their EDI and TMS systems are working together in perfect harmony? It's an understatement that each organization's operations and specific integration needs will vary.
However, by utilizing this five-point checklist, you can help your team evaluate just how much benefit you are receiving from your current EDI tools, and discover whether it may be necessary to dump your current EDI tools in favor of ones more capable.
Joining the Bandwagon
The greatest advantage to integrating for transportation companies is the ability to rapidly add new partners and transaction types to your system. At optimal efficiency, this onboarding should take days instead of weeks or months.
If your systems are taking abnormally long to process requests, and/or you are feeling pressure from your partners because they are not receiving critical information at a swift pace, you may want to take a step back and confirm full functionality. In USA Truck's case, its system flaws emerged during significant load offering processing delays.
For IT teams, this means buying into the idea that there's always a way to do better and turning it into action. Even if your systems have not been significantly slow, it's worthwhile to examine how well your EDI programs are functioning and see if it, or a replacement tool, can integrate even faster.
Partnering Up
Beyond your internal IT team, your vendors and partners are the next best source to truly grade your integration efficiency. As in any business, if your transactions and communications are flowing smoothly, you likely won't hear much, but if there is a flaw in the system, chances are you'll know about it quickly. If your last few vendor scorecards indicate significant errors, latency or expenses, your EDI system should be your first destination when determining what needs to be fixed.
A properly synced integration system should send your team customized alerts to identify potential trouble spots before they become pressing, visible issues. Ensure your common exit point processing is linked to these alerts to guarantee the greatest internal visibility possible.
Full Visibility
Can your customers and service partners completely view their own transaction histories and current in-process projects? When functioning properly, integration tools should provide in-depth, real-time reporting around a variety of transaction parameters. If your partners, or even your internal team, have to wait to understand your project's scope, your system may need an extra push.
Similarly, all-inclusive EDI programs should make a dashboard readily available to access reports of this nature. Wasting significant time searching for the information you need is cumbersome to IT teams that need to work rapidly, and your EDI system could be costing you valuable minutes for functionalities that should be completed quick-turn.
Handling Demand
As the cliché goes, unpredictability is often the most predictable element of any IT environment. Chances are, your partner network will experience highs and lows around activity volume.
Confirming that your EDI system will not crash when faced with a bump in transaction requests is essential to maintaining a steady workflow. Test your system's processing speed and tolerance levels before your partners demand it, and make adjustments as needed, otherwise you'll be stepping out into the unknown at an inopportune time.
Likewise, consider, or confirm, an EDI system that enables multi-threading capabilities, which will enable your team to balance higher priority communication demands and resolve problems in target areas faster. A demand for multi-threading was another factor in USA Truck's decision to swap out its EDI system, as it often found "mom-and-pop" shops that had trouble communicating could drastically impact or altogether stop transmissions for bigger, core customers.
Playing Catchup
In any integration environment, teams face challenges when they attempt to coordinate their central systems with various technologies used by customers across the entire network. In some cases, your partners either don't fully comprehend how to maximize their EDI technology, or they may lack the necessary technology altogether.
While there isn't necessarily a direct correlation between the two, ensure that your integration technologies can process the spreadsheets, flat files and other desktop office suite-compatible documents your partners may require to stay in the loop, but be unable to access. Your tools should enable you to define and prioritize partner-specific documents rapidly from sample data.
Although integration functionality is an often overlooked element of partner management and overall business efficiency, ensuring your EDI system is compatible and scalable with your TMS can save significant time and resources, while making your partners happier through faster, more in-depth transaction data.
In some cases, as with USA Truck, simply trusting what comes along with your TMS means selling your business short. Digging a little deeper into its true capabilities now can save you significant headaches later, should your partners notify you of operational problems.
Proper technology integration should not require extensive coding, tools or skills for your team. Ensuring that your integration tools successfully unite critical day-to-day processes will do that work for you.
Matt Sadecki is a senior account manager, transportation, for EXTOL International, a leading provider of business integration software and services enabling enterprises to connect with their partners, and integrate business processes with internal or cloud-based applications. For more information, contact msadecki@extol.com, or visit www.extol.com.