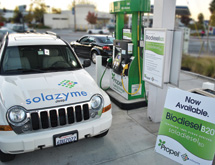 Although they still are uncommon enough to rate a mention in the media whenever they are introduced, alternative-fuel fleets are more than just a PR stunt these days. Whereas manufacturers and carriers used to proudly unveil alternative-fuel vehicles as "a glimpse of the future" and then go right back to concentrating on fossil fuels, today's alternative-fuel fleets increasingly are taking their spot on the road right alongside their predecessors. As the transportation industry continues to make the transition away from fossil fuels and toward lower-emission alternatives, the question becomes less "Will the industry embrace alternative fuels?" and more "What path will it take to get there?"
The signs are everywhere – manufacturers are boosting production of cleaner-fuel fleets while carriers are replacing the oldest vehicles in their fleet with new, greener ones. Like any major change, however, it isn't happening overnight, and there can be some major obstacles for companies to overcome before the number of alternative-fuel vehicles overtakes the number of trad­­itional fossil-fuel vehicles, if that change ever happens at all.
Big Names
Perhaps the biggest sign that alternative fuels such as compressed natural gas and propane are going to be part of the transportation industry landscape for a long time is the participation of the industry's biggest names. Any start-up can gain some quick attention from the press by announcing the development of a radical new vehicle, but when an industry giant like Ford Motor Co. incorporates such a new idea into its operations, it's a sign that makes industry observers take notice.
For example, Ford announced in March it was increasing the number of trucks and vans it offers that run on compressed natural gas and propane, citing rising sales of such vehicles and the growing demand for alternative-fuel vehicles. John Coleman, fleet sustainability and technology manager, told the Chicago Tribune that the company has increased the production of commercial vehicles that run on natural gas and propane by more than 350 percent since 2009. The company added that it expects to sell more than 13,000 such vehicles in 2013, up from only about 3,200 in 2010.
Ford further explained that although the ever-increasing costs of gasoline and diesel fuel in the United States was a primary contributor to the push for a more diversified alternative-fuel offering, there also has been an increase in the number of private and public sector customers looking to boost their sustainability and demonstrate their commitment to reducing air pollution.
Fleet Improvements
Another global leader making an increasing commitment to low-emission and alternative-fuel fleets is FedEx, which recently expanded its all-electric fleet in Hong Kong. The addition of 10 electric vehicles is the company's first fleet of zero-emissions vehicles in the Asia Pacific market. FedEx currently has more than 650 alternative-fuel delivery vehicles in its global fleet.
Earlier this year, FedEx announced that it had surpassed a goal that it had set in 2008 to improve its global fleet fuel efficiency by 20 percent. According to FedEx, the company's original deadline for reaching that goal was 2020, but it had already accomplished it by the start of 2013. A significant part of the company's efforts, it adds, was the increase in alternative-fuel vehicles such as hybrids and electric vehicles. The company also announced a collaboration with General Motors to develop and test a hydrogen fuel-cell vehicle in the near future, according to a report in Environmental Leader.
Satellite TV provider DISH also recently unveiled plans to introduce alternative-fuel vehicles into its fleet at this year's NTEA Truck Show in Indianapolis. The propane-fueled Ford E-250 cargo vans will be introduced into the company's fleet throughout 2013, according to the company, and are expected to lower carbon dioxide emissions by more than 12.5 million pounds over their lifecycle.
"As one of the nation's largest fleets with locations across the country, we believe we can have a real impact by putting a viable alternative fuel to work for us," Executive Vice President Erik Carlson said in a statement.
'Drop-In' Solutions
Of course, there doesn't necessarily need to be a complete turnover in equipment for a fleet to become greener. Sometimes, alternative fuels can simply take the place of fossil-based fuels. Solazyme is a San Francisco-based company that produces algae-based renewable fuels that can be used as "drop-in" replacements for traditional diesel and other fuels. Vice President of Fuels Bob Ames says the company has provided its renewable fuels to major clients such as United Airlines and the U.S. Navy.
"Solazyme's fuels perform exactly like their petroleum-based counterparts, meet current U.S. specifications and do not require a change in infrastructure or engine modifications," Ames explains, adding that the algae-derived fuels also offer a reduction in greenhouse gas emissions of between 77 and 95 percent.
What's more, Ames says Solazyme's products avoid many of the most prominent pitfalls surrounding alternative fuels. "A challenge everyone mentions is legacy fleets, essentially older equipment they don't want to change," he says. "Because Solazyme's fuels are drop-in replacements, meet industry specifications, are compatible with existing infrastructure and can be used with factory-standard engines without modifications, this is not a challenge to our fuels.
"Today, there is not a lot standing between the decision to use the fuels and implementation," Ames adds. "We are laser-focused on building out our renewable oil production capacity so that we can meet the growing demand we see in the market."