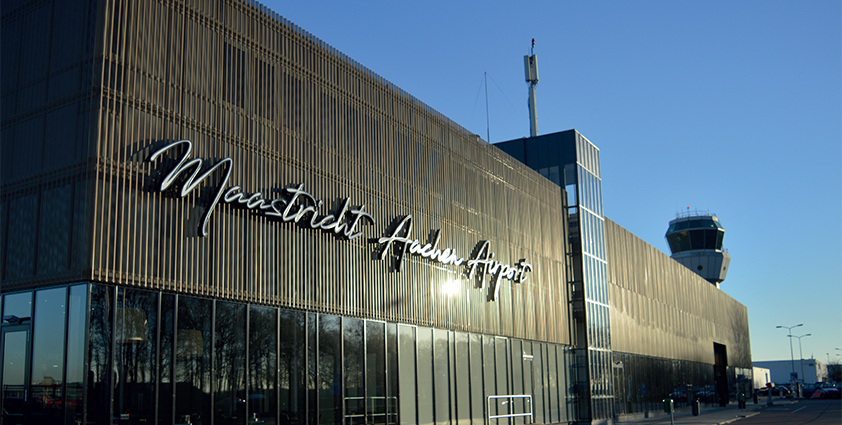 Maastricht Aachen Airport
Above and beyond
Moving on from the pandemic, Maastricht Aachen Airport is now eager to enact its green vision for the future of air travel
The history of Maastricht Aachen Airport (MAA) makes for a story worth telling. Plans for an airport in the southern Limburg region of the Netherlands date back as early as 1919. Yet, those initial plans never materialized. Different municipalities continued to debate over its location and funding.
When World War II broke out, however, there was suddenly a strong demand for the establishment of a temporary airfield in the provincial Limburg town of Beek, following the liberation of Maastricht. Local orchards were cleared and rubble from the nearby town of Geleen, recently bombed by enemy planes, was used to flatten the area. The first iteration of MAA's runway measured over 1600 meters and was reinforced with pierced steel planks. Less than two months after the work began, an airfield in the town of Beek had been completed.
Jos Roeven, CEO at Maastricht Aachen Airport, offers us an insight: "The airport was built in 1945 by the allied forces under the name of 'Yankee 44,' meaning it was the 44th airport built by the allied forces in a partly liberated Europe."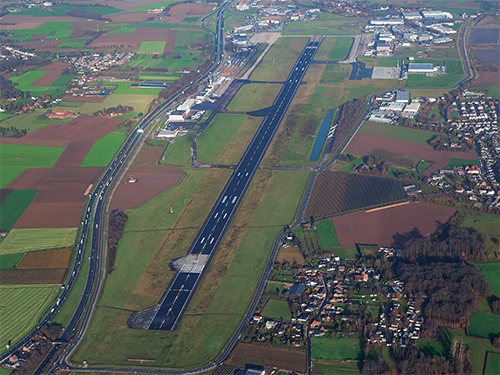 After the war, the allied airfield was officially transferred over to the Dutch authorities. Rather than re-opening the pre-war debate over the location of Maastricht's airport, it was decided that the allied-built airfield would become a permanent fixture. "Since the end of World War II, the airport has solely existed for civil purposes," explains Jos. "Today, MAA is one of five selected regional airports in the Netherlands, which are regarded as having a 'national significance,' and remains the only cargo alternative for Schiphol."
The airport might have replaced F-6 Mustangs, B-26 Marauders, and F-5 Lightnings with Boeing 747s and mammoth cargo freighters, but the incredible story behind MAA is still deeply embedded in the ground from which its modern planes take off. As Jos observes, however, the airport has changed in dramatic ways since the mid-1940s.
"An important milestone for MAA was the completion, following political objections, of a second runway in 1999," he explains. "With a length of 3500 meters, the new runway allowed for the establishing of a long-haul network, causing less disturbance to neighboring communities. This really was the opportunity of a lifetime for MAA, enabling it to become a medium-sized international airport.
"Other key milestones for us are found in the visiting of important people, including the Pope and George W. Bush, and famous bands such as the Rolling Stones, U2, and Bruce Springsteen with his E Street Band," he adds. "Myriad football teams, including Bayern Munich and Liverpool, know the airport will get them to important matches on time."
MAA is recognized for its compact, well-organized design as well as its fully equipped assortment of comfortable, well-maintained facilities. If you need a bite to eat or a cup of tea before departure, it has you covered. Grand Café Maastricht Airport has recently refreshed its menu: sandwiches, wraps, soups, hot meals, and on-the-go snacks to complement your coffee are available. At Bar Maastricht Airport, you'll find something a bit stronger, including freshly poured draught beers. In the departure hall, AKO offers a plethora of books and magazines to read on the plane or once you arrive at your destination – Bari, London, Barcelona, Rhodes, Kos, Alicante, Gambia, Hurghada, and many more incredible places are included on MAA's extensive flight list.
On top of all this, MAA carries out a wide variety of airline services. "We are one of the few regional airports that offers all available products, including general aviation, passenger flights, cargo flights, and, more specifically, a large on-site maintenance, repair, and overhaul (MRO) cluster.
"Business flights, moreover, have always been popular at MAA," he continues. "That's because our location, in the very heart of Europe with a nearby university and congress center, is great – it's so densely populated. We're also situated in the close proximity of many international companies. In addition, cargo flights have always proved very successful for MAA as Limburg is historically a logistic province with multi-modal connections to the medical and high technology sectors."
However, that's not to say that MAA hasn't experienced its own share of adversity. For example, in 2014, the province of Limburg was forced to rescue the airport from bankruptcy, taking it over from its then private owner, Omniport. Since 2017, Jos informs us, MAA has been on the up in terms of its passengers, cargo business, and overall profitability.
Even the pandemic couldn't hamper the airport's revival. "By focusing on passenger and cargo traffic during the Covid-19 crisis, MAA was better able to mitigate pandemic risks," comments Jos. "Though our entire global passenger fleet was firmly stuck on the ground, we saw the volume of cargo flights skyrocket. This meant we could cross-utilize our passenger staff, keeping every employee on board during an unprecedented and uncertain time.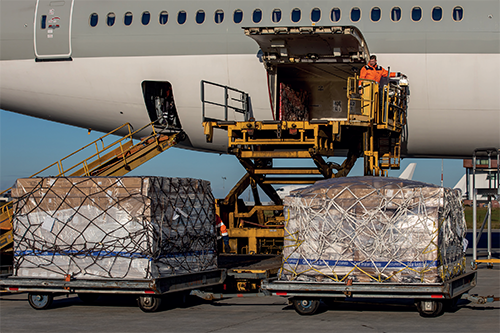 "Unlike many passenger-oriented airports, we were able to present healthy financial numbers during the pandemic," he adds. "Furthermore, our excellent, certified pharmaceutical facilities became very important to locals, and we experienced an additionally large increase in e-commerce traffic. Various cargo airports around us suffered due to outbreaks of the virus among their workforces. Fortunately, this did not happen to us, and, on top of that, we showed great flexibility towards scaling our staff."
That didn't go unnoticed. MAA's strong performance during the pandemic became a powerful USP, resulting in new airline contracts with Qatar Airways and Ethiopian Airlines, as well as e-commerce opportunities with sector heavyweights like We World Express and Yun Express. In 2021, moreover, more than 97,000 passengers flew from MAA.
More recently, MAA has announced its intention to go zero carbon by 2030. As it stands, the airport currently uses hydrotreated vegetable oil (HVO) across some of its services, which are around 89 per cent less harmful than their fossil fuel-derived counterparts. However, as noted, the airport is aiming to transform all its operations into zero carbon forms. MAA is already pulling away from the use of gas across its warehouses and other facilities, shifting towards on-site solar power generation.
"Together with other Dutch regional airports and institutions, MAA are facilitating the development of battery-electric flights with smaller aircrafts (nine to 40 seats), which will operate within a range of 600 kilometers," explains Jos. "With relatively small passenger numbers, these flights are not only profitable, but also Net Zero in carbon emissions. We see this business model as a huge opportunity for all regional airports, and as a new form of mobility that competes pricewise with the electric car.
"Zero carbon ground operation before 2030 is part of our ambition," he adds. "It's mandatory in the Netherlands – and that's excellent. Following the ACI (Airports Council International) guidelines, we put together a detailed roadmap in terms of ground service equipment and the transition from gas to solar-derived electricity for the purpose of heating our buildings. Our solar panel park, as we are calling it, will be ready before mid-2024; our ground service equipment for passenger handling is expected to become Net Zero by the end of this year. In fact, each year, we intend on transitioning the systems of at least one building to more climate-friendly alternatives. We're committed to the sustainable development of our airport and will continue to integrate models of battery-electric and hydrogen-electric aviation."
As strong believers in this new, sustainable aviation model, MAA really is going above and beyond. In fact, it aims to become one of the movement's frontrunners, quickly establishing a more sustainable infrastructure across its site. "These flights can generate incredible value for business populations in the region because of the relatively short distance between the airport and cities in the Netherlands, as well as other large European cities like Düsseldorf, Köln, Frankfurt, Brussels, Paris, and London," Jos observes. "This new form of travel will become an alternative to the electric car and will not only improve our congested roads, but also help the environment. We take opportunities when they arise and adapt quickly – this is one important example of that."
It's no doubt that, with the pandemic, labor shortages, and rising fuel prices, MAA has been through a tough few years. However, as he tells us, Jos envisions MAA as part of new national airport system, one in which airports operate together, sharing the highs and lows of the sector more equally, while also, at the same time, preserving the integrity of each individual Dutch airport.
Maastricht Aachen Airport
https://www.maa.nl/en/
Services: International air travel