Maritime digital transformation success relies on industry-wide collaboration. By Sarah Barrett
Commercial shipping alone is responsible for transporting 90 percent of world trade. That's a merchant fleet of over 50,000 ships worth around $1.8 trillion, transporting an estimated 11 billion tons of goods each year. Typically, maritime transportation involves multiple companies which must all be aligned if the efficiency, safety and resilience of maritime operations are to be optimized.
Increasingly technology is playing an important role in the optimization of the maritime sector. Whether that's via optimization tools, enhancing situational awareness or improving ship-to-shore communication, technology is having a profound impact on the efficiency, safety and sustainability of maritime operations.
Take decarbonization as an example here – it is estimated that by deploying digital technologies alone, carbon emissions can be reduced by almost 40 percent by 2050. That's because digital technology, which allows for more efficient fleet management, voyage planning or port operations, can provide an immediate and effective way for the industry to start curbing emissions today, whilst uncovering other opportunities for sustainability tomorrow.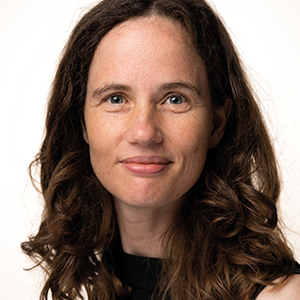 What's clear is that the future of the maritime industry will be enhanced by digitalization. In fact, our recent global survey of maritime attitudes to digital transformation found that 70 percent of respondents have a very clear understanding of why digitalization is needed and its benefits.
However, whilst great strides have been made in recent years, maritime is still behind the curve in its digital journey. Although technology is exciting and can be hugely impactful on the maritime industry, the sector's growing digital ecosystem has become complex. A multi-speed market has emerged in the past few years, driven by a proliferation of competing technologies that all seek to solve challenges locked within supply chain.
As a result, for some companies – and particularly for the crew tasked with efficient vessel operations – shipping's digital era has not yet led to the accountability or optimized outcomes that many have expected. Instead, it has created a world where the industry is relying on complicated, fragmented solutions that do not communicate with each other and still require a significant amount of manual, often duplicated, intervention to properly leverage.
On top of this, the lack of common data standards across the shipping sector has compounded the challenge of working within such an enormous and highly complicated logistics chain. The challenge is that it can often be difficult to create holistic, interoperable solutions which make it possible for the industry to untangle the complex data web and generate tangible, actionable insights.
In short – the prospect of digitalizing every single link in that chain is a formidable one. In our own research we found that over half (56 percent) believe that the time and cost implications involved with digital transformation projects are too high, with over two thirds (69 percent) believing the ability to digitize existing infrastructure and retrofit vessels is challenging.
Continuous improvement
Overcoming maritime's digital barriers should not be down to one individual or organization. Instead, ship managers, owners, operators, ports, seafarers and tech companies need to work better together if the industry wants to make digital transformation happen.
Together, we need to build an ecosystem where digital technologies on board a ship talk to those in offices on shore, and where fleets are connected to the ports, too. As part of this,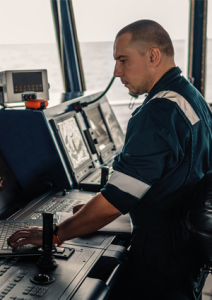 we need standardization with clear guidelines for who is responsible for what, alongside collaboration where data and learnings are shared and accessible from a centralized viewpoint.
This is vital if the industry is to operate smoothly, efficiently and sustainably.
This sentiment is echoed in our own research, with 69 percent agreeing that collaboration between industry players could be improved with nearly nine-in-ten (eight percent) acknowledging this will be key to making digital transformation a reality.
However, before this can happen, we need to collectively abandon the idea of digital transformation as an all or nothing. Each organization within maritime is at a different stage of its own journey and so we must appreciate the digitalization of the industry as an iterative and stepwise process.
What's more, digitalization needs to be a journey of continuous improvement, in which you need to invest now in futureproof technology that will provide some benefits. Over time you can build on these technologies and add new and enhanced capabilities. You only have to take a look at IMO's CII regulation which is progressive (in that from 2023 to 2026 required CII is reduced by a further two percent each year relative to the baseline set in 2019).
There is still much work to be done to bridge the gaps – break the silos – between digital systems. To do this, we can and must share and learn from each other's experiences. It will, in some cases, even require pooled resources to address some of the most pressing issues – such as decarbonization.
This is how, as an industry, we can reframe the route to digitalization and unleash the potential of this very important sector.
For a list of the sources used in this article, please contact the editor.
Sarah Barrett is Head of Product Insights at Wärtsilä , a global leader in innovative technologies and lifecycle solutions for the marine and energy markets. The business emphasizes innovation in sustainable technology and services to help its customers continuously improve their environmental and economic performance. Its dedicated and passionate team of 17,500 professionals in more than 240 locations in 79 countries shape the decarbonization transformation of its industries across the globe. In 2022, Wärtsilä's net sales totaled EUR 5.8 billion.