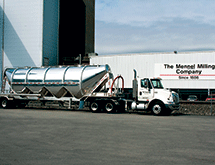 As the vice president of transportation at Mennel Milling Co., it's Gary Strausbaugh's responsibility to foresee potential issues. Strausbaugh oversees truck and rail transportation at Mennel Milling, as well as warehousing. He says the biggest issue facing his company's transportation division is the need for employees.
Mennel Milling has been milling wheat into flour since 1886. Nationally known companies and independent bakers use Mennel Milling's flour in items such as bread, cake mixes, cookies, snack crackers, breadings, batters, gravies, soups, ice cream cones, pretzels and noodles. But to get the grain from one of Mennel Milling's 18 grain elevators and into its mills takes workers.
Working on Image
"Trucking has an image problem with trying to get people involved in the industry," Strausbaugh says. "We're trying to figure out how to attract young workers because money clearly isn't everything because we pay very well."
The same goes for truck mechanics and technicians. "It's getting hard to find good technicians for the trucks," Strausbaugh says.
That's why Mennel Milling is working with the communities in which it operates in Ohio, Virginia and Illinois to develop relationships and programs that will attract more young people to the transportation industry. On the trucking side, the company is laying out the details of a new two-tiered training program. Its current program requires truckers to be 23 years and older. With the new program, Mennel Milling will be able to hire young adults at age 18 and train them on intrastate driving before moving them onto longer hauls.
"Our locations are in ag country and some of the kids out here have been driving heavy-duty equipment since they were 16," Strausbaugh says. "With this two-tiered driving group, we can start working with them when they are 18 and 19 years old and keep them on short runs until they get more experience."
When it comes to finding technicians, Strausbaugh says the company is working with local schools to let students know of another career option. "Being a technician is not something a lot of people look at as a career path, although it pays well," Strausbaugh says. "We're seeing that we need to take a step back and look at the high schools and guidance counselors and show them that there are other career paths out there that don't require a four-year degree."
Strausbaugh is accustomed to looking at big-picture scenarios such as those, and not just within Mennel Milling but within the industry as a whole. He recently finished his term as chair of the National Private Truck Council (NPTC) and was named NPTC Private Fleet Executive of the Year for 2014. NPTC is the only trade association in the United States devoted exclusively to the interests of the private corporate trucking fleet industry. Strausbaugh and other NPTC members are able to leverage the insights shared across the organization into their companies' operations. At Mennel Milling this has translated into a greater focus on technology and fuel efficiency for its fleet of tractors, pneumatic bulk tanks, van trailers, hopper trailers, covered hoppers and pressure differential cars.
Home Improvements
Mennel Milling's trucks operate on a computerized truck management system, complete with electronic logs and onboard collision monitors. Also, for the past three years, Strausbaugh says the company has been focused on replacing and standardizing many of its trucks' components to reduce weight and wear.
For instance, Mennel Milling's trucks now run on primarily Cummins and Mack engines and automated 12-speed transmissions, which Strausbaugh says has taken 500 to 600 pounds off of its tractors. The automated transmissions also help with fuel economy. Another recent investment made by the company was to replace its brakes with air disc brakes. Strausbaugh says the brakes have a longer life than the previous brakes and the brake pads are easier to change, which means less labor. In addition, the company is doing a trial run with new automated lift axles on four of its trailers. Mennel Milling is hoping that the lift will prevent the trucks from scrubbing on the road surface, decreasing wear and tear on the trucks.
Strausbaugh says that one of the benefits of working at Mennel Milling is the chance to implement improvements and changes that will help the company succeed. "This is a family owned company and a great place to work," Strausbaugh says. "They make sure you get integrated into the culture and know that you are a contributor. As a result, each person here has pride in what they do. I'm grateful that we have leeway to do things with our trucks that if we were working for a bigger company we wouldn't be able to do as easily, but they are all for the better of the company."