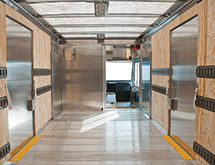 In the eyes of Morgan Olson's customers, the delivery vehicle bodies the company manufactures are more than just a way to get from one point to another. "The reason people buy our vehicles is because they need to deliver their products in order to make money," Vice President of Sales Rich Tremmel says. "The people who are buying our vehicles are basing their business plans around when they can take delivery."
The vans' role as revenue generators for their owners is taken very seriously by the Sturgis, Mich.-based manufacturer. "The main thing for our customers is getting vehicles on time, and that's our specialty," Tremmel adds. "We deliver on-time, every time."
Morgan Olson's ability to produce vehicles on time, as well as its ability to be flexible to its customers' needs, has earned it a more than 75 percent market share in the walk-in van industry. The company's customers include many of the United States' largest companies, including Frito-Lay, UPS, FedEx, The U.S Postal Service and the newest fleet addition of Amazon. In addition to the food and parcel delivery industries, Morgan Olson also serves the uniform and laundry, newspaper delivery markets and utility and speciality body needs.
A Proven Platform
The company builds its walk-in vans and cab chassis bodies on a variety of chassis platforms including Freightliner, Ford and Mercedes-Benz. All vans are extensively tested for durability through vibration tests as well on test tracks. "We deliver a proven platform validated by advanced engineering processes," Tremmel says. "We're not the cheapest on the market, but we are the most durable."
Vans are built on a continuously moving conveyor belt platform, which ensures their consistency. "Every vehicle is built on a perfectly aligned and square platform, which proceeds throughout our manufacturing facility on a motorized cart system that continuously moves from station to station. This production process provides the most consistent, highest quality product on every vehicle we produce," Marketing Manager Kenn Klein says.
The average duty cycle of a Morgan Olson van is between 10-and-a-half to 12 years, with the UPS vans averaging 20 years in service. "We build delivery vehicles that have a long-lasting duty cycle, and that mechanics don't have to worry about fixing," Tremmel says.
Morgan Olson vans are also distinguished from their competitors by their high level of customization. The company is able to manufacture on a wide variety of fuel platforms including CNG, propane and the newest hybrid chassis platforms, and designs its van bodies and cargo areas to meet specific customer needs. The company's use of a patented "Infinitely Adjustable" sidewall stiffener on its vans makes it easy to customize cargo areas for any kind of cargo, he adds.
Examples of the company's customization include manufacturing fuel efficient Sprinter vans for Frito-Lay and climate controlled walk-in vans for Amazon Fresh. The company was the first to build on the 3500 model Sprinter chassis, Tremmel notes.
Investing in the Future
Morgan Olson enhanced its production capabilities by opening a new plant in Charleston, N.C. The plant produces cab chassis bodies on the Sprinter cab chassis including the Ultimate Delivery Vehicle and the Ultimate Contractor Vehicle. The North Charleston plant also provides complete cargo van upfitting. Partnered with Leggit & Platt and Ranger, two of the best upfit suppliers in the market, Morgan Olson provides customers with one source for all their cab chassis and cargo van upfit needs under one roof. The plant's location near the Port of Charleston gives it the ability to receive Sprinter cab chassis and cargo vans directly from the Daimler factory in Germany. Morgan Olson then builds on either the cab chassis or upfits cargo vans and ships the finished product, with zero freight costs and "ship through" savings to any authorized dealership in the United States. Morgan Olson brought on prior Mercedes-Benz engineers to provide insight on the plant design.
"The workflow process from the chassis arriving to when the finished product leaves, is designed for efficiency balanced with ergonomical production processes," Klein says.
The new plant is just one of several recent company investments. Morgan Olson is also installing state-of-the-art fabrication equipment within its Sturgis plant. "This new equipment will make Morgan Olson the most advanced body building company in the country. I'm proud that our company's owners believe in reinvesting back into it," Tremmel notes. "Their reinvestment into our business helps us gain marketshare year after year."