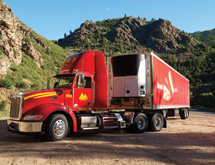 There are a few reasons why Mile Hi Foods Co. has been in business since 1946, and why it has been a supplier to McDonald's since the first one opened in Denver in 1956. President Tony Taddonio says the keys to the company's success for the past half-century and more are simple but sound. "I think we're more service-oriented, we strive for continuous improvement and because it's a family business, it's ours," Taddonio says.
The company's original purpose was to supply fresh produce to restaurants throughout Denver, but the company's evolution kicked into high gear when it started its partnership with McDonald's. At first, Mile Hi Foods was delivering potatoes to a single McDonald's location, but in time the chain was asking Mile Hi Foods to deliver more products to more locations. Today, Mile Hi Foods services more than 360 McDonald's restaurants in the Rockies and Midwest. The company also opened a manufacturing division – Mile Hi Bakery – in 1985 to produce all of the buns used by McDonald's in the Rocky Mountain region.
No matter what service the company provides, Taddonio says the advantages Mile Hi Foods brings to its customers remain the same.
Substantial Advantages
Perhaps the company's most significant advantage is intangible but essential to Mile Hi Foods' identity, Taddonio says. As a family owned and operated business, Mile Hi Foods can provide customers with peace of mind that they may not get with another firm. Taddonio's daughter Kristy represents the fourth generation of the family to take a leadership role in the company. "We're the decision-makers, there's no red tape and all the employees know they can come to see us on anything," Tony Taddonio says. "We have a better interaction with the customer and the employee."
With that family based focus on relationships comes an unwavering dedication to customer service. Taddonio says Mile Hi Foods takes pride in its ability to help customers in any way it can. "You have to make sure you're there for the customer," Taddonio says. "Everyone at our company knows that the customer comes first at all costs."
Providing the best customer service in the transportation and logistics field often means having the best technology, and Mile Hi Foods has made that type of continuous improvement one of its top priorities. "We always are looking to bring in the latest technology to improve operations," Taddonio says.
Easing Pressures
Although the technical improvements Mile Hi Foods has made in the last few years have gone a long way to helping the company serve its customers more effectively and efficiently, Taddonio says the company still faces challenges from outside. "You have a lot of regulatory issues – EPA, DOT, hours of service," he says.
Because passing along the added cost of coping with these outside pressures to the customer is not an option, Taddonio says Mile Hi Foods has sought out methods of making the company more efficient from the inside. For example, the company recently built a fitness center at its distribution center to encourage employees to engage in its wellness programs. Taddonio says that making sure employees are healthy is an important investment for any company. "Without them, you don't have much of a business," he says.
Giving Back and Expanding
Mile Hi Foods serves more than just its customers, and Taddonio says the company established the Taddonio Family Foundation to give back to the community by supporting charities including Ronald McDonald House. "It gives us a great satisfaction knowing that we can help others through our success," he says.
The company's success should continue into the next generation, as Mile Hi Foods recently opened a new distribution center in Dallas to join the facilities it already had in Salt Lake City and Albuquerque, N.M.
"We're continuing to expand and add territory," Taddonio says.