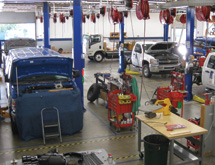 It has been more than six decades since Landi Renzo began developing technology to transform compressed natural gas (CNG) into alternative fuels for transportation. Landi Renzo SpA is the world's leading alternative fuels company. In the United States, Landi Renzo USA offers alternative fuel solutions to its customers.
The company established Landi Renzo USA in January 2010. "We wanted to bring our experience to the United States," President Andrea Landi says. "The market is still small, but it is ready for big numbers."
Ahead of the Rest
Headquartered in Torrance, Calif., Landi Renzo USA provides technology designed to help its customers lower their vehicle emissions and environmental impacts while decreasing fuel costs and maintaining vehicle performance.
During the past decade, the Landi Renzo family of companies has taken several important steps to ensure continued leadership. In 2006, it founded Landi Renzo Corporate University, and Landi Renzo SpA debuted on the Milan Stock Exchange in 2007. In the past few years, Landi Renzo acquired Lovato Gas and AEB SpA outside the U.S. In the U.S., it acquired Baytech Corp, a leading CNG and propane systems company.
Technological superiority helps Landi Renzo USA to differentiate itself. The company's systems reconfigure original vehicles so they can operate with a new CNG fuel delivery and storage system."As a group, we have always been committed to R&D and innovation," Landi says. "We will be opening a new R&D center in Italy by the end of year. We've partnered with GM on their next hydrogen fuel cell vehicle, and we convert 1,600 cars every day for our OEM customers."
In addition to CNG solutions, Landi Renzo USA can offer CNG bi-fuel applications. This allows vehicles to use CNG as their primary fuel while still being able to switch to gasoline when needed.
The August 2010 acquisition of Baytech allowed Landi Renzo USA to combine its global strengths with Baytech's technology and experience in the United States. Baytech has been providing dedicated bi-fuel CNG and LPG systems for GM platforms since 1991.
Staying Responsive
Landi Renzo USA has a three-legged distribution model to ensure it provides customers with the right products.
One channel is the ship-thru channel. For direct customers, Landi Renzo's CNG fuel system can be fully integrated at the OEM level and installed at a Landi Renzo-authorized ship-thru facility, located where the vehicles are manufactured. Dealer/distributor customers can order Landi Renzo solutions by first checking the option code on the vehicle order form. After that, the vehicle is routed through the alternative fuel ship-thru channel and delivered anywhere in the United States.
The second channel is Landi Renzo's nationwide authorized distributor network. Through partnerships, these facilities deliver standard and custom applications for customers looking for alternative fuel systems at the local level.
The last channel is Landi Renzo USA's own installation facility in Torrance. It is through this 25,000-square-foot conversion facility that the company handles conversions throughout California and the Southwest region of the country.
"Globally, our two main distribution channels are aftermarket service through installers and distributors, and the OEMs the car manufacturers," Landi explains.
Landi Renzo USA's approach to logistics has changed in recent years. For the most part, that evolution has taken place in response to market requests.
"Logistics is a sector of our group that has been growing within the organization," Landi notes. "Every day we do our best to synchronize operations. Planning is key."
The United States has become one of the world's leading producers of natural gas, and the country is seeking to become more energy independent. That means Landi Renzo USA's market is likely to continue growing. Landi believes the growing American desire to be more environmentally responsible and to use domestic energy will drive the market.
"We will continue to see growth, so we must be prepared and responsive so we can ramp up quickly," he says.