Milestone Equipment Holdings LLC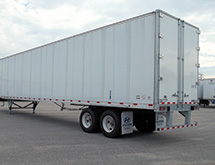 Milestone Equipment Holdings LLC strives to be flexible when it comes to serving its clients, CEO Rob Thull says.
"We will adapt and create our products to best manage our customers' needs," he declares. "We also consider all types of logistics solutions with equipment for our customers."
Based in Mill Valley, Calif., Milestone is a full-service, transportation equipment leasing and asset company that specializes in motor carrier and rail industry intermodal equipment. Thull started the company in 1995 by mortgaging his family's home for $500,000.
Afterward, "I began leasing equipment extremely rapidly," he recalls. "[Our operation grew] modestly fast through the first 10 years of our lifecycle."
When Milestone completed a recapitalization in 2010, "We were able to double the size of the company," Thull says, noting that he also sold 80 percent of the firm in 2012 to The Blackstone Group L.P., a leading private equity company.
But that changed earlier this year. "By February of this year, we tripled the size of the company, and Blackstone decided to take some gains on our success," he recalls. "They sold the majority of the company to Wood Creek Capital Management LLC."
Milestone also in June merged with two of Wood Creek's subsidiaries, U.S. Trailer Holdings I and II and Quest Capital Group. Today, "We have an enterprise value that is well over $500 million," Thull says.
The top motor and intermodal carriers account for 75 percent of Milestone's business, he adds. The remainder includes class I railroads, steamship and barge operators, and roll-on/roll-off shipping lines.
Essential Experience
Thull is a longtime veteran of the industry and previously managed a similar firm, Greenbrier Capital. That experience prepared him to run his own company. "I was able to learn all the risks about the market, so when starting Milestone, I had excellent relationships with the railroads and trucking companies," he says.
He also learned a lot about residual risk. "It was helpful to have that experience before going off on my own," Thull continues, noting that the company has a strong partner in Wood Creek. "They also have a great following of investors that are happy to commit money to work in our space.
This makes Milestone more competitive, Thull says. "Our plans are to grow significantly and organically as well as look at acquisitions in our space that will gain more momentum in the marketplace," he says.
Leading the Way
Milestone maintains a fleet of approximately 65,000 units, which includes highway and piggyback trailers and domestic chassis and containers. "We have over 6,000 units on lease to one customer," Thull notes.
Milestone focuses on acquiring middle-aged or older trailers. "[They] are a little bit more difficult to find at attractive prices," he admits. "The manufacturers' backlogs are sold out, and the availability of new [products] is somewhat limited."
But that has not kept Milestone from establishing a leadership position. "We're fortunate to be No. 1 in the domestic container leasing space with our fleet," he says, noting that the company also leads the way in piggyback trailers. Milestone is also second or third largest in the highway trailer leasing space with 35,000 trailers. "In chassis, we're relatively small. But if we talk in a year or two, we'll be much larger."
Solid Service
Thull credits Milestone's success to its customer service model. For example, "We do all types of daily rental, term lease, purchase and full-service leasing options," Thull says. "We also operate equipment facilities for customers if they want us to.
"We believe we're very responsive to our customers to quickly make decisions, commit to transactions and never surprise [them]," he continues, noting that Milestone always takes its clients' business model into consideration. Milestone's goal is to design a program to improve its customer's equipment supply chain and increase their profitability. "Doing that [has] rewarded us significantly over the years, including where they come back to do more business with us."
He highlights Milestone's seasonal peak programs, through which the company stores equipment for customers. If a client does not want to store an item within its own space, Milestone can store it at its facilities.
But if the customer decides that it needs the equipment, Milestone can meet that need quickly. "We will pick the trailer up and deliver it to the customers," he says.
Good Times
It is a very good time for Milestone to be in business. "We've been fortunate for the last few years," Thull says. "Supply and demand have been at a really good balance."
The company has established a strong reputation in its market, helping it draw business away from larger competitors, including XTRA Lease. "We feel very proud for having great relationships and being the most preferred supplier for some of the world's largest transportation companies," Thull says.
He sees changes ahead for Milestone going forward. "In the future, we're probably going to become more institutionalized," he says. "We'll have more controls in place."
Milestone also will continue growing. Already, "We've made significant investments in new domestic containers, new highway container and new marine chassis," he says. "We're in discussions about working with small or mid-sized companies."
Thull adds that Milestone has benefited from its mergers with U.S. Trailer and Quest Capital. "Those have given us a strong, leading position in those markets," he says.
Thanks to the mergers, Milestone grew its fleet by approximately 28,000 units. "We've also been able to pick up the staff from those companies," Thull adds.
Milestone also plans to expand its reach. Although it is currently focused largely on the Midwest, "We are currently expanding more towards the eastern and western United States."