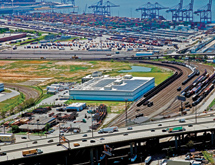 MTC Logistics is positioning itself to become the premier handler of international temperature-controlled cargo by building a state-of-the-art distribution center at its headquarters in Baltimore.
"We had been looking for quite some time for the right location and with the closure of the former General Motors assembly plant, a brownfield site was made available to us and it was actually tailor-made for what we wanted to do," President Brooks Royster says. "We selected this location in order to facilitate the movement of temperature-controlled international cargo through the Port of Baltimore for our customers – both import and export."
The 4.6-million-cubic-foot distribution center includes 19 truck doors, refrigerated cold dock, blast-freezing, import/export service, -20 to 38 F storage, repackaging and USDA import meat inspection services. The center's other features include LTL pool consolidation, port drayage, rail service, U.S. Department of Commerce inspection services and an authorized Walmart consolidation program.
Because MTC Logistics specializes in temperature-controlled logistics, which includes storage, energy is a major factor in its operational cost. "Any increases to energy cost is certainly a concern and so we installed 100,000 square feet of solar panels on the Port of Baltimore facility roof," Royster explains. "We can now mitigate spikes in energy costs." The company uses this method to generate energy, which helps power the facility.
Located about one mile from the Port's Seagirt Marine Terminal gate, MTC Logistics can load containers to the maximum weight limit without the stress of road limits restricting travel. "It gives us access to an uncontested container terminal where we can get multiple containers in and out in one day," Royster adds.
Vice President of Sales Ernie Ferguson says the company has evolved over the past decade by increasing its international handling. "We were doing 20 percent international handling and now we are 60 to 75 percent," he adds. "It's a major shift and we have really leveraged our locations near the ports in the changing economy, which is becoming a truly global economy."
Five Generations Strong
Harry Halpert, chairman of MTC Logistics, is the fifth-generation member of the Hoffberger family business. In 1928, Halpert's great-grandfather and his brothers – under the direction of their mother – founded Merchants Terminal Corp., to provide cold storage lockers to merchants. The first facility was 11-stories high with three elevators. Product would arrive in small trucks, boxes or crates and be moved by hand dollies to the designated floor. The Hoffberger's hand-stacked every product onto the floor.
In the 1940s and '50s, the company transitioned from storage to logistics because the highway and automotive infrastructure began to radically improve. Changing refrigeration technology allowed Merchants Terminal to become one of the earliest single-story cold storage warehouses in the country. Additionally, pallets were introduced allowing the stacking of product and electric forklifts became available to raise the pallets and efficiently move products throughout the facility.
From 1960 through the 1980s, the company expanded to accommodate the growth of customers such as General Foods and local retail grocer Giant Foods. In 2006, the company expanded through acquisition of its Port of Wilmington, Del., facility. Today, in addition to the Port of Wilmington and the Port of Baltimore operations, MTC Logistics has a distribution center in Jessup, Md., at the Maryland Food Center, Royster says.
Improved Logistics
MTC Logistics' transportation division, MLogistics, began a partnership in 2010 with Coldstream Logistics – an asset-based trucking company. Through this partnership, the consolidation program expanded and became an authorized Walmart program. MLogistics ships weekly to all 42 Walmart refrigerated distribution centers and has benefited its suppliers with cost-effective, on-time consolidated deliveries. "We go the extra mile to understand our clients' business," Royster says. "We really strive to understand our customers' businesses as well as they do. It makes us a more efficient and better servant to them."
MLogistics' more than 10 years of operation has helped the company provide superior service and added LTL and FTL logistics for its customers, Ferguson says. "It's a service offering to our customers as we evolve to doing more than being a cold storage warehouse company to becoming a fully integrated third-party logistics company," he explains.
Logistics will continue to evolve over time as more and more food products are being imported into the United States from various locations, Brooks explains. "Just being a company that has four walls and cold air is not enough in today's true global economy," Ferguson says. "We will continue to look for other service offerings that we can provide to our customers. We look to do things that other companies don't want to do."