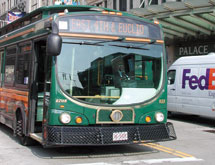 Muskoka Transport Ltd. says its history dates back to the 1880s, when an orphan named Alfred Hammond emigrated from England to Bracebridge, Ontario. "From this central town of Muskoka District, located on the 45th parallel of latitude, the story of the Hammond family follows the spread of passenger and freight transportation throughout Ontario, across North America and around the world," the company says.
Hammond was a lumberman and farmer, and his son Harold had an aptitude for mechanical devices and engines and became a mechanic and a truck driver. Harold's oldest son, Orvil, started Hammond Transportation as a taxi business at age 15.
He expanded the company to include school buses, delivery trucks and, eventually, tour coaches and a travel agency.
A third brother, Paul, joined the company as a driver and ultimately purchased the trucking portion of Hammond Transportation and formed Muskoka Transport Ltd. His son Darcy Hammond now serves as president.
"Even before I climbed behind the wheel of my first truck, I knew customer satisfaction was one of the key ingredients to building successful, long-lasting relationships with our clients," Darcy Hammond said in a statement. "Shippers rely on us to be an extension of their business, delivering their goods to and from their customers and suppliers in a timely, cost-efficient, damage-free manner, whether across town or across the country."
'Flexibility and Understanding'
Darcy Hammond considers "flexibility and understanding our customers' needs" the keys to successful relationships and a successful business.
"As a responsible business owner, I feel it is crucial to be available to all our customers as well as our employees, which is why my office is just inside the main entrance, on the ground level, and not far from the action of our operation," he said. "An open door/open mind philosophy naturally fosters open lines of communication.
"In the fast pace of today's global economy, reaction time and anticipation of your customers every requirement are skills the operations team strive to continually improve," he continues.
"Our objective is to consistently meet and surpass customer expectations by providing on-time, damage-free delivery service in a responsive and cost-effective manner," the company says.
Industry Ties
Muskoka Transport is a member of the Ontario Trucking Association (OTA), a professional organization based in Toronto. OTA was founded in 1926 and is dedicated to providing services and public policy advocacy for trucking companies hauling freight into, out of and within Ontario.
"OTA member fleets operate over two-thirds of all commercial tractor-trailers on Ontario roadways and employ over 70,000 men and women who work in the trucking industry," the group states. "OTA is the only trucking association in Ontario that represents all segments of the industry – for-hire carriers, private carriers, intermodal [and] suppliers."
OTA members are trucking companies from nearly every Canadian province, as well as the United States.
"Our member companies are small and medium-sized operations, as well as many of the largest transportation enterprises in North America," it says. "OTA members come from all sectors of the trucking industry.
"Both for-hire carriers and private carriers belong to OTA. The association's membership also includes a significant number of allied trades – those companies providing goods and services to the trucking industry."
OTA says it is the largest provincial trucking association in Canada and the third largest in North America. OTA is a member of Canada's national trucking group, the Canadian Trucking Alliance, a federation of the country's seven provincial trucking associations. OTA says its professionally qualified staff specializes in government relations, carrier operations, safety, security, carrier education, compliance and communications.
The association's operations are guided by a board of directors made up primarily of CEOs, presidents and senior executives of trucking companies. OTA President David Bradley also serves as CEO of the Canadian Trucking Alliance.
OTA says it is viewed as a "strong-willed but reasonable organization" on the government relations front, seeking "solutions to problems in a cooperative and practical fashion.
"The association strongly advocates ongoing professional development and compliance programs for all members of the trucking industry," it states. "OTA offers a vast array of education programs designed especially for trucking executives and other industry employees. The association also distributes compliance materials, such as log books and trip inspection reports to the industry."