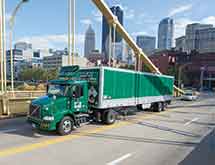 Providing superior regional, next-day ground services is what New Penn is all about. An operating unit of YRC Regional Transportation, New Penn specializes in regional less-than-truckload (LTL) service, serving the northeastern United States, Quebec, Canada and Puerto Rico. The company has placed itself as an industry leader thanks in part to its tracking technologies and Internet-based shipping services.
"The company has been in existence for more than 80 years," President Don Foust says. "The real strength of New Penn has been our ability to perform and provide the highest levels of quality to our customers."
Service Oriented
At the core of New Penn's service offering is fast, reliable LTL service. In addition, it offers a vast array of specialty services, including New Penn Guaranteed Precision, Freeze Protection, Greater Toronto Next-Day, NP-Connex and Spot Rate Quote programs. New Penn also provides service to the entire United States, including Hawaii and Alaska, as well as all of Canada in conjunction with partner carriers.
Today, New Penn employs more than 2,000 people and operates a fleet of more than 850 tractors and 1,700 trailers. New Penn has built a reputation as one of the most efficiently operated carriers in the industry.
"About 90 percent of what we move is picked up one day and delivered the next," Foust says. "We aim for 70 percent of our shipments to be delivered by noon. A lot of carriers won't provide next-day service if a shipment is picked up after a certain time, but we don't operate that way. We have 22 facilities and an entirely asset-based fleet."
New Penn serves a very diverse customer base. No single vertical is more than seven or eight percent of its business. The company moves a high percentage of shipments that are guaranteed to arrive by a certain time.
"This means we must be very closely connected to the companies and supply chains we work with," Foust says.
The company fully understands that technology is forever changing and innovations are happening all the time. New Penn believes it must have its finger on the pulse of the technology that can help move products and improve handling. If a technology speeds up the process or helps with information gathering on trailers or equipment, New Penn is on top of it.
"A lot of businesses are now linked to people buying online with shipments delivered to their homes," Foust says. "We need equipment to handle that, and we're constantly looking at ways to improve our entire delivery process."
Finding and retaining strong drivers with the right skillset and focus on customer service is another ongoing challenge for New Penn and the entire industry. Most of New Penn's services are short haul, which can be a benefit for drivers who are tired of an overnight lifestyle. At the same time, it means the drivers hit a lot of docks and come into contact with many people.
"We need drivers who can be concerned about the customer, creative and focused," Foust says. "We look for the best of the best and train them on our processes."
Always Changing
Among the key investments New Penn has made are handheld devices for drivers. These help the company keep track of shipments. They facilitate just-in-time delivery, and they allow drivers to snap pictures and communicate through text or phone. This single tool keeps the company connected to the location of its drivers and what they are doing.
"Each year, we go through a detailed capex process to determine what we will buy and when," Foust says. "We inspect our fleet equipment every three months, and we track their maintenance records and know the lifecycle of our trucks."
New Penn knows continued success requires even closer connections with manufacturers and distributors. It must understand their supply chains intimately. By aligning with the people working behind the scenes, it can gain greater insights into the needs of its customers whether they are shipping raw materials or finished products. "Everything in chain has to be properly linked so we can keep costs down and service levels up," Foust says.
As New Penn looks toward the rest of 2015 and beyond, its major focus is on safety, hiring and training. The company keeps its eyes on everything happening with its competitors in every corner of the market.
"We will never sit back," Foust says. "You must be aware of what is changing and new, always looking to forecast the future. Every day you must reinvent yourself because when you stop looking ahead you fall behind."