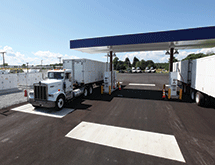 NG Advantage was founded in 2011 with one mission: to truck compressed natural gas to large energy users that are beyond the reach of natural gas pipelines. "Natural gas from the pipeline is about one-third the price of oil and is great for businesses located on the pipelines, but a disaster for companies that are not," CEO Tom Evslin says.
The Milton, Vt.-based company realized that companies relying on fuel oil or propane as their only source of process and comfort heat are at a great disadvantage compared to competitors on a natural gas pipeline. Evslin wondered if companies that the gas industry calls "stranded" would be interested in replacing their fuel oil or propane with CNG – the same gas that is in a pipeline. "Potential customers told me it's just not something they want to do – it's something they have to do," he says.
In March 2013, NG Advantage started delivery to its first customer – a paper mill. From there it has secured three more paper mills, five asphalt plants, four hospitals, two light manufacturers, a commercial laundry facility and three food processing plants. "We focus on energy intensive industries that need to be located near the raw materials they use and can't move to where the pipelines are," Evslin says. The company's services are currently focused in Vermont, Massachusetts, New York and New Hampshire. The company provides the gas using its "virtual pipeline" of 40-foot trailers manufactured by Lincoln Hexagon of Lincoln, Neb. The trailers contain four 40-foot carbon-fiber tubes that hold the compressed gas.
Natural Gas Conversion
Little education is required for its customers in terms of the environmental and cost-saving benefits of using natural gas, but NG Advantage does have to provide safety information to local first responders.
It also advises the clients on how to convert their plant from burning fuel oil to burning CNG. The main essentials are having the space to park NG Advantage's trailers, which are parked near the boiler house, and adding a natural gas burner to their boilers.
The conversion process usually takes about six months and is paid for in six months. "A lot of parts are on backorder because of the growth in the natural gas industry, so it takes time. The customer also needs to get minor permitting and finally, we need to put in a concrete pad for the off-loading equipment and run a gas pipe, electricity and Internet access from the off-loading station to the factory wall," Evslin explains.
At NG Advantage's compressor stations, the company purchases natural gas from a pipeline operator, compresses the gas to 4,000 psi, loads it into 27 high-tech trailers and hauls it to customer sites. The gas is used directly from the trailers, eliminating the need for on-site storage. "To make the business work, we have to make sure we are arriving before the customer runs out of gas, but not so soon that a lot of gas is left in the tank," Evslin explains. "We had to invent the logistics of how to monitor customers' sites. We use telemetry and had to write analytical software."
To ensure on-time delivery, NG Advantage operates a dispatch center. "We operate on 'just in time' using its propriety software and our dispatchers know the drivers' duty hours, the road conditions and when the customer will run out of gas," Evslin says. NG Advantage hired General Transportation of West Bridgewater, Mass., to haul its trailers. All drivers hauling NG Advantage trailers are required to have previous hauling experience and to be certified in hazardous material transport.
Each new industry comes with a learning curve for NG Advantage, Evslin notes. "Each industry schedules differently and we learn about their usage as we start serving them," he adds. For example, hospitals have to have an extremely reliable supply of gas and are concerned about the aesthetics of where the trailers are located. Paper plants run 24/7 and the only change occurs when a machine goes down or they change the product made on a machine. Asphalt plants have no space problems for storing a NG Advantage trailer, but have sporadic usage. "Asphalt plants run hot and close down when it rains," Evslin says.
Increased Demand
Today, NG Advantage can only service customers who were spending at least $750,000 per year on fuel oil or propane, but anticipates serving smaller customers in the future as the equipment becomes cheaper. The company has also been in discussion with pipeline operatros about creating "gas islands" that could service a number of smaller companies in an industrial park or even residential areas. NG Advantage's role would be to haul the natural gas from the pipeline to the connection point of the gas island.
NG Advantage will open a second compressor station in Pembroke, N.H. in conjunction with Clean Energy Fuels. The Pembroke station is built and owned by Clean Energy Fuels. NG Advantage has a 10-year exclusive contract to fill its trailers at the facility. The station is expected to be the largest station of the more than 350 stations Clean Energy operations today. Clean Energy will be fueling its contracted customers – company fleets – from the Pembroke station when it opens this summer, as well as NG Advantage's trailers. In early 2015, NG Advantage will open a third compressor station. From each station the company can deliver to customers within a 200-mile radius.
Although NG Advantage's services are only available on the East Coast at this time, the company is looking to expand to underserved areas throughout the United States and Canada. "There are a lot of suitable areas into which we are looking to expand," Evslin says.