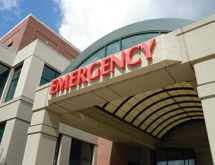 "If you can provide for someone in the medical field, they know a lot of people, and they're going to provide you with a lot of referrals," Now Courier Vice President Ryan Schwalbach says. This is valuable insight from the son who witnessed his parents grow a company from a two-man operation to the region's leading courier business.
Schwalbach fondly remembers the beginning. In 1986, his father – Mike Schwalbach – founded the company with a partner who is no longer with Now Courier. One would work as dispatcher, while the other made deliveries and sales calls. "They were scratching and clawing for anything they could get," Schwalbach recalls.
According to the founder's son, Now Courier's growth came gradually. The partners worked incredibly hard, running a large amount of deliveries and making cold calls, and the high-quality service they provided from the beginning generated enough word-of-mouth business to keep expanding year after year. Since it opened, the company's growth has been between two and four percent each year, and has never experienced a losing year.
Referral business has been a key factor to the success of Now Courier. "Not a lot of people were providing 24-hour service," Schwalbach notes. "At six in the evening, we were getting all the calls after other places were closed. This helped us get in with the local hospitals and into the medical industry." Once Now Courier broke into the medical field, the referral numbers increased dramatically because of the large volume of contacts connected to hospitals.
Meeting the challenge
Today, medical services represent 60 percent of Now Courier's business. This includes transporting blood, plasma, organs and medication that are time-sensitive and often vital. In the 1990s, however, the courier market was very different. Payroll was the biggest revenue until banking technology improved. Who needs a courier business to deliver nightly checks to the bank when you can deposit them through your smartphone? "We've had to adapt, which has been challenging at times – I like the challenge," Schwalbach says. "I like to change. It makes you expand. You just have to remember where you came from."
For Now Courier, meeting the challenge meant changing its client base. Payroll has gone to direct deposit, documents are now emailed and blueprints go to Dropbox. "Though it was probably a scary time, I give all the credit to my dad and the others who were leading the company," Schwalbach notes. "They said, 'If you've gotta change, you've gotta change.'" Change came in the form of transporting auto parts, office supply, lab specimens and pharmaceuticals. The blood center is a huge customer.
Certainly, technology could be made out be the enemy, but Schwalbach doesn't see it that way. It's stolen some business away, but it's also helped Now Courier grow. For example, the barcode scanning and signature capture systems used by the largest companies – such as FedEx and UPS – were not affordable for smaller couriers at first. Because clients were asking for these services, as soon as the cost came down, Now Courier adapted those capabilities seven years ago, before most of its competitors. The investment ate some of the profits, but the new technology became a powerful selling tool.
Going corporate
Mike Schwalbach may have been the founder, but Sandy Schwalbach has made her mark, too. After more than 30 years of working in the 24-hour service industry, the founding father stepped down and his wife stepped in as CEO and COO. "Some people may get the opportunity to work with one parent, but I've enjoyed working with both," their son says. According to Ryan Schwalbach, his father's strongest attribute is industry knowledge, while his mother – who previously worked for Disney and Procter & Gamble – brings corporate knowledge.
It was Sandy Schwalbach who provided the business organization model needed to grow a company from $5 million a year to nearly $30 million. From establishing job descriptions to putting operation procedures in place, she led Now Courier's change to becoming a more structured, corporate business.
As is the case in every thriving business, the success here is the result of a team effort. Schwalbach credits not only his parents, but the whole staff. "The management we have here, all the supervisors, dispatchers, everyone involved here is truly great," he comments. Night dispatchers work 12-hour shifts and supervisors are often faced with getting routes covered in difficult situations.
Many times, the drivers are making deliveries in inclement weather. Two winters ago, when a huge blizzard blew through Chicago, people were leaving cars stranded in the middle of interstates. The whole city essentially shut down, but Now Courier was out there making deliveries, even when the largest international companies hadn't run for two days. The people of Now Courier are what set this company apart from the rest. There's an "all hands on deck" mentality that gets everyone working together to get the job done. "It can be risky, but we'll do whatever it takes to make the delivery," Schwalbach affirms.