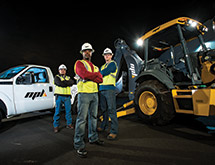 Approaching its 50th anniversary, NPL Construction Co. is in the middle of an effort to build on its reputation in the industry for leadership, expertise and innovation. A natural gas and electric distribution contractor based in Phoenix and a wholly owned subsidiary of Southwest Gas Corp., NPL is today part of Centuri Construction Group, a platform for meeting the demands of the North American energy services market. The Centuri family of companies includes NPL, SW Administrators, Link-Line, WS Nicholls and Brigadier.
Historically, the organization's focus was on the underground natural gas market and installing natural gas pipelines. Over time, it added electric, fiber, telecom, cable TV and other utilities. NPL now offers a full line of distribution infrastructure services in markets throughout the United States. The company has approximately 4,000 employees and thousands of vehicles, trailers and off-road equipment pieces around the country.
"In the United States, we operate from coast to coast, and we are currently in more than 20 states and our fleet covers about 35 million miles a year," says Chad Fay, who serves as director of fleet operations for the organization.
Operational Improvement
Given the vast stretches of territory that NPL covers, its fleet operations are crucial to success. The goal of the fleet team is to provide quality, dependable equipment that can support the organization's business needs, while maintaining the highest standards of safety and service quality.
"Safety and quality are two pillars that the company has and will continue to focus on," Fay says. The company was recognized for its focus on safety when the 2015 Fleet Safety Conference presented Fay with its annual fleet safety award in July.
"We work diligently each day to minimize machine downtime, control costs and mitigate risks that could lead to project delays," Fay adds. "We focus on keeping collaborative relationships with suppliers and customers while striving to always have vehicles and equipment that are ready to go when they are needed by our people in operations."
One of the major initiatives taking place within the group is the move away from decentralized fleet operations. As part of moving to a centralized fleet operations structure, the company has put standardized fleet programs in place across the entire company footprint.
In addition, to keep a better eye on equipment and measure KPIs, the organization has invested in telematics. The entire on-road fleet is outfitted with telematics, which provides Fay's team with insight into information such as location, idling, utilization, and on-road driver behavior.
The company has seen particular success with idle reduction. The fleet department began a grassroots idle reduction campaign across the company in 2014, with a goal of reducing and eventually eliminating wasteful engine idle time. The effort involved raising awareness throughout the company of the impact idling can have on fuel spend, vehicle maintenance and the environment.
Telematics helped the fleet department track idling data, allowing it to issue progress reports, newsletters and educational pieces to drive awareness. Thanks to the effort, the company reduced its carbon footprint by more than 1 million pounds of CO2 and calculated fuel savings of close to $200,000.
"For the off-road fleet, our focus for this year and into next is to make sure that every piece of off-road equipment is outfitted with telematics," Fay says. "Telematics ensures proper utilization of equipment, and is one of many tools we leverage to maintain oversight of our fleet. The technology is great, but the true value add is the people who manage our fleet campaigns and programs. We have seven regional fleet managers responsible for multi-state geographic territories, and local fleet managers who are the boots on the ground at each operation."
In addition to telematics, maintaining a modern, younger fleet and investing in new pieces of equipment have been priorities. The company is also making a significant investment into preventive maintenance. It has partnered with external third parties to help with mobile and shop-based repairs. "That helps us to make sure the fleet is safe and operational at all times, helping us to better service our customers," Fay says.
Meeting Challenges
Although Fay says the company has placed a good amount of emphasis on hiring and retention, he says the shortage of qualified drivers and competition for their services means there is an ongoing challenge to find the right people to operate fleet equipment. This is especially challenging for NPL and its sister companies, which need individuals who can not only drive trucks but also operate construction equipment, in some cases.
"Professional truck drivers tend to go to over-the-road companies and don't always end up working on the construction side," Fay says. "Our HR department has strong recruiting initiatives and is engaged in programs with educational institutions; we also have rigorous in-house onboarding programs to help with employee development."
Ongoing integration of acquired assets will be another challenge for the company. NPL acquired the Canadian-based Link-Line group of companies in late 2014, which included the acquisition of Link-Line Contractors Ltd., W.S. Nicholls Construction Inc., W.S. Nicholls Industries Inc. and a 50 percent equity interest in W.S. Nicholls Western Construction Ltd. Around the same time, NPL acquired certain assets and liabilities of Brigadier Pipelines Inc., a U.S.-based affiliate of Link-Line. All of this led to the formation of Centuri Construction Group.
"The fleet in Canada has a safe, quality driven fleet operation and leadership with years of experience leading their team," Fay says. "The synergies between the organizations was key to the acquisition, [and] while there are areas of priority where integration is underway between companies, we will take a look at how we can collaborate with the Canadian fleet down the road."
Fay believes that the organization's fleet made significant improvements in 2014 and his focus in 2015 is on continuing to build on its gains. Additional new goals include taking a deeper look at its off-road fleet, integrating standardized maintenance processes and telematics with that aspect of its operations. That will help the company get a better handle on those pieces of equipment and allow it to become more self-reliant in terms of preventive maintenance.
"We will also continue to focus on increasing fleet safety and decreasing our carbon footprint while improving on-road driver behaviors," Fay says. "Ultimately this focus will result in continued improvements related to safety and empower our operational teams by ensuring they have the equipment required to get the job done."