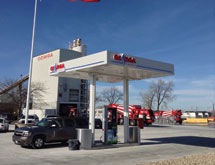 For Ozinga Brothers Inc., the decision to move from diesel fuel to compressed natural gas (CNG) for its fleet of concrete mixer trucks and other vehicles was a fairly easy one. "In 2011, we began to do research and look at what our options were regarding purchasing new equipment, and saw that diesel trucks were becoming more highly regulated," says Tim Ozinga, a co-owner and director of marketing communications for the Mokena, Ill.-headquartered ready-mix concrete company. "At the time, the technology for CNG was becoming more advanced, and we saw it working well for companies in the refuse industry, so we considered it a good option."
The company's previous purchase of diesel trucks came in 2006, just before federal and state legislation regarding emissions standards began to phase in. The requirement to outfit diesel trucks with expensive particulate filters in particular helped motivate the company's switch once the time to purchase new equipment once again came around.
"The deciding factors were not only emissions standards but CNG being a more affordable and viable alternative," Ozinga explains.
"CNG also fit with our mission and identity of being a family owned, local business which competes with many international companies, as it is an American-made fuel."
Ozinga Brothers now owns and operates 110 CNG concrete mixers and 35 support vehicles, which include utility vans and passenger cars. The company's goal is to convert its entire fleet of 500 vehicles to CNG by 2020. Ozinga operates CNG vehicles in its home state of Illinois as well as in Indiana.
A Complete Provider
Shortly after making the commitment to switch its fleets to CNG, Ozinga Brothers saw an opportunity to expand its traditional business model to assist other companies who were facing a similar decision to remain diesel-based or embrace the new alternative. "We talk to people every day about how we went toward CNG to avoid stringent emission after-treatment technology and embrace an American fuel that could be better forecast," Vice President Brian Curry says.
One common question about CNG from other fleet operators concerned the fuel's availability. "We found that one effect of getting into CNG meant having to build CNG fueling stations, which is a responsibility we felt we should take on ourselves, since there were no CNG station builders in Chicago," he adds.
To address this, Ozinga Brothers created a new division, Ozinga Energy, dedicated to helping both it and other companies make and keep a commitment to CNG. The company designs, plans, engineers, builds and operates CNG fueling stations for corporate and public use. There are four Ozinga-branded retail fueling stations open to fleets and other owners of CNG fleets in the Chicago area and three private, non-branded stations in Missouri, Illinois and Indiana. "We've become a distributor and a full-service turnkey station installer that performs all of our own developments as well as that for other fleets," Curry says. "We are there for any customer who wants to transition to CNG, from a distribution perspective as well as station building. We don't have a niche in terms of just doing this for other ready-mix companies; this is for everybody."
The company's stations serve a range of customers from 18-wheel trucks to local service businesses and general users. Ozinga Brothers' CNG ready-mix trucks also fuel up at the company-branded stations. "One of the benefits of CNG for our own drivers is that, when they finish their work load, they can just park their truck, plug it in, and let it fuel overnight," Curry adds.
Several new stations are anticipated to open in 2014, including a 24-hour full-service retail location in Des Plaines, Ill.; two stations serving Ozinga's operations in Crown Point, Ind., and Montgomery, Ill.; and a private facility for a trucking company in Wood River, Ill.
'Walking the Walk'
All of Ozinga Energy's CNG stations and services are operated with customer service in mind. "We're not a company that just comes in and places a station in the middle of a field – we will be there to support that station for years to come," Curry says. "We can walk the walk."
Ozinga Energy assists fleet customers with driver and mechanic training, and posts the cell phone numbers of its main staff members at every station. "Because we operate one of the largest CNG fleets in the regions and operate fueling stations, we have a full understanding of what it takes to provide full service," he adds. "We feel strongly about the support and customer sides of our business."
The company also believes in building relationships with many of the CNG industry's biggest names including Bauer Compressor, JW Energy, Bristol Clean Energy, OPW/Petrovend, Bennett Pump and SSP Fittings. Ozinga also works with truck manufacturers including Cummins and McNeilus to secure CNG vehicles that meet its needs. "We may promote ourselves as a local company first and foremost, but we're proud to have established many positive relationships with companies across the country," Curry says.