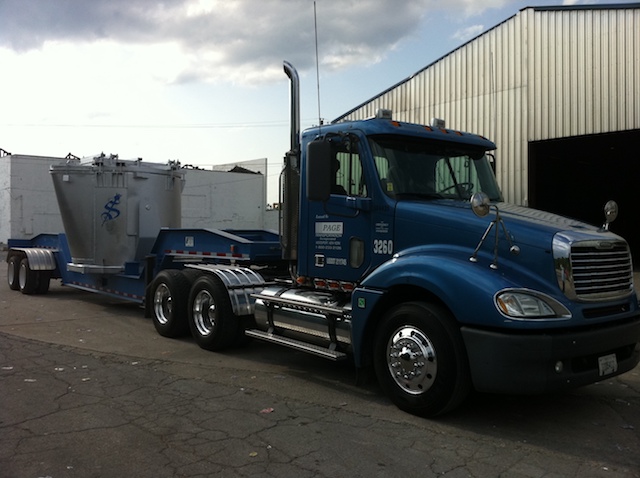 Page Trucking sets itself apart with its innovations and material management services.
By Alan Dorich
Page Trucking long ago established itself as one of the largest transporters of bulk products in North America, but the Weedsport, N.Y.-based company was not content to stop there, President and CEO Dan Titus says. The company also carved out a reputation as an innovator.
It recently developed its Universal Trailer, which is a hybrid of a flatbed and a waste trailer that it uses to serve the aluminum industry. The trailer has the capacity to transport 70,000 to 80,000 pounds at one time, which comes in handy when transporting metal coils to manufacture automobiles.
When Page Trucking takes the trailer to its client's plant, it unloads the coils at one side of the location and then moves to the plant's other side to pick up byproduct to be transported to its mill. "It cut plant traffic at the OEM in half," Titus says.
Integral Parts
Titus' family has a legacy in New York that goes back to 1805, when his sixth-great-grandfather, Platt Titus, became the first settler of Cato, N.Y. "We've been seven generations of farmers, feed grain and fertilizer distributors and transporters," Dan Titus says. "Our entire American history has involved managing material."
Page Trucking started operations in 1981 and today has a fleet of more than 1,000 pieces of equipment. "We can haul any bulk commodity in any bulk container anywhere in North America, from hazardous waste to specialty feed and grain commodities," he says.
Page Trucking offers its services through four divisions, including Page Transportation Services, which moves general commodities, including feed, aggregates and metals. Its Page Environmental Trucking Co. is certified to haul hazardous waste, along with other commodities.
Its Page Molten Transportation Co. is the largest transporter of molten metal in North America. "Last year, we completed over 120,000 orders [and] ran over 28 million miles on our trucks," Titus adds.
In 2015, Page Trucking added its fourth business, Page Material Management, which does "more than pick the material up and move it," he says. Instead, Material Management's employees work hand-in-hand as well as inside OEMs' and Mill's facilities to manage the product flow, segregation of material, "right size" packaging and oversight of the close loop recycling process.
This takes Page Trucking's transportation business and "turns it into an integral part of the on-site operations and allows us to become vertically integrated throughout the supply chain," Titus says. "It's the fastest-growing division of the company."
ELD Impacts
The trucking industry is complying with the federal electronic logging device (ELD) mandate requiring ELDs to be implemented in vehicles to record drivers' hours of service. Page Trucking prepared in advance for the December deadline, Titus says.
"We had been transitioning for a number of months and working with customers where we recognized the potential for service issues," he recalls. "We've been able to be proactive in avoiding some of those 'Oh, no' moments."
But Titus predicts other impacts that will profoundly impact Page Trucking's market. "We expect to see reduced productivity and [more] turnover," he says, explaining that some will leave the industry due to the change.
"There's a segment of that labor force that's going to do something else when you ask them to fundamentally change the way they live their lives," he explains. "They're going to do what [they want] to do."
An Industry Leader
Titus has been with Page Trucking since January 2003 and is joined in the business by his sister Piper, who is the company's CFO and majority owner. The two have nurtured a family oriented environment "that is extremely focused on productivity, with an emphasis on individual efficiency," Dan Titus says.
"I'm most proud of the fact that we're an industry leader in our space, and we've differentiated ourselves through more than just service, but through innovation," he says, adding that Page Trucking has a new innovation lined up for 2018.
The company will commission an automated, high-value aluminum alloy segregation system in the first quarter of next year. "When the equipment arrives from Germany, it will be installed at our Page Material Management facility at our warehouse and complex in Cato," he states.
Page Trucking saw substantial customer growth in 2017 and plans for more expansion. "I see our continued double-digit growth through our traditional organic method, but accelerated by strategic M&A opportunities," Titus says.