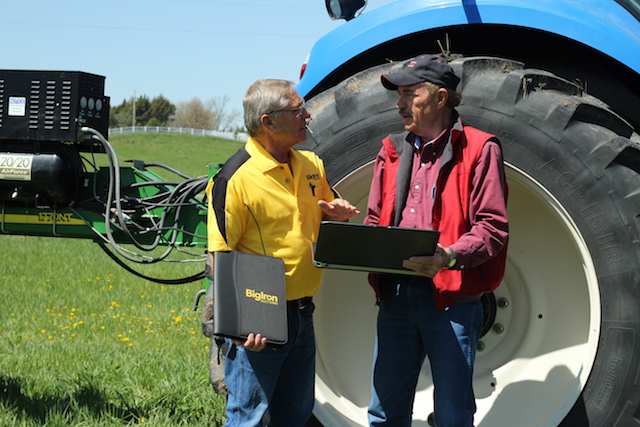 BigIron brings transparency and reliability to capital equipment auctions.
By Tim O'Connor
When a farming couple prepares for retirement they often consider putting their assets and equipment up for sale. That can be intimidating for a family that must compete against large dealerships, fleet managers and transportation companies to get their tractors, or truck and trailers noticed in the market. However, if they sell through BigIron Auctions – an online marketplace that features auction service specializing in agriculture, construction and transportation equipment and vehicles – they are sure to receive equal treatment.
"BigIron puts as much emphasis on ensuring that a retiring farming couple or owner operators get represented on our platform as a Fortune 500 company," President and CEO Andy Pyron says. The care that BigIron provides to all of its users is why 24,000 viewers, buyers and sellers participate each week in the auctions, 85 percent of which are return bidders.
Diverse Bidders
That dedication to fair customer service goes back to BigIron's roots in the agriculture business. Farmers Ron and Mark Stock founded the company in 1984 as Stock Realty and Auction. "Mark and Ron started the business as farmers," Pyron notes. "They were interested in providing a clear, transparent, square deal with other ag producers that would do business with them. As their business grew, they realized very quickly that service providers, other [agriculture] producers and construction companies inside and outside of rural America wanted the same things."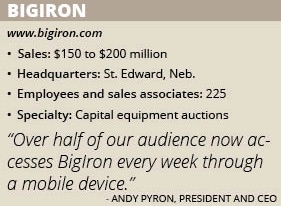 For decades, the brothers hosted on-site auctions for real estate and capital equipment before branching out in 2009 to online auctions under the BigIron brand. Online services such as eBay and e-retailers acclimated people to purchasing goods over the internet and the brothers saw an opportunity to bring the convenience of online auctions to the capital equipment market. "Today, we're recognized as the premier online unreserved auction company that serves rural America," Pyron says.
The bidders on the weekly auctions, which close on Wednesdays, come from a range of backgrounds. About 70 percent of buyers are end-users looking for a new combine or tractor to work their farm, a flatbed to transport construction materials or a utility truck to fill a hole in a municipal fleet. The remaining 30 percent are people and businesses participating in the resale market, such as used equipment dealerships. Bidders and Buyers come from all over the world; however, all the consignments for items BigIron sells come out of the United States.
Creating Transparency
One of the most difficult things about buying equipment and trucks online is validating its actual condition without physically testing before the purchase. Everyone has heard a horror story about an eBay purchase gone wrong. The item that arrives isn't what was promised or its condition is worse than advertised. There's a certain gamble that can come with online auctions and the more expensive the item the less risk bidders are willing to take.
BigIron seeks to minimize that risk by providing bidders the maximum amount of information. The company shares the contact information of all sellers when a item is posted to the auction, providing buyers an opportunity to reach out and ask any questions they have regarding the condition, performance or maintenance history of the equipment. In most cases, BigIron even provides video of all equipment or trucks, giving prospective buyers an opportunity to see the vehicle in operation. "We do what we do to provide as much transparency as possible," Pyron says.
Transparency is important to instill trust in both the sellers and buyers, but Pyron believes the three pillars of BigIron's success are 100 percent unreserved auctions, meaning there are no minimum bids and every item is sold to the higher bidder; additionally, buyers are never charged a premium; and lastly, all auction items are guaranteed to be lien-free and titles transferable. Those tenets ensure that every purchase will go through without complication.
With those ideals firmly in place, BigIron can focus on improving the auction experience in other ways. The company launched a new website and mobile app in 2016 and introduced features to streamline the bidding process last year. "We continue to invest in technology and people in order to be able to continue to reach expanding markets and geographies," Pyron says. "Over half of our audience now accesses BigIron every week through a mobile device."
The auction platform is the most direct point of contact for many of BigIron's customers, but the company is also investing in its supporting infrastructure. In the past two years, BigIron has increased its operating regions from three to seven, allowing it to add salespersons and become even more responsive to users. "We'll continue to expand the business through our sales department and update the internal infrastructure to support that," Pyron says.