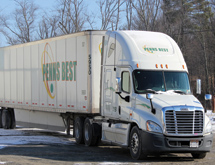 When Meredith "Rube" Roarke started in the trucking business in 1969, it was for a simple purpose. His company, Meshoppen Stone Inc., needed transporters to haul Pennsylvania bluestone across the country.
The company was supplying bluestone to customers such as the Arlington National Cemetery, Wellington Cemetery and Bourbon Street in New Orleans. Roarke secured two trucks to haul this bluestone flag. Now, Penn's Best has expanded well beyond that original mission and serves Fortune 500 clients.
"It just started to grow like crazy," President Patrick Healey says. "We had some rapid early growth and it just blew up from there."
Penn's Best runs 550 53-foot dry vans, 100 power units, 12 48-foot flatbed trailers and an 82,000-square-foot warehouse. Based in northeast Pennsylvania, it serves the East Coast from Maine to Florida as far west as Ohio, with a concentration in New England. About 80 percent of its work takes place in the northeastern portion of the nation.
Healey says the company grows because it never declines work. "We never want to say no," he explains. "It's always yes, yes, yes. We will get it done for you. We want to be the first call they make."
The company's routes are mostly single-stop though it also runs double and triple stop loads.
Penn's Best is a major paper hauler, as it is located just two miles away from a large paper plant. It also hauls grocery and warehouse materials as well as wooden pallets for CHEP USA, for whom it won the CHEP USA East Line Haul Carrier of the Year award in 2013. Penn's Best also was honored with Procter & Gamble's Transportation Award of Operational Excellence from 2010 to 2012.
"Originally, none of this freight was loaded on pallets," Healey explains. "It was all loaded on the floor. It started with CHEP pallets when we used to hand-load all the trailers. That's gone by the wayside with pallets coming on board. It's really helped with drivers not doing manual labor like they used to have top do. Pallets are big business."
The Orlando-based CHEP operates in 45 countries, employs approximately 7,500 people and has approximately 300 million pallets, display pallets and containers serving industrial and retail supply chains. Procter & Gamble Co. is an American multinational consumer goods company headquartered in Cincinnati. It was founded in 1837 with a workforce of 126,000 employees. Its many products include pet foods, cleaning agents and personal care offerings.
'A Vested Interest'
When the late Roarke retired in 2004, he was able to hand over the company ownership to the employees. An Employee Stock Ownership Plan (ESOP) had begun in 1993. Today, the company is 100 percent ESOP-owned and the original ESOP debt is fully paid.
The ESOP just adds another to the strong benefits package offered at Penn's Best as profits are vested in employee accounts. "It helps with retention," Healey says. "Everybody has a vested interest in the business and a reason to be here."
Other Business
Penn's Best also works with other sister companies under the same company umbrella. Endless Warehouse Services was started in 1986 and operates its 82,000-square-foot warehouse while 87 Sales and Service, located on Route 87, a mile-and-a-half from the main terminal, is its truck repair facility. As a division of Penn's Best, 87 Sales & Services provides parts as well as truck and trailer repairs, servicing both Penn's Best and other company trucks. It supports all brands of truck parts and after market parts plus a large variety of trailer parts.
Endless Warehouse Service provides customers the ability to store products and enhance them with assembling, wrapping, separating for supermarkets, club stores or superstore kiosks. The warehouse includes 10 dock doors, a drive-in door, large drop yard, two-side access and strong electrical systems, the company says.