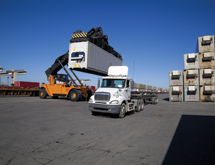 The logistics industry is cemented in practicality. Get in, get what you need and get out. But do it in a way that's the most time-, cost- and labor-efficient. David Wood, director of sales and marketing for Kalmar Ottawa terminal tractors, says that if the plan doesn't meet those needs, those in the logistics industry don't want anything to do with it.
"As we study the needs of our customers and listen to their feedback, we learn that they are on the hunt for appropriate technology," Wood explains. "There isn't an appetite for toys and gadgets that don't pay off in productivity. But if it's appropriate technology that pays them back in short order by ensuring productivity in moves per day or results in less mistakes and more accuracy, that's a good investment."
Kalmar's goal for Kalmar Ottawa tractors is to build a product worth investing in. The manufacturer is based in Ottawa, Kansas, and got its start in 1940 building agricultural machinery for the region's prominent farming community. In 1958, it invented the terminal tractor, which is designed and built specifically to move trailers within warehouse and distribution operations, ports and rail terminals across the globe.
"Trailers sitting on a particular site usually have to be moved frequently, so there was a need for a machine that could move trailers quickly, efficiently and it had to be something that can operate in tight spaces," Wood explains. "That's how we were born. Our focus is primarily on the trucking and distribution side of things but ports and railroad make up an important part of the business, too."
More than 55,000 Kalmar Ottawa terminal tractors have been produced, and the company today maintains an annual average capacity of 2,500 to 3,000 vehicles per year, the majority of which are for off-road purposes. Kalmar Ottawa is not only the first manufacturer of terminal tractors, it's also the clear leader with approximately 50 percent of global marketshare and approximately 65 percent of North American marketshare. Wood attributes the growth to an innovative culture that responds to direct issues facing the transportation and logistics industry.
Throughout 2013, Kalmar Ottawa Trucks has emphasized the importance of its environmentally friendly Tier 4i-compliant tractors, which are in compliance with the coming wave of new regulations set by the EPA. The company has produced more than 1,500 Tier 4i-compliant Kalmar Ottawa trucks, which put 90 percent less particulate matter and 45 percent less nitrous oxide (NOx) into the air than those equipped with engines meeting EPA's Tier 3 standard, which is currently being phased out. The Cummins QSB6.7 engines, specifically designed to meet the Tier 4i emissions standard, deliver improved fuel economy, as well. For the average user, a Tier 4i truck will burn $600 less fuel in a year than a Tier 3 version, translating into potentially big savings.
"That's $6,000 in fuel savings per tractor over a typical 10-year lifecycle," Wood says. "And if our customer has 10 trucks for those 10 years, he'll save about $60,000 total – just in fuel alone."
Those numbers are easy for a company's finance guru to get behind, but Kalmar's people also pay attention to the needs of those getting behind the wheel of the actual vehicle. Wood says the big trend in today's industry is onboard yard management systems equipped with touch screens that inform drivers of their next task. It could be in a port facility that tells the driver to move a trailer from point A to point B or a distribution center that lets the driver know when a particular trailer is coming into the facility. The systems directly affect driver productivity and efficiency.
Another trend is driver comfort, which Kalmar Ottawa tractor designers take seriously. Ergonomically designed cabs and equipment such as the Maximizer Powertrain Management System reduce noise levels from the lower RPMs, which means less driver stress and increased driver productivity.
"In our little world, the driver has a big strong voice in terms of what companies buy," Wood explains. "They're not buying thousands, they are buying dozens. If a company was buying 500 trucks, then the finance guys would have a bigger say. But these smaller companies know that happy drivers are worth more, so drivers are very important to us, too. We play close attention to what they say."