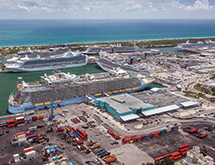 An economic engine for Florida's Broward County, Port Everglades is one of the nation's most diverse seaports. Among the world's busiest cruise ports, it is a leading Florida container port and South Florida's main seaport for receiving petroleum products.
"We have tried to take a philosophy with customers that we will focus on being service-oriented," Chief Executive and Port Director Steve Cernak says.
A self-supporting enterprise fund that does not use local tax dollars, the port is governed by the Broward County Board of County Commissioners and located in the center of the country's sixth-largest metropolitan area. It has the shortest, straightest entrance channel on the Southeast U.S. Atlantic coast.
Just looking at the numbers, Port Everglades' place in the American port hierarchy is clear. It is the top seaport in Florida by revenue. Last fiscal year, the port's revenue was $147 million, and that number should be over $150 million in fiscal year 2014. As the No. 1 container port in Florida and No. 12 in U.S. by volume, it handles approximately 930,000 twenty-foot equivalent units (TEUs) each year.
The port is the leading seaport for exports in Florida, handling $13.4 billion in exports. It is the nation's gateway for trade with Latin America, accounting for about 14 percent of all Latin American trade in the United State. It is the leading refrigerated cargo port in Florida, and it is the No. 2 foreign trade zone for exports in the United States.
In addition, Port Everglades is the No. 2 petroleum port in Florida, handling 109 million barrels. It is also the No. 3 cruise port in the world, as 3.9 million passengers are expected to pass through its facilities in fiscal year 2014.
In fiscal year 2013, the port generated nearly $26 billion in total economic activity and $733 million in state and local taxes. It contributes to the creation of 11,433 direct local jobs as well as 202,709 Florida jobs earning $7.9 billion in wages.
On the cruising side, 40 cruise ships from 10 cruise lines call Port Everglades home. It is the homeport of the world's largest cruise ships, Royal Caribbean's 5,400-passenger Oasis-class ships. The port holds the world record for most cruise guests in a single day, serving 53,365 on March 20, 2010.
With cargo, the port's containerized cargo activity is expected to reach more than 6 million tons and 943,000 TEUs in fiscal year 2014. It provides service to 150 ports and 70 countries.
As for petroleum, the port handled 109 million barrels or 4.6 billion gallons in fiscal year 2013. Gas stations in 12 South Florida counties receive their fuel through Port Everglades. In addition, the Fort Lauderdale-Hollywood, Miami and Palm Beach international airports receive jet fuel through Port Everglades. Roughly one-third of Florida's transportation fuel needs are met by petroleum stored and distributed by companies at Port Everglades.
"All of the metrics on all of our business lines are tracking upward," Cernak says.
Always Improving
The port has undergone many improvement projects in recent years. The Southport Turning Notch Extension project is lengthening the existing deepwater turn-around area for cargo ships from 900 to 2,400 feet. This will allow for up to five new cargo berths. Super Post-Panamax gantry cranes will also be added to the Southport container berths.
Another key project is the renovation of Cruise Terminal 4. The passenger drop-off area is being moved to separate traffic from the nearby Cruise Terminal 2, reducing congestion. In addition, the adjacent Slip 2 will be extended by 250 feet to 1,150 feet to accommodate larger vessels.
Another project involves a partnership with Florida East Coast (FEC) Railway. The development of a new pier-to-ramp intermodal container transfer facility was completed in July 2014, improving the transfer of international intermodal containers between ship and rail, and vice versa. The Florida Department of Transportation (FDOT) is also working on an overpass from I-595 to Eller Drive that will allow the FEC to bring two new rail tracks into the facility.
Another partnership will widen and deepen the port's harbor. The port is working with the U.S. Army Corps of Engineers to deepen the main navigational channels from 42 feet to 48 feet and to widen the entrance channel and the Southport Access Channel. "Overall, our goal is to identify critical projects and program them into our operations," Cernak says.
Port Everglades will continue to be a key hub for international trade, travel and investment. It will leverage its facilities, providing high levels of service, safety, environmental stewardship and community accountability while making continued infrastructure investments..
"We recognize the need to be agile in how we operate," Cernak says. "Our community is our shareholder, and we will reinvest in the community to create job growth and business opportunities."