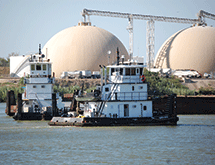 The Port of Victoria is a shallow-
draft port in Victoria, Texas. It opened in 1968 with the creation of a 35-mile barge canal linking Victoria to the Gulf Intracoastal Waterway, which runs 1,050 miles from Texas to Florida. In 2002, the port completed a deepening of the canal to 12 feet, the same depth as the Gulf Intracoastal Waterway, to better facilitate traffic between the two. The port serves Victoria and the nearby regional area. It is connected by rail via Union Pacific, with trackage rights to both BNSF Railway and Kansas City Southern; by road via U.S. Highway 59, U.S. Highway 77 and U.S. Highway 87; and by air to Victoria Regional Airport.
Port Director Skip Kaup says the secret behind the port's success is its prime location. It is near Houston, Austin, Corpus Christi, San Antonio and Waco, making it ideally situated with 15 million consumers within a 2-hour radius. "I think the biggest factor for our success is our location," Kaup says. "We are on the coast of central Texas so there is a lot of opportunity to go either direction. We are near a major highway and close to deep water and rail accessibility."
Proud History
"The entire intercoastal waterway concept started here over 100 years ago and the port was created by visionaries," says Chariman Robby Burdge. A build-out was completed in the 1950s with a connection to a DuPont facility. The port continues to flourish and prosper today. It has a relatively large economic impact, and it's not just petrochemicals but also sand, gravel, frac sand, fertilizer and other goods."
Port of Victoria's ideal location has sparked a surge of barge business in the past three years. More than 2 million barrels of crude oil pass through the port per month via the Eagle Ford Shale, one of the most active oil and gas drilling targets in the United States. Frac sand and petrochemical industries operate big business at the port along with manufacturing, chemical, agricultural and industrial companies.
In 2013, crude oil shipments from the port reached 60,000 barrels per day, or 1.9 million barrels per month. Barges carry an average of 30,000 barrel each and about 70 barges loaded at the port each month last year, often grouped six-at-a-time.
Luckily, the port had planned well for the Eagle Ford Shale boom, Burdge says, as it is now increasing from 2 million barrels per month to 3 million.
"It was a sleepy little port for a number of years but it is not sleepy anymore," Burdge says. "We have definitely woken up."
The Eagle Ford Shale is less than 30 miles from the port. Current port operations include Devon Energy, one of the largest U.S. independent oil and natural gas operations; Texas Flow Tankage; CRU Logistics, a large frac sand operation; and Equalizer Co., formerly a fertilizer company now specializing in frac sand. The companies thrive at the port, which specializes in business-friendly public-private partnerships. These deals include relief from tariffs to incentivize infrastructure, says spokesman Mike Sizemore.
Port Expansions
The Port of Victoria is currently expanding its fleeting area to increase capacity. This allows for more barge parking during loading and unloading.
Groundbreaking was held in February and construction is concluding currently. The project increases capacity to allow for docking of 50 inland barges. New liquid cargo and general cargo docks are also being constructed.
The port has 1,500 acres of available space on its south end and more on its north side, Kaup says. The space is available on a first-come, first-serve basis. "We have had conversations with multiple companies from a variety of industries who are interested," Sizemore explains. "There are a lot of economic development opportunities."