Progressive Transportation Service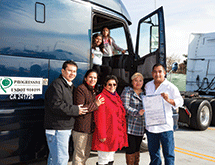 Progressive Transportation Service (PTS) operates in a tough business. The company, based in Long Beach, Calif., ships freight in the westACern United States. It offers over-the-road, intermodal and drayage, heavy haul, flatbed and other specialized carrier services.
One of the many challenges it faces is a driver shortage that is affecting the entire industry nationwide.
"It's very difficult to get dependable, qualified truck operators," Principal Dave Naples explains.
"And that's not going to change in the foreseeable future."
But PTS depends heavily on independent contractors. It utilizes about 95 trucks in Southern California and about 75 trucks in Northern California, but only 10 percent of those vehicles are company-owned.
"Owning an entire fleet of company trucks for all our needs would be an extremely costly way to do business," Naples explains. "It's not feasible."
So, when new clean air regulations were passed in California in 2008 and many independent contractors suddenly had non-compliant trucks, PTS knew it had to do something to help the mom-and-pop operators who didn't have the resources to get up to speed with the new requirements. The business depended on it.
"We've worked with some of our drivers for 25 years," Principal Ken Albertson says. "A lot of them couldn't afford a new truck at $100,000 a pop."
Lease-To-Own Program
PTS devised a five-year, lease-to-own program for drivers who worked for the company to eventually take full ownership of trucks that PTS helped finance. "We went into partnership with our drivers," Albertson says. "We both had skin in the game."
In 2013, PTS transferred ownership of 68 trucks to 68 drivers. "It's one thing to put a plan together," Naples says, "but it's another to see it concluded so successfully."
The drivers who participated in the financing program have no obligation to PTS. They were free to leave the program at any time and they are free to quit working for the company at any time. They also may work for any other client concurrently. They may sell their trucks or do whatever they want with them because the titles are in their names.
"It was critical that drivers in this program maintain their independence because otherwise there would have been labor issues," Naples says. "Some of our drivers work only for us, but they don't have to." He reports that none of the drivers who took possession of their trucks have parted ways with PTS.
Company Services
PTS provides ocean container and rail trailer pickup and delivery service within the state of California, and provides this service on import and export cargo and for both inbound and outbound domestic trailers. It also provides drayage service to businesses in Oregon, Nevada and Arizona.
The company's service locations are near all major intermodal facilities in California, including in Los Angeles, Oakland and Stockton.
All PTS trucks are environmentally clean, port fee-exempt and 100 percent compliant with Environmental Protection Agency and California Air Resources Board standards. The company is also registered at each port on the West Coast as a green trucking company.