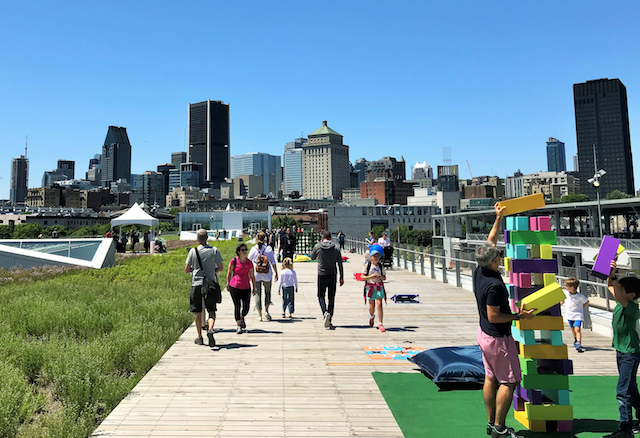 The Port of Montreal's location and diverse business bring it to the forefront of non-ocean-based ports.
By Jim Harris, Senior Editor at Knighthouse Media
For the Port of Montreal, the size of the ships it can accommodate is less important than the services it can provide those vessels. "There's an ongoing debate about whether ports can survive without being able to handle mega-ships," says Tony Boemi, vice president of development and growth for the Montreal Port Authority, the port's operator. "Personally, I don't think it's a question of the size of the vessel as much as the entire logistics chain that matters.
"If you look at our results and the investments our carriers are making here, it doesn't support the argument that ports are all about being able to handle big ships," he adds.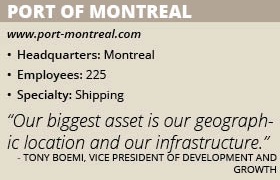 Located on the St. Lawrence River roughly 1,000 miles inland from the Atlantic Ocean, the port handles more than 2,000 vessels per year and is served by several of the world's largest carriers. The port can accommodate ships that are up to 300 meters – or just under 1,000 feet – long. "Many of the carriers who come here use transshipment ports in the Mediterranean and Caribbean transloading cargo to smaller ships because of the market that is here," Boemi says.
Roughly $41 billion worth of cargo moves through the port every year. This activity contributes more than $2.1 billion to the Canadian economy annually, the Montreal Port Authority notes.
'A Very Fluid Port'
In 2017, the Port of Montreal handled 38 million tons of cargo consisting of intermodal containers, liquid bulk and dry bulk shipments. Goods transported through the port include oil, gas, grain and iron ore. The automotive industry is one of the largest users of the port because of its fluidity as well as its offering rail services from both major Canadian rail carriers, Boemi says.
"We are a dedicated port, which differentiates us from other ports on the East Coast that do port calls," he adds. "When ships arrive here through the river, they are 100 percent discharged and equally loaded. Our import to export ratio is roughly 50/50, which provides a cost advantage for the carrier."
The port includes five container terminals, six liquid bulk terminals, three dry bulk terminals and five non-containerized cargo terminals. These facilities are connected by 60 miles of railroad track running through the property that serve the Canadian Pacific and Canadian National railroads, both Class A railroads.
The port also runs its own short line railroad that receives cars from both railroads. "Our biggest asset is our geographic location and our infrastructure," Boemi says. "We are a very fluid port.
"We can access 70 million miles of rail in the U.S. Midwest within 48 hours and 40 million customers within eight hours of trucking time," he adds.
Cruise Activity
In addition to its shipping business, the Port of Montreal is seeing significant growth in its cruise business. Last year, the port handled more than 100,000 cruise passengers, a record number. This is a 30 percent increase over 2016 numbers, Boemi says. The port estimates even further cruise-related activities in 2018, as it will see 15 more ship stopovers than in 2017.
The growth in cruise activity closely follows a $78 million revitalization project that included restoring one of the port's piers and repurposing an existing 50-plus-year-old terminal building. The two-year project, completed last year, was funded by the Port Authority, the Government of Quebec and the City of Montreal.
The new terminal includes a public gathering area, the Grand Quay, which opened in June. The Grand Quay offers unique rental spaces for events of all kinds year-round.
"It was difficult to justify upgrading the terminal just for passenger use because of the seasonality of the cruise business," Boemi says. "We wanted it to have multiple uses year-round that generate additional revenue."
The Port is anticipating its first winter cruise in 2020, and is building a new observation tower on the Grand Quay that will open in 2021, he adds.
Ongoing Projects
The cruise terminal project is just one of several improvements to the Port in recent years. "We have a lot of projects going on here," Boemi says. Last year, the port opened a new container terminal that can hold 350,000 20-foot-equivalent shipping units (TEUs), bringing the facility's total handling capacity to 1.9 million TEUs. Phase 2 is planned for an additional 250 000 TEUs, bringing the port capacity to more than 2.1 million TEUs.
The port this year announced an additional container terminal project located at Contrecoeur, 25 miles downstream from the port on Montreal's south shore. "We project that the terminals in Montreal will eventually be full before 2022, so we are building an additional terminal to accommodate future growth," he adds.
When completed, phase 1 of the Contrecoeur terminal will handle up to 1.15 million TEUs per year. The facility will include two berths and a container handling area, an intermodal rail yard connected to the port's main network, a truck entry portal and support facilities.
Other planned upgrades include $60 million in rail improvements throughout the port.
A Self-Sustaining Model
All of the port's improvement projects are designed to drive its economic growth. "Depending on the criteria, we can apply for government funding on port projects by building a business case that includes such information as who the beneficiaries of the project would be, the return on investment, or does it drive the economy, create jobs, etc.," Boemi says. "If accepted they would contribute to the project, and it would be equally expected that we, at minimum, match whatever funds we're given."
The port's improvements will enable it to retain a diverse business base and reach new markets. Roughly 37 percent of the containers handled in the port originate in or are bound for Northern Europe; 25 percent in Asia; 21 percent in the Mediterranean; eight percent in the Middle East; five percent in Latin America and four percent in Africa and Oceania.
"Ten to 12 years ago, we did no business with Asia at all," Boemi says. "We want to continue accessing markets that otherwise wouldn't be available to us, and promote transloading ports so more carriers use that model to come to us."
SIDEBAR – A Community Partner
The Port Of Montreal takes its role as a responsible corporate citizen seriously. The port's community efforts include its Good Neighbour Committee, composed of residents, local organization representatives, city officials and others. The committee meets regularly to exchange information and discuss port activities as related to the surrounding area.
The committee and port also support a number of local organizations and events including groups that assist youth, families and people in need, the Montreal Port Authority notes.