Rhode Island Airport Corporation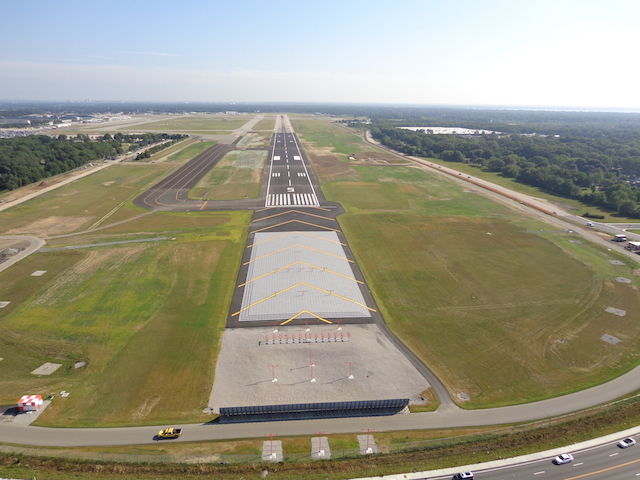 Fast-growing Rhode Island Airport Corporation has added six new airline carriers and 17 nonstop destinations.
By Kat Zeman, Senior Editor at Knighthouse Media
It's been a good year for the Rhode Island Airport Corporation (RIAC) and the future looks bright. RIAC is responsible for the design, construction, operation and maintenance of six state-owned airports in Rhode Island: T.F. Green, Block Island, Newport, North Central, Quonset and Westerly. It also supervises the state's civil airports, landing areas, navigation facilities, air schools and flying clubs.
In the past 18 months, RIAC has been aggressive in exploring new opportunities. The organization has added six new airline carriers and 17 nonstop destinations, both domestic and international. That almost doubled the number of nonstop routes being offered. Today, RIAC airports offer 33 nonstop routes.

"We are continuously looking for ways to improve," says Iftikhar Ahmad, president and CEO. "We are currently investing in infrastructure and amenities that the flying public expect of a world class airport."
Norwegian, Frontier, Allegiant, Onejet, Air Canada and Pinnacle are the recent airline carrier additions to RIAC.
Expanding Its Wings
In December 2017, RIAC completed a $250 million runway expansion that will allow for nonstop flights to the West Coast. "Norwegian would not have happened without the extended runway," Ahmad says.
In addition, RIAC spent roughly $9 million on improvements to its International Arrival Facility to better allow for the recent increase in international carriers, flights and passengers. That included improvements to the baggage area and to the U.S. Customs line of sight.
"RIAC has taken a very proactive approach since the last downturn in the airline industry," Ahmad says. "During the last year, RIAC has focused on adding international travel."
Furthermore, RIAC is in the midst of expanding its Common Use Terminal Equipment system. It allows flexible use of check-in counters and gates by multiple airlines throughout the day.
Last summer, the organization completed a renovation of our Federal Inspection Station (FIS) to provide a quick, convenient, and efficient process for international arriving passengers as well as the US Customs and Border Protection (CBP) staff that processes these passengers.
Future Moves
According to June 2018 news reports in one of the top aviation publications, Airline Weekly, JetBlue founder David Neeleman wants to launch a new U.S. airline.
The new Moxy Airline would be the first significant new airline in America in a decade. If plans go through, some of RIAC's airports could benefit – mainly T.F. Green, which is one of the fastest growing airports in America.
"RIAC continues to focus on expanding its list of travel destinations and airlines," Ahmad says. "We are driven by best practices and continuous improvement to reduce costs and deliver a high value at low cost to the airlines."
RIAC's customer base for departures is primarily from Rhode Island, Massachusetts and Connecticut. As for arrivals, its visitors are travelling from throughout the United States and the international community.
Another significant development for RIAC has been Pinnacle Airlines. Last summer, the airline carrier added two cargo flights per day to T.F. Green.
"Those aircrafts are bringing in hundreds of thousands pounds of cargo into the airport," Ahmad says. "So we made arrangements for them on the airfield and gave them use of a nearby area that is a logistics storage facility."
Challenge And Opportunity
RIAC is launching an airport app that will increase that is designed to make its customers passage through its airports more user-friendly. It provides real time flight data and other important travel information.
The organization is also in the early stages of a website redesign. In 2017, it partnered with a travel software company that provides online booking directly from its website. RIAC is also in implementing free Wi-Fi throughout its airports.
"Technology changes and advancements are a continuous challenge and opportunity," Ahmad says. "We are embracing these opportunities to improve the efficiency, customer experience and all facets of our airport. We are capitalizing on technology to improve our bottom line and at the same time provide a great experience for our customers."
One of the RIAC's goals is to increase its market share for T.F. Green (known by the airport code as PVD). "There are 7 million people in 90 minutes' drive time of PVD," Ahmad says. "These people create 40 million passengers. Boston Logan takes 36 million and we take only 3.6 million of these passengers even though we are closer to more than 60 percent of Massachusetts."
Top-Ranking
Founded in 1992, the RIAC was a semi-autonomous subsidiary of the then Rhode Island Port Authority, now the Rhode Island Commerce Corporation, to operate and maintain the state's airport system.
The RIAC maintains the infrastructure to connect the general public with domestic and international airlines. It manages and oversees parking lots and roadways in and around the airport and offers necessary services such as police, fire, operations, maintenance and administration.
In 2018, Money Magazine ranked T.F. Green Airport as one of the best airports in the United States in its list of Top 15 best airports in the country. T.F. Green was ranked 6th best in the magazine's Top 15 rankings.
"Here in Rhode Island and throughout the region, it is widely understood what a gem we have in T.F. Green Airport from a standpoint of access and convenience," Ahmad says. "We are extremely pleased with this acknowledgment and this ranking nationally."