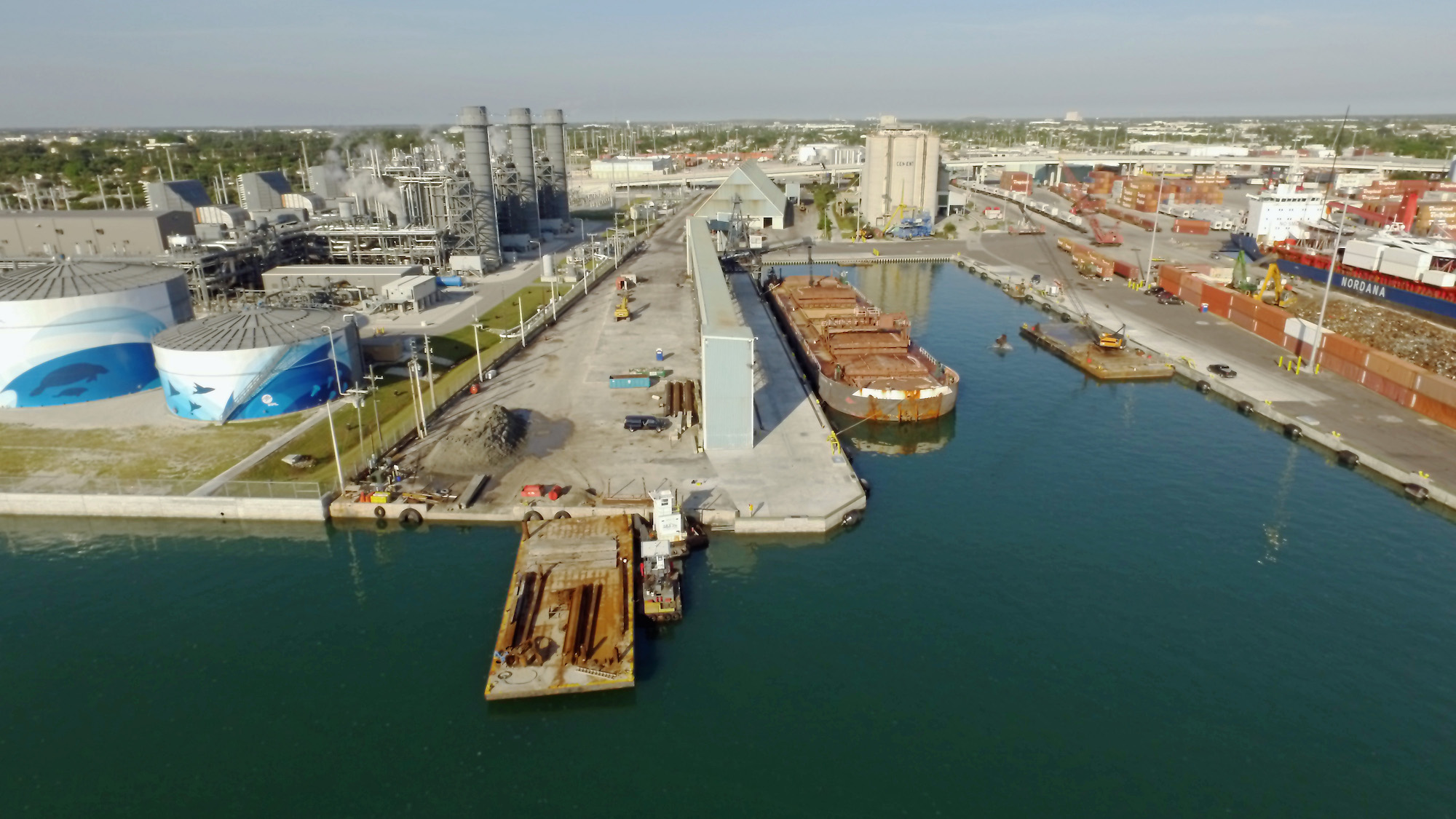 The Port of Palm Beach continues to make site improvements that it expects will increase volume and appeal to new markets.
By Janice Hoppe
The Port of Palm Beach is in a state of continuous improvement as it begins a year-long redevelopment project on Berth 17 to increase production and focuses on acquiring adjacent land. "We are working on our master plan and embarking on a more strategic plan because of the way I envision the port over the next five to 10 years," Executive Director Manuel Almira says.
The port was chartered in 1915 and is located 80 miles north of Miami and 135 miles south of Port Canaveral. Ship entrance is through an inlet channel 400 feet wide with no aerial obstructions. The Port of Palm Beach is an independent special taxing district with statutory authority to levy ad valorem millage tax, but its board of commissioners has not done so since 1974. The port operates on revenue earned by the tenants that conduct business there.
Port of Palm Beach is ranked one of the top-20 ports in the United States. The ranking is justified because of its movement of 250,000 20-foot equivalent units in 2013. "We are the most efficient port when you measure TEUs per acre," Almira says. "We take up a relatively small amount of real estate, 162 acres."
The port's largest tenant, Tropical Shipping, has been a leader in container and ocean transport services to the Bahamas and the Caribbean for more than 50 years. The company is the most efficient carrier in terms of use-per-acre throughout the United States, moving about 8,000 containers per acre, per year. "They have multiple sailings on a daily basis and most of the cargo that they ship out originated somewhere in south Florida," Almira says. "They take advantage of our rail service that brings the cargo into our intermodal transportation facility."
Berth 17
The Port of Palm Beach in July broke ground on the $12 million Berth 17 redevelopment project. The berth is located at the southern tip of the port and is almost a continuation of Slip 3, Almira says, which the port spent $26.5 million to restore over the past two years. Slip 3 was completed in September 2015. "Once you are out of Slip 3 heading south, there is a 210-foot wall there that we have decided to cut a notch into and bring it back about 180 feet," he explains. "It will be 85 feet wide and 28 feet deep."
The need for the Berth 17 redevelopment project came about when Almira noticed it wasn't producing as much as the other berths. "I measure each berth and slip to see how much money it's producing," he says. "This area around Berth 17 is the smallest production of any berth I have at the port. Upon further analysis, we decided the best way to turn that around would be by increasing the linear footage of the berth and providing a wider notch so that more ships can be accommodated."
Berth 17 is used for cargo transport, such as the export of compressed natural gas, and could possibly host a rail barge operation. "I have had contact with the major railroad companies and they are extremely interested in exploring the possibility of us reacquainting ourselves with rail barge services," Almira notes. "In 1957, Port of Palm Beach had more freight exported to Cuba using rail than any other port in the U.S. These rail companies have a high level of interest in exploring that possibility."
Acquiring Land
The Port of Palm Beach is working with the city of Riviera Beach, Fla., where it is located to change the land use of nine adjacent acres to port use so it can expand. "There are five acres that belonged to the Florida Department of Transportation and that has been an uphill battle, but we worked out a deal where they have deeded the land to us," Almira explains. "That land is separated from the rest of the port by land that belongs to Florida Power & Light."
Florida Power & Light's land has transmission lines running over it, but the port has partnered with the utility company to use the land underneath the lines. "This is the last phase until we are able to use the Florida DOT land for a cargo staging area or a cargo terminal," Almira says. "We are working this out with Riviera Beach and I believe we will have this done by Q3 when the land will be paved and usable."
By gaining the use of an additional nine acres, the Port of Palm Beach will not only be able to accommodate more business, but it will also improve safety by giving tenants more space to spread out. "That additional nine acres is a huge advantage," Almira adds.
Moving forward, the Port of Palm Beach plans to demolish an obsolete building that once housed Tropical Shipping's executive staff. Removing the building will give the port another 3.5 acres to develop a container terminal, a portion of which will be refrigerated. "This time next year that project should be on its way," Almira says.
www.portofpalmbeach.com
Revenue: $210 million
Headquarters: Riviera Beach, Fla.
Employees: 50
Specialties: Exports, container storage and cruise ship docking