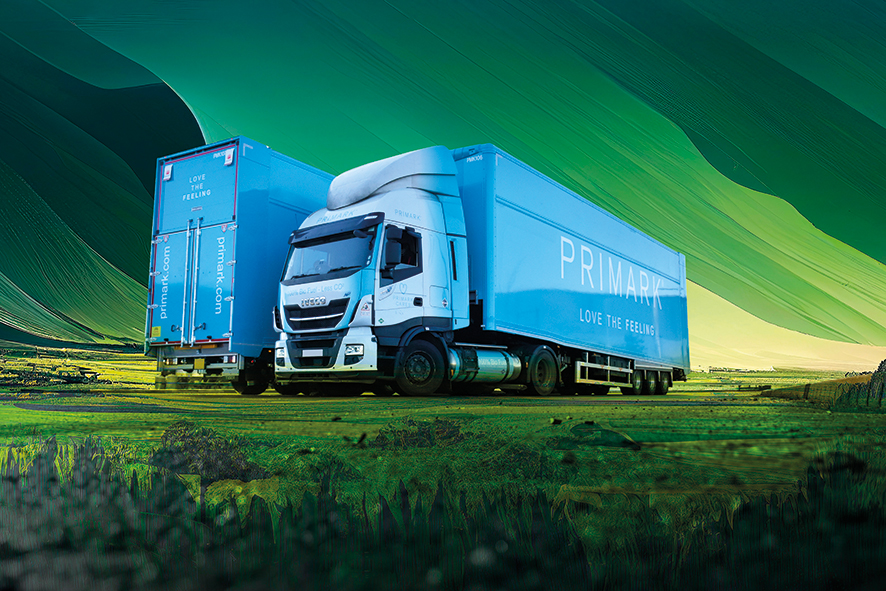 Primark Cares: supply chain sustainability is central to the renowned retailer's wider strategy
Mark Shirley began his career with Primark ten years ago, as Regional Operations Manager for Warehousing and Transport, with responsibility for the UK and ROI. He has since held several roles, extending to US operations, and including the conception and set-up of the business' Central Supply Chain function.
This centralization enabled Primark's in-house systems capabilities, including WMS, customs and automation, and a Planning and Business Intelligence function. "For the last four years," Mark begins, "I have been the Director of Logistics, and my focus has been to ensure that supply chain and logistics don't act as a brake on business growth. This focus has taken the form of a ten-year strategic plan to not only increase our capability but also facilitate agility and flexibility across our operational base. Of course, this also includes the day-to-day management of safety, cost and service that all depot operators are familiar with."
Doing better, every day
Primark, as many may be aware, is a leading international clothing retailer. Founded in Ireland, in 1969, under the Penneys brand, it aims to provide affordable clothing choices for everyone. With ten depots currently servicing its stores across the 15 countries in which it operates, a number of automation technologies are employed to drive efficiency. "We utilize hanging garment automation in the UK," Mark continues, "fully automated crane double-deep storage in Roosendaal, and autonomous guided vehicle technology for pallet replenishment elsewhere. We also operate recycle and re-use facilities at our depots where we recycle our delivery cartons, hangers and shrink-wrap. From a transport perspective, we employ a Transport Management System to ensure effective fleet utilization and vehicle fill. Telematics is also employed within the majority of our contractor's fleets."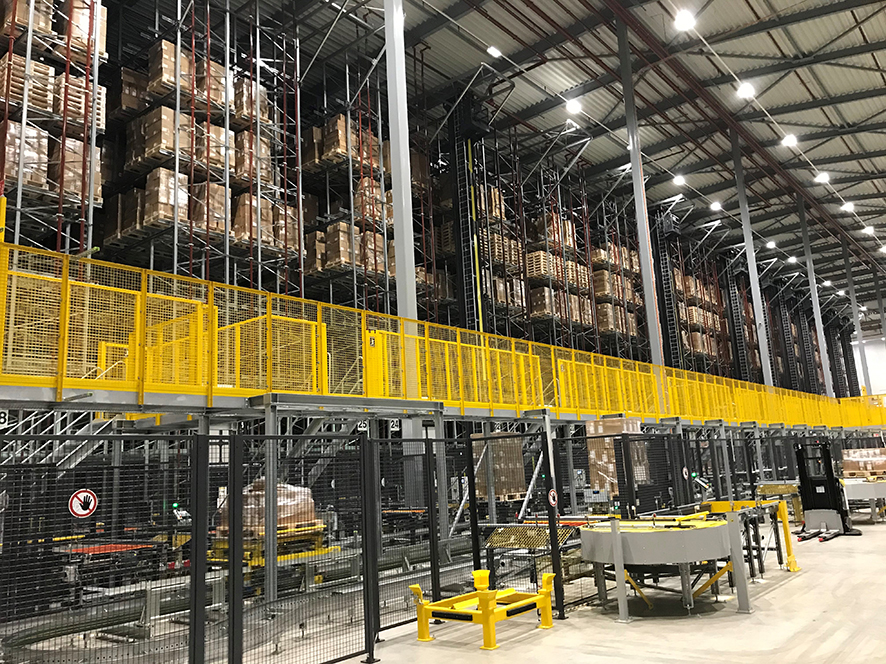 Alongside improving its internal efficiencies, the organization is committed to doing better, every day, to reduce its impact on the planet and improve the lives of workers.
"We have energy management plans across our depots to ensure we operate as efficiently as possible," Mark explains. "In our new depots, we are implementing a range of sustainability features. For example, at our Newbridge facility in Ireland which is currently under construction, the building has been designed to comply with 'Nearly Zero Emission Building' statutory rules, which became effective in the ROI at the beginning of 2021. This is required as the minimum for planning permission, however, we are significantly exceeding this standard through implementation of a number of sustainable features.
"We carefully consider the layout of our depots to minimize heating and lighting requirements. Automated areas, for example, only need frost protection. In manned areas, we maximize natural light, use LED lighting elsewhere, and incorporate air source heat pumps.
"Our buildings use superior quality materials with increased levels of insulation. A sophisticated Building Management System delivers energy monitoring to measure and alert major uses and consumption by means of granular reporting. We harvest rainwater to reduce consumption, employ a leak detection system for early alerting, and manage water runoff with Sustainable Drainage Systems (SuDS). Alongside these measures, photovoltaic panels are installed to reduce primary electrical inputs, and our auxiliary buildings incorporate green roof technology.
"We also have electric car charging points to reduce transport energy usage, and engage with local councils to initiate the relocation of bus stops to immediately outside our facilities, thereby encouraging our colleagues to use public transport. Any fallow land is landscaped into wildflower meadow areas. This enhances biodiversity and acts as an amenity area for colleagues," Mark enthuses, and is keen to highlight that a further significant sum has been ring-fenced for investment in additional sustainability and wellbeing improvements.
Sustainability strategy
With its vast number of stores to service, sustainable freight solutions are of prime importance. As such, Primark partners with the world's largest shipper, which operates as efficiently as possible and is looking to introduce biofuel options. "Our Amsterdam operation is currently serviced by means of electric vehicles. While we have trialed small electric trucks in the UK, we are now looking at tractor units with our partners, as range and price are key considerations. We are focussing on reducing our transport emissions, and last year alone, clocked up eight million kilometers to alternative fuels.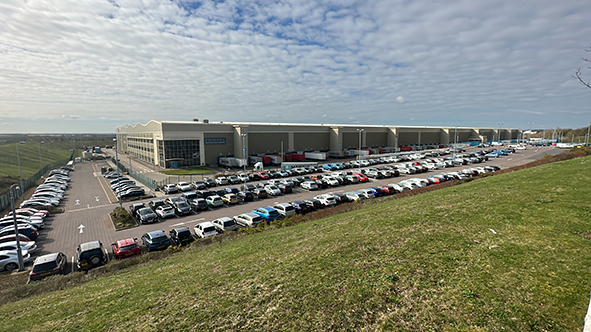 "We employ the biggest vehicle capacity permissible to reduce our number of journeys. The UK uses retail double-deckers with a capacity of 52 pallets, which is double the volume of a standard trailer. For movement of goods to our strategic outbase locations, we have special licenses in place to use extended semi-trailers, capable of carrying 60 pallets in total. In Europe, due to transport law and vehicle height restrictions, we are unable to make the double-deckers any larger."
In 2021, Primark unveiled its wide-reaching sustainability strategy, Primark Cares. This encompasses the organization's promise to reduce fashion waste, halve carbon emissions across its value chain and improve the lives of the people who make the products. It is a commitment to changing the way its clothes are made without changing their affordable prices, thereby enabling everyone to make more sustainable choices when shopping.
Mark elaborates: "Primark is using its global scale and reaching across its entire business to action the new Primark Cares commitments which are divided into three key pillars. The first being to give our clothing a longer life. Our clothes will be recyclable by design, made of recycled or sustainably sourced materials and they will last for longer. By building on small-scale trials in denim, we will look to introduce these principles across all clothing, so that all items can be recycled at the end of their life.
"Today, clothing made from recycled or sustainable materials accounts for one quarter, by 2030, we are aiming for all clothing. This will include only using sustainable, recyclable or organic cotton by 2027, as we expand the Primark Cares Sustainable Cotton program, already the largest of its kind in the fashion industry. All items will also be put through more rigorous testing to ensure clothing is made to last.
"The second pillar focuses on protecting life on the planet. We aim to halve carbon emissions across the entire value chain by 2030, building on the commitment already made, as a signatory of the United Nations' Fashion Charter (UNFCCC), to get to 30 percent, including Scope 3 emissions. We pledge to remove all single-use plastic from across the business and operations. Alongside this, we will work with farmers and producers as part of the Primark Cares Sustainable Cotton program to provide training in regenerative farming techniques that help to deliver more positive impacts on soil health, biodiversity and water quality.
"Lastly, we are working to enhance the lives of the people who make our clothes, by paying a fair wage to pursuing a living wage in all the countries where Primark operates. We commissioned and funded research with the Anker Research Institute to provide new or updated Global Living Wage Coalition estimates for four of our sourcing markets: Bangladesh, Cambodia, Turkey and Vietnam. This means that Primark will, for the first time, have robust and credible living wage benchmarks for a number of sourcing markets. This information is key to enable us to develop and pilot initiatives to bring about real wage growth across our supply chain, including being able to track factories' performance against the benchmarks.
Ground-breaking goals
"As a business, we care about the welfare of all workers and recognise that we have a responsibility to do what we can to ensure they have a safe place to work, and their rights are respected in the workplace. We will also provide support with financial literacy training and access to social protection for workers by 2030, alongside promoting equal opportunities for women across the supply chain through workplace skills and development, focusing on barriers to promotion and progression. For example, in three of our sourcing markets, we are giving workers the chance to attend training on wages and payslips and increase their financial literacy.
"Women account for the majority of our global supplier factory workforce; this number is estimated at around 320,000. Our goal is to strengthen the position of women in the garment industry through skills development and addressing barriers to progression by 2030. We are also a founding member of Action, Collaboration, Transformation (ACT); a ground-breaking agreement between trade unions, global brands and retailers who are working to transform the garment, textile and footwear industry and achieve living wages for workers," he states.
Mark goes on to explain how the organization is planning to deliver some of these goals. "We will measure the percentage of waste diverted from landfill. Lots of different categories across the business have embraced this drive, swapping out plastic for cardboard or in some cases removing the packaging all together and using table displays instead of hanging. Something as simple as taking the plastic hooks out of our socks and tights packaging has removed 16 tonnes of single-use plastic and we have also re-designed the packaging for our bras, accessories and headphones using the same approach. As a result, the packaging is now fully recyclable using FSC backing card. The redesign will remove approximately 38.3 tonnes of non-recyclable PVC clam pack and non-FSC METPOL card. We've made good progress so far. For example, we have established a Centre of Excellence to look closely at our packaging and explore ways to reduce it. We believe we've removed nearly 600 million units of single-use plastic since 2019 but we are working to establish a clear baseline so we can fully measure our future reduction."
Championing equality
From relationships with the wider environment to partnerships nearer home, Mark believes that closer is better. "Taking third-party logistics partners as an example, we now want to provide longer term contracts. This offers an improved platform from which our partners can invest and align closer to our strategic goals and requirements. Shorter term contracts drive a transactional approach which may work for a limited time but if you wish to drive real synergy then I truly believe longer terms facilitate this. Maintaining these relationships is the same as for any relationship in my opinion: openness, honesty and becoming as transparent as possible. My personal preference is face-to-face meetings, as they help to foster improved personal relationships, which also helps," he outlines.
Staying with the people side of the business, Mark cites examples of how Primark champions equality throughout the supply chain. "At the start of our chain we have female cotton farmers. To date, we have trained around 252,800 farmers in our sustainable cotton program and plan to extend this to 275,000 by the end of 2023. In addition, almost 3000 of those farmers have participated in a pilot for more regenerative farming practices, thereby enhancing the crop yield and increasing the farmers' revenue.
Supply chain agility
"Closer to home, the business has set up Colleague Networks with a focus on neuro, disability, and cultural diversity, alongside gender, life stages, and LGBTQIA+." Employee welfare is a priority for Primark, as Mark elaborates. "In terms of driver recruitment and retention, we operate to high standards, opting to use new and quality fleet vehicles, paying a competitive wage and having good facilities in all depots for our drivers. As such, we're not experiencing driver shortages to the extent of some organizations. That said, the industry is facing an ageing workforce and it is a challenge to attract new drivers into the sector. Driver welfare is at the heart of everything we do. We operate on flexible hours schemes and heavily promote the recruitment of women drivers into the industry."
Looking ahead, Mark reflects on the logistics sector as a whole. "We have experienced an unprecedented level of disruption in recent years. Labor constraints are likely to continue, although they could be less acute than in previous years as companies have taken the measure to digitize and automate wherever they can. That said, supply chain agility across geographies will be a focus of mine and many others, as I expect disruption to be a constant for the next few years. Alongside this I am seeing greater collaboration between companies, even competitors, to help achieve goals and drive efficiency. I am hopeful that the focus on supply chains as a result of the pandemic and its subsequent disruptions will remain in business leaders' minds and that they continue to see supply chains as a competitive advantage.
"We are extremely lucky to work for a business that continues to grow both in existing markets but also into new ones. Personally, in three-to-five years' time, I would like us to be firmly established as a recognized brand across the whole of the US.
"The Primark supply chain future is one of expansion and implementing further automated depots to service our growing store base whilst retro-fitting existing facilities to enhance their capabilities. The environment is key," he concludes, "while current geopolitical tensions have impacted our alternative fuel operations, we continue to do the right thing across Europe and the UK. We have a huge change agenda to deliver over the next few years, but I am extremely honored to lead a team as talented as ours."